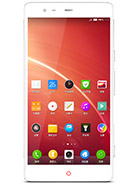 Today I'll be telling you a few thing about the ZTE Nubia X6 – one of the most powerful phablets available on the market right now. At the current time this is one of the best smartphones out there, but I'm not sure how well it is stocked as ZTE seem to be applying the same "Hunger Marketing" ( over-hyping it to the point where you'll sell your whole stock in a matter of seconds ) that's so popular in China with this phone, a strategy made very popular by a smaller Chinese manufacturer – Xiaomi – that sold up to 200.000 units in a matter of minutes last year. This strategy, however, is not what we're here to discuss.
Now ZTE often was in the habit of releasing lower-budget devices and didn't really have a whole lot of high-end devices it could pride itself with. The Nubia X6, however, is an exception from that. Now, depending on the version of this phone you choose, you could have either a strong phablet or an extraordinarily strong phablet. What's interesting to note about that is that the pricing of this phone is also quite enticing – I believe most of the stocks were sold when the phone was bearing the price of 481 dollars ( not sure exactly which version of that phone bore that price, but altogether it's not bad at all considering the launch-price of other high-end phablets like the Note 3 ).
SUMMARY
Off-the-bat, it's important to mention that this phone has two versions ( and this kind of sums it up without telling you anything about its unique features ). Firstly, the weaker and cheaper one is equipped with an MSM8974AB chipset, a processor clocked at 2.3 GHz, 2 GB of RAM and either 32 or 64 GB of internal storage space. The second version of the phone ( which is the impressive one ) is equipped with an MSM8974AC chipset, a processor clocked at 2.5 GHz, 3 GB of RAM and an internal storage space of circa 128 GB. I often try to remain objective about these devices and find both good and bad parts to them – the problem here is that there are very few bad things about the ZTE Nubia X6 – actually the only visible disadvantage of this phone would be its size ( having a 6.4 inch screen, and all ). By most standards, this device can actually be classified as a smaller tablet with voice-communication capabilities. But, if you don't have problems with your phone being this massive and taking up a pocket and a half of space, then I guess this device has as few drawbacks as can be.
GENERAL
Depending on where you got it from, this device can use either GSM networks or your non-standard CDMA networks in all of its aspects – 2G and 3G. Also ( and this seems a bit far-fetched, but apparently it's possible ) this phone also has 4G LTE support, despite the fact that the ZTE Nubia X6 is a Dual-SIM phone. Thus far, the phone is 100% available world-wide, but I can't really say the same about the stocks o the phone ( in China, at least, the manufacturers seem to love these "Flash Sales" ideas – the next one being on the 27th of May at 10:00 AM ).
BODY
The body of the ZTE Nubia X6 is positively massive, to say the least ( the fact that most of the phones come in either White or Gold doesn't help at all – white makes things look slightly bigger than they are; like the opposite of black ). The phone is about as large enough as it can get to support its 6.44 inch screen without adding any useless surfaces around it. The specifics of this device are: 179.5 x 89 x 7.9 mm ( or 7.07 x 3.5 xx 0.31 in ) in size and 215 g ( or 7.58 oz ) in weight.
DISPLAY
The ZTE Nubia X6 has an IPS LCD type of screen which can reach a resolution of 1080 x 1920 pixels and has around 16 million colors. While the screen is one of a finer quality out there ( without going into the newly discovered QHD territory ), the pixels on such a large screen are spread a bit thinner than on smaller phones – yet still the pixel density is of around 342 pixels per inch ( which isn't bad at all – anything above 300, actually, will look as smooth as possible ). The display of this phone also has some manner of protection to it, being covered by a protective sheen of Corning Gorilla Glass 3.
SOUND
There's something quite unique about the audio output of the Nubia X6. While it does have the same alert types as all other phones and a regular 3.5 mm jack, it's interesting to note that it presents audio enhancements on both the hardware and the software side. Hardware-wise, it has a pair of Stereo Speakers instead of one large, clumsy loudspeaker. Also, on the software side, it has one of the best audio enhancements out there ( in my opinion ) – Dolby Mobile Sound Enhancement. In other words, you should have little to no problems with the sound on this device in anything you do.
MEMORY
As I mentioned earlier about the memory, it varies a bit depending on which version you choose. The cheaper version of the phone is, ironically, available in two versions as far as internal-storage goes: 32 and 64 GB. Both of those have the same amount of RAM – 2 GB. The more powerful version of the phone has an internal-storage of 128 GB and an astonishing amount of 3 GB of RAM. What all of the versions of this phone are capable of using a MicroSD card of up to 32 GB. All and all you should have no problems with bottlnecking or with suddenly slowing down as the amount of RAM on this device allows it to smoothly run just about anything out there.
DATA CONNECTION
This phone has great connectivity to both the Internet and other things. Firstly, the ZTE Nubia X6 has both GPRS and EDGE on it. The speeds reached by this device are different, depending on what version you chose ( the GSM or CDMA one ). The CDMA version has only EV-DO Rev. A of up to 3.1 MB/s speeds, but the GSM one has both 3G speeds ( of 42 MB/s Download and 11 MB/s Upload ) and 4G LTE Cat 4 speeds ( 150 MB/s Download and 50 MB/s Upload ). The Wi-Fi of this phone is 802.11 a/b/g/n/ac with Dual-Band, Wi-Fi Direct, DLNA and Wi-Fi Hotspot. The Bluetooth version found on this phone is v4.0 with A2DP. Also, the Nubia X6 has both an Infrared Port and NFC Support. The USB port on this phone is an astonishing MicroUSB v3.0 port with USB On-The-Go ( while it doesn't have MHL support, the phone itself has an HDMI port on it so it's all good ).
CAMERA
The camera of the ZTE Nubia X6 is one of the most astonishing things I've seen in a while – it has a 13 MP camera on both the front and the back, both of which capable of photographing at 4128 x 3096 pixels and capable of recording video in 1080p HD at 30 frames per second. Some of the other features of this camera include: Optical Image Stabilization, Autofocus, Dual-LED Flash, Geo-Tagging, Touch Focus, Face Detection, Panorama and HDR.
BATTERY LIFE
The battery of this phone is massive, to say the least. The ZTE Nubia X6 has a Li-Ion 4250 mAh battery on it capable of giving the alleged life-time of 695 hours of stand-by and 17 hours of talk time. The only downfall, in my opinion, with this battery is the fact that it's non-removable ( I hate that – often times the battery dies first in a device – this system simply helps the manufacturers more than the customer as you have to rely on them in order to fix your phone if the battery dies for good instead of just simply purchasing a replacement one yourself ).
HARDWARE
The hardware found on this device is a bit different for each version of the phone. What all the versions of the ZTE Nubia X6 have in common is the fact that all of them have an Adreno 330 GPU on them. Aside from that, the only real difference is the frequency at which the processor is clocked. Both versions ( the slower and faster ones ) have a Qualcomm Snapdragon 801 ( MSM8974AB and MSM8974AC, respectively ) and both of them have a Quad-Core Krait 400 processor ( albeit, one at 2.3 GHz and the other at 2.5 GHz, respectively ).
SOFTWARE
Perhaps one of the only disappointments I have with this device is its operating system – it only has Android OS v4.3 Jelly Bean instead of v4.4 KitKat. Worse yet, there's no conclusive news as to when this phone will get v4.4 KitKat. However, all is not so gloom – if you're into the sort of thing, I'm sure custom-ROM developers will be having a field day with this phone soon enough.
FEATURES
The features of this phone, while not extremely numerous, are still quite enough. Firstly, the device has 4 sensors ( Accelerometer, Gyro, Proximity and Compass ), it has FM radio, HTML5 for the browser, Java through MIDP emulation and a GPS with A-GPS support. The messaging on this device is done via the more-or-less standard methods: SMS ( with Threaded View ), MMS, E-Mail, Push E-Mail and IM. This phone, as I've mentioned before, is limited to only two colors: White and Gold.
Here's a brief list of what this phone can do:
HDMI port
SNS integration
Active noise cancellation with dedicated mic
MP4/H.263/H.264/WMV player
MP3/eAAC+/WMA/WAV player
Google Search, Maps, Gmail, YouTube, Calendar, Google Talk
Document viewer
Photo viewer/editor
Voice memo/dial
Predictive text input
This concludes our little review of the ZTE Nubia X6. At the moment, it's more-or-less the best possible phablet or phoneblet or whatever you like to call it you could possibly get on the market and it doesn't cost an arm and a leg to obtain.  I hope you've enjoyed reading it as much as I did writing it and that you've learned a few thing about this phone. I tried keeping it as short as possible so as not to go into too many unnecessary or boring details, yet still cover everything there was to cover.