If you've ever used Ubuntu on the PC and liked it, then you will most surely be glad about this little piece of news. Apparently, Canonical has unveiled the mobile version of their Linux-Based Ubuntu operating system will be soon coming to phones as well. We figured it's related to our Android website as this OS uses the same kernel and rivers as Android, but it has a brand new user interface and navigation method.
You can find a somewhat long, but interesting nonetheless video at the end of this video that demonstrates what this OS does on all platforms. Frankly, I find it interesting that they are trying to create an operating system to run on any platform. It is a difficult thing to do, thus I can only imagine how much work they'll have to put in if they want this to be done by 2014.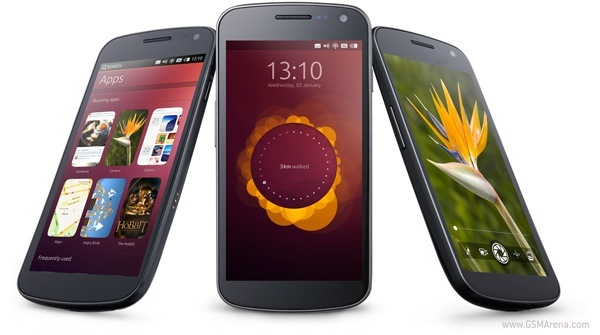 One of the main aspects that caught my interest on this phone is that it is heavily based on the Gestures system. All of the navigation on it is based on it. You will notice that all sides and corners of the screen can be used for gestures. Thus, the phone doesn't really require a lock screen. The creators themselves describe these  Lock Screens as barriers, rather than helpful things. To be honest, I agree with them as I have been blocked from my own phones way too often, and in some situations I really required fast access. Here's an example of how the gestures work, but you're better off watching the video: a short move to the left will show the apps you placed in your favorite bar, while a long swipe will take you to all of them. Going to the right you'll reach the apps you recently used. Dragging the top will pull your messages / notifications down ( similar to the Android one at this part ) and ragging the bottom up will draw out the menu bar in apps ( again, similar to Android ).
Unfortunately in certain cases, this OS puts a heavy emphasis on HTML5, giving all web apps a very high priority ( as you have undoubtedly noticed from the PC version, if you've ever used it ). Thus, this thing allows the web apps to show you notifications just like the native apps do. For best results, I'd recommend using the apps specifically written for Ubuntu.
While there are many similarities between this Ubuntu and Android, there is one huge difference. Despite both being built on the Android kernel, Ubuntu lacks the Dalvik Virtual Machine that the Android OS uses for apps / games. While this is very restrictive with certain apps and games ( with most of them, really ), the few that will run on it will work wonders as they will run just like the native apps since they do not need to be emulated by a virtual machine.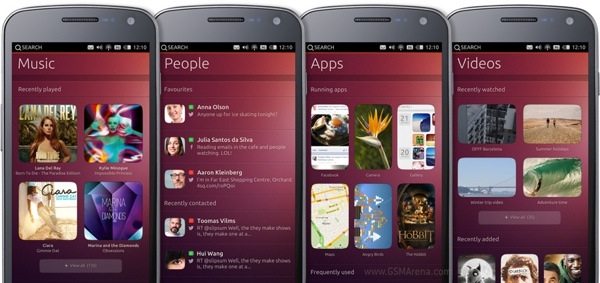 This mobile Ubuntu is also very similar to the latest 12.04 ( or something like that ) version that was released for the PC. They both have an improved search which has been given much thought and is given a lot of priority. The search works just like the PC one ( maybe the swipe part is new because you have to drag own the top first ).  Afterwards, your searched term is very quickly looked for in the phone's database and then on the internet. Therefore, the phone gets information constantly from both local and external sources.
Also, I mentioned earlier the lack of a Lock Screen. The lock screen on this device is referred to as a Welcome Screen by Canonical. This welcome screen allows you to use all the side gestures from here and and it features a circular pattern in the center which contains information about all of your notifications ( as you can see from the first picture ).
One more thing that drew my attention was the dock-able phone thing, allowing you to dock the Ubuntu phone and use it with a keyboard and mouse. Frankly,  for a small screen it sounds pretty ridiculous, but it would be quite useful for a tablet or a TV running the Ubuntu OS ( as they did say it would be universal and this is the adaptation for the phone ).
As of yet, Canonical has only put their OS on the Galaxy Nexus and soon more images of it in action will come out. Until then, however, feast your eyes on the video below which tries to sum up in a few short minutes what this OS is all about.