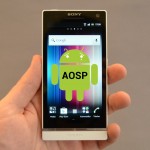 I am not a huge personal fan of Sony, but I can give credit where credit is due. While I generally don't like the design of most Xperia phones ( I find them too block-shaped and I dislike that small plastic bar they leave on the bottom ), I can honestly say that their OS is one of the finer ones I've worked with. That is why it fills me with great joy to see that the people at Sony want to take over their development of the Android Open Source Project. The chance will be mostly visible for their popular Sony Xperia S ( which I believe they even demonstrated in a video that you can find at the end of this article.
Sony made this announcement officially that they will be taking the lead on the Android Open Source Project for previously mentioned smartphone. The exercise began somewhere around August when Jean Baptiste Queru, Google's Technical Lead of the Android Open Source Project, made said announcement. The current progress on the phone is pretty easy to observe as it has been demonstrated in the video below.
Sony has done this because starting from Android OS v4.2 Jelly Bean, the Sony Xperia S will not remain the target handset of the main AOSP branch. However, all the current progress on the Sony Xperia S will not be forgotten, as Sony will maintain the AOSP for the device at GitHub, where all developers are encouraged to step in and help as best they can.
The stock version of the Android OS v4.1 Jelly Bean has worked out pretty well for the Sony Xperia S with most hardware components functioning properly, including the SD card, Wi-Fi and all of the included sensors. The audio and modem were also working, but Sony wouldn't release its binaries right now for proprietary reasons. The next step in the plan is to bring the Android OS v4.2 to this smartphone.
Also, here is the video I've mentioned before: