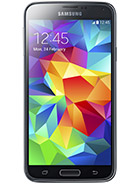 Each year Samsung prides itself on releasing what is in their opinion the best Android phone of the year. While I try to be an impartial observer and never take sides or preferences in the matter of choice between mobile devices, I can't help but give them some credit. The device in itself is a beast, alas I can't help but shake the feeling that it isn't all that more powerful than its predecessor. I find this being a problem with almost all things that I follow. The Intel processors, for instance, have recently released the 4th generation of the "i" series of processors, yet it's not ultimately more ground-breaking than the 3rd generation. However, those are just my own fears and mental barriers that can't help but think that technology is slowing its advance by a bit speaking, and should be treated as such.
Back to the matter at hand, though, the Samsung Galaxy S5 has been a long-awaited device by many. Personally, I found that it offers more power and features than I know what to do with, but I have more peculiar tastes in mobie devices. Nevertheless, it's a great device and considering on the amount of things it brings to the table, I'd say it's well worth its demanded price. Frankly, I'd call it a bad move to get it straight off without a contract as the price I've found it at is 700 dollars, where as it costs much less if you get it at a contract. However, there are always those who prefer to wait for the S6 to come out and then get the S5 at a discount.
SUMMARY
Here's a short version for those who lack the patience or time to read the whole deal: the Samsung Galaxy S5 is a great phone that offers a ton of features for an adequate value. As far as hardare specifications go, it's at the current time one of the best ( if not THE best ) phons on the market, so it's pretty damn hard to out-do it and make something MUCH stronger. There may be slight variations, but never with the same combined effect of all parts. However, since the nature of things doesn't allow Good to exist without Bad, there are some slight drawbacks to this phone. One of the main disadvantage for most people will undoubtedly be the size of the device, as it's pretty close to "phablet" territory with a huge 5.1 inch screen. Another fairly odd drawback is the vastness of its features and preinstalled options – items which are both a blessing ( for new users and those who want to experiment ) and a curse ( considering the fact that most people won't use even half of the things the phone can do ). So, obviously unless your ego absolutely demands it, I wouldn't really encourage people to spend 700 dollars on a phone this strong only to have something to play Flappy Birds on. Aside from that, the advantages far outweight the disadvantages of the device.
GENERAL
I'll only add this here as a mention: the Samsung Galaxy S5 is available in a ton of names, but the only difference between them is a letter or two that appears in the numerical code of the device ( there's literally a different letter for each and every Service Provider selling this device ). Aside from that, the phone is pretty standard in its 2G and 3G capabilities. One thing that must be mentioned is that you won't get 4G LTE with every version of this device and it's highly dependent on the market from which you get it from. Also, the type of SIM used in this phone is a Micro-SIM card. As for the release date, I'd wager it's somewhere around the 11th of April ( at least that's when it will be available on Amazon – as for the individual date of each and every country, I'm afraid nobody can say for certain ).
BODY
The size of this phone is pretty interesting ( in the sense that it'll be disappointing to some and enough for others ). The specifics, first: size – 142 x 72.5 x 8.1 mm ( or 5.59 x 2.85 x 0.32 in ); weight – 145 g ( or 5.11 oz ). Now there are some unique things here to look at: firstly, the Samsung Galaxy S5 has a Finger Print Sensor ( one which is also PayPal Certified if you'd like to set it up for that ). Also, the body of this device is Dust and Water Resistant ( more exactly up to 1 meter depth and 30 minutes ).
DISPLAY
The display of the Samsung Galaxy S5 is pretty darn powerful. The phone, as I've mentioned before, has a 5.1 inch screen that supports a 1080 x 1920 pixels resolution ( and has a pixel density of circa 432 pixels per inch ). The screen is also protected by a neat Corning Gorilla Glass 3 layer. Also, while on the display side of things, it's also worth mentioning that as most Samsung devices, the S5 also has TouchWiz UI installed on it.
SOUND
There isn't really anything out of the ordinary here. The S5, as opposed to other flagships ( like those from HTC ) doesn't have any software-based sound enhancements installed on it. Everything is pretty much stock as far as audio output is concerned ( which isn't necessarily a bad thing, but a little something extra never hurt ).
MEMORY
As far as memory is concerned, the Samsung Galaxy S5 is pretty strong. It's not as fast as other phablets which were equipped with 3 GB of RAM, but 2 GB for a mobile phone isn't bad either. This phone is available for purchase in two different versions: one with 16 GB of storage space, and the other with 32 GB of storage space. Both of those previously mentioned versions have MicroSD card support and they can both use a card of up to 128 GB ( frankly, I don't think I've seen many devices that can even use 64 GB cards, so this is pretty amazing in itself ).
DATA CONNECTION
The internet connection on this device is astonishing. If you get an S5 with 4G LTE enabled, odds are you'd be facing that popular problem in which the internet connection on your phone is faster than that of your PC. While there are no details about GPRS or EDGE ( we just know they're there ), there are a few specifics regarding the internet speed: if you'll be using the 3G one you'll face 42.2 MB/s Download Speed and 5.76 MB/s Upload Speed, however, should you switch the the 4G LTE Cat 4 one, you'll have an astonishing 150 MB/s Download Speed and a 50 MB/s Upload Speed. Now I don't know much about the internet speeds where you live, but I'd wager that's pretty damn fast by any standards. Anyway, regarding the other things, we have all the standards here at above-standard quality: Bluetooth v4.0 with A2DP, EDR and LE; NFC support and an Infrared Port. One of the more interesting things about this device is its USB port – MicroUSB v3.0 ( with MHL 2 ). While it also has USB On-the-Go support and USB Host support, the impressive thing about it is that it's USB 3.0 instead of the widely used USB 2.0.
CAMERA
The camera of the Samsung Galaxy S5 is simply extraordinary. Aside from the fact that it's a 16 MP camera that can snap pictures at resolutions of 5312 x 2988 pixels, it's also packed to the brim and bursting with neat features. Also, its video capabilities are amazing to say the least: it can record in 2160p HD at 30 frames per second and at 1080p HD at 60 frames per second ( and correct me if I'm wrong, but so far nothing looks better to me than videos shot in 60 fps ). The secondary frontal camera is also a jewel in itself – while it only has 2 MP, it too can record in 1080p HD but only at 30 frames per second. The secondary camera is also capable of Dual Video Call. The features of the camera in general are: Phase Detection Autofocus, LED Flash, 1/2.6″ Seonsor Size, 1.12 µm Pixel Size, Dual Shot, Simultaneous HD Video and Image Recording, Geo-Tagging, Touch Focus, Face and Smile Detection, Image and Video Stabilization, HDR for both Image and Video and Dual-Video Recording. Correct me if I'm wrong, but that's an amazing camera in my books.
BATTERY LIFE
The battery of this phone is simply huge, and it offers a decent amount of battery life. The stats are as follows: 390 hours of Stand-By and 21 hours of Talk-Time. For a 2800 mAh Li-Ion Battery, those stats aren't bad at all, especially considering the contenders it has to provide power to.
HARDWARE
The hardware present on the is top-notch and some of the strongest components to come out from Samsung: a Qualcomm MSM8974AC Snapdragon 801 chipset hosting a Quad-CorSamsung Galaxy S5e 2.5 GHz Krait 400 CPU and an Adreno 330 GPU. All and all, that's some powerful hardware capable of running just about anything on the market right now.
SOFTWARE
There's nothing to reproach about the Samsung Galaxy S5 here as it's equipped with the latest Android OS version to date – v4.4.2 KitKat. It's safe to assume that when Android will switch to a newer version, this will be one of the first phones ( after the Nexus series, of course ) to get the update for it. In other words, if you're a fan of having everything NEW and always Up To Date, this would be an excellent investment towards that purpose.
FEATURES
The features of this phone are pretty numerous. Actually, the only thing it lacks is a Radio, come to think of it. As for the sensors, it has more than many people know what to do with – they include: Accelerometer, Gyro, Proximity, Compass, Barometer, Temperature, Humidity, Gesture and even Heart Rate. The GPS has support for both A-GPS and GLONASS on this phone. Also, the device uses HTML5 in its browser and, as all Android devices, it has Java via MIDP Emulation. The colors available for this phone are: Black, White, Blue and Gold.
Here's a brief list of what this phone is capable of:
Wireless charging (market dependent)
ANT+ support
S-Voice natural language commands and dictation
Smart stay, Smart pause, Smart scroll
Air gestures
Dropbox (50 GB cloud storage)
Active noise cancellation with dedicated mic
TV-out (via MHL 2 A/V link)
SNS integration
MP4/DivX/XviD/WMV/H.264/H.263 player
MP3/WAV/eAAC+/FLAC player
Organizer
Image/video editor
Document viewer (Word, Excel, PowerPoint, PDF)
Google Search, Maps, Gmail, YouTube, Calendar, Google Talk, Picasa
Voice memo/dial/commands
Predictive text input (Swype)
This concludes our little review of the Samsung Galaxy S5. If you're interested on purchasing this device, you can find some nice deals HERE. I tried touching the most important parts here and talking about everything as briefly as I could, without going into too many technical or boring details. I do hope it has proven somewhat enlightening to you all and that at the very least it offered you a bit of extra info about the device.