The Samsung Galaxy Mega had enough success as to spawn a line from what was a single phone, thus giving birth to the Galaxy Mega line-up. Now, it seems, the Galaxy Mega 2 had most of its important specs leaked for the public when it was put through the paces of a well-known graphics benchmark.
Previous rumors claimed this phone would have a 6 inch display, but now it seems it has a 5.9 inch one ( which frankly isn't that far off ). The resolution of this display will be 720p HD, it'll have 2 GB of RAM, 8 GB storage, 12 MP rear-camera and a 5 MP front-camera. There will probably also be a MicroSD card slot, Wi-Fi support, Bluetooth, GPS and NFC.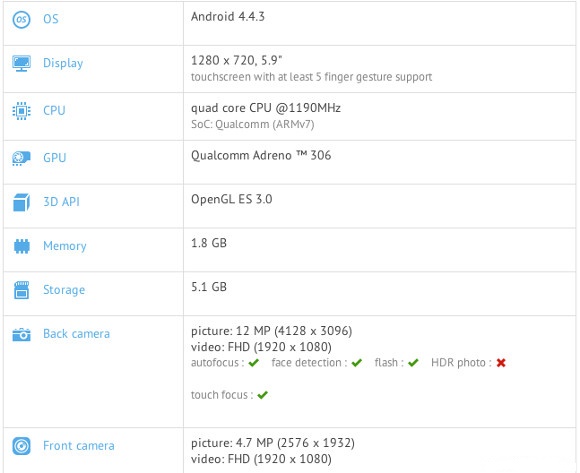 As you can tell, the device will be powered by a Qualcomm Snapdragon 410 chipset with a 1.2 GHz Quad-Core CPU and an Adreno 306 GPU. This is, actually, the first Qualcomm chipset that's 64-bit and it was announced somewhere around December of last year. Judging from the CPU frequency, though, this isn't a high-end System-on-a-Chip. It is rather more oriented towards the mid-range segment, thus making it a good fit for the Samsung Galaxy Mega 2.
The exact device that was tested seems to run Android v4.4.3 KitKat and bears a model number of SM-G7508, and if the company's use of the number "8" in the past is to be any indication, then this particular brand of device is heading to China. Surely, though, the Samsung Galaxy Mega 2 will, at some point, get an international release as well going by the SM-G750 mark, though.