The Samsung Galaxy Folder, as its name would suggest, is a new innovation from Samsung which tries to combine to the newer and older tech into something "new". As strange as that would sound , you'll get more clarity once you see how the phone looks. Below I'll post a picture of what it looks like from multiple perspectives: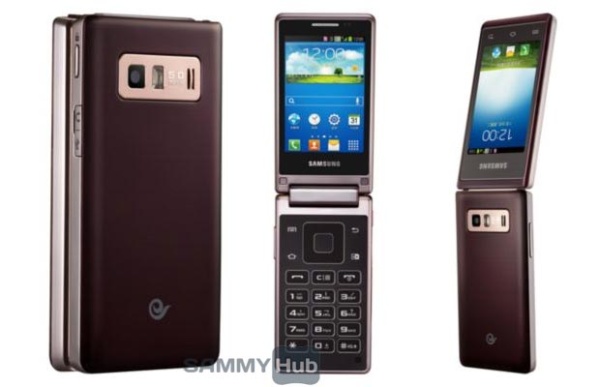 As you can see from that snapshot, the phone is a clamshell designed Android smartphone. Many were puzzled when they heard about it in the first place and thought: "Clamshell Smartphone? How can that be?". Samsung has proven through the Galaxy Folder that such things can exist. Initially, it was to be dubbed the Galaxy Golden, but I guess this name sticks  more rather than the other. The launch of this game is around the corner as we speak.
This phone carries on itself the number SCH-W789 and it is rumored to sport a 3.3 inch HVGA display and a 1.2 GHz Quad-Core processor. The smartphone is said to be equipped with a 5 MP camera with LED flash, a 1 GB of RAM and a micro-SD card slot. The Android version on it is said to be Android 4.1 Jelly Bean.
According to the report, the Samsung Galaxy Folder is expected to be available from China Telecom in the upcoming days and will support both CDMA and GSM networks. Sadly though, there is no word as of yet of global availability. Hopefully, time will tell whether or not this phone will be global or strictly limited to an area of choice.