There have been many rumors going around about the fabled Motorola Moto X phone, the new flagship that Motorola will release, the one built under the close care of Google. Personally, I am very much looking forward to it and I find that many individuals actually share in my excitement about this phone. However, the phone is far from being officially announced. Even with that in mind, more and more leaks are released about this phone ( personally I am quite against these leeks as they usually serve the purpose of generating hype in order to raise expectations ). Recently, a video ad of the phone managed to surface, reportedly made by a Canadian carrier known as Rogers Wireless.
Since the earlier unveiling of Nokia's Lumia 1020, Motorola has been busy at work and they've been engaging in different guerrilla marketing actions of its long-rumored Moto X. Such things include and are not limited to: appearing in the hands of a high-ranking Google executive and other assorted stuff.
This time, the new video ( which you shall find at the end of this article ) shows some of the new features of the phone. However, it is yet unclear whether or not these features are only for this new Motorola phone, or whether they are part of the new Android OS on it.
Some of the features include:
Open Mic – an always-on mic for voice commands ala Google Glass;
Active Updates – part of the screen auto wakes up to show notifications and the clock in standby;
Camera is launched by twisting your wrist twice;
No on-screen shutter key, you just touch anywhere on the viewfinder and the camera takes a picture
Holding your finger for longer on the screen makes the camera quickly take several snaps in succession;
The Moto X will launch to market (in Canada at least) as early as this August in both black and white.
Some previously known information has been confirmed as well. I am talking, of course, about the LTE capabilities and the semi-transparent on-screen navigation keys.
Now for some speculating of our own. There seems to be a side-slot for a SIM card. If that were the case, one can only assume that the battery for this phone will b non-removable. Also, there have been a few videos surfing around the internet demonstrating the Open Mic of the phone, feature which works even in the phone's stand-by. I am yet torn whether or not to provide you with said video as I have yet to verify its sources. On another note, Motorola has recently used its Twitter account to post a few blurry pictures of a kid with the title "Either this kid is really fast, or today's phones are really slow". Below I shall post the picture: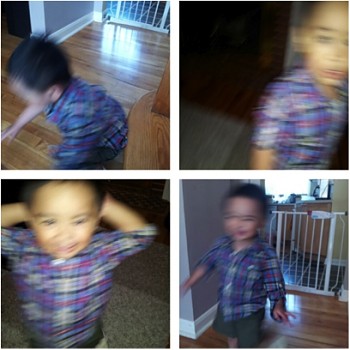 Also, here is the video I've mentioned: