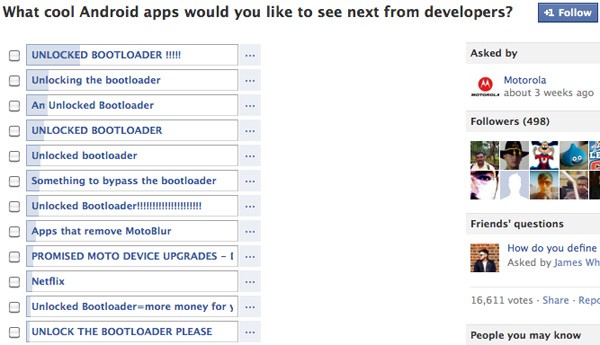 Motorola decided to make a Facebook poll and see what their customers want from their next phones. If these results don't make it obvious for Motorola, then I don't know what will.
With the vast majority of the poll voters demanding for an unlocked bootloaderand  No Contract Motorola Phones, Motorola might not have a choice but to make their phones unlocked from now on. The question is, do they also get the more subtle hint? Many people want an unlocked bootloader because they want to install a custom ROM that can liberate them from MoboBlur and the uninstallable carrier apps.
Motorola hasn't been very sensible with their customers lately. They were the first manufacturer to use a locked bootloader and therefore force their customers to use the carrier apps no matter what. Motorola and others should learn that Android users want their phones to be as open as possible, because that's the big promise of Android, but instead they are locking them down as much as possible.
If Motorola makes a skin like MotoBlur, they shouldn't force its users to use it either. If they like it great, if not allow them to get rid of it. If too many prefer to get rid of it, then perhaps there was a problem with the skin from the beginning, and they need to make it much better or just get rid of it and use stock Android. If this means faster updates, even better. In fact, that would be a true differentiator, unlike the skin which no one wants.