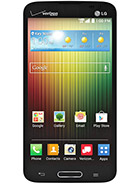 Today we'll be taking a look at the LG Lucid 3, an interesting mid-range CDMA smartphone from Verizon. There are methods for you to get this phone without tying yourself to Verizon as your service provider, but that would require you to already have a CDMA-type SIM card in order to use the "phone" functions of the device ( otherwise, you can just keep it as it is and it'll still work fine, except you won't be able to make any calls or send messages ).
This phone has its good and its bad sides, but overall ( especially if you consider its price ) it's a pretty decent device. The LG Lucid 3 can be purchased from Verizon with either a contract, or without ( although, if you don't already have a CDMA-SIM, your best bet would be getting it with a contract, as the price for that one would be nothing ). If you're interested in getting it without a contract, know that the phone costs around 350 dollars ( which, over-all, isn't that much – especially for a Mid-Range smartphone ).
SUMMARY
Often times when I give out the verdict for a phone, I like to consider both the pricing and its features and add them up to a simple comparative question – does it offer enough bang for my buck? Considering some of the alternative mid-range smartphones on the market, you might say this one is too expensive without the contract, but that would be sort of unfair to say as the phone is very well optimized and the price carefully considered. It works great, it feels great, it has 4G connectivity and a lot of neat features on it too. Of course, the phone lacks a few things that some would argue aren't fit for a mid-range device ( for instance, it doesn't have an 8 MP camera ), but then again, it doesn't really have the price of a Strong Mid-Range phone either. This device is definitely worth getting if you're thinking about a phone more oriented towards the use of the internet. Why I, personally, wouldn't tear down the offer of this phone and at the very least consider it over other more anonymous brands devices is because this one is an LG, and while I may sound old-fashioned, I'd rather trust a company with a history of releasing great phones over and over again than trust an up-start company ( frankly, I'm not proud of this, but my society isn't very encouraging towards a different opinion ).
GENERAL
The connectivity present on this phone is quite good – it can use both 2G and 3G ( CDMA types of networks, not GSM ones ) and it also has 4G LTE support. The type of SIM card present in this device is of Micro-SIM format. Currently, the LG Lucid 3 is available worldwide for purchase, having been announced in April 2014 and released during the same month.
BODY
The specifics of this device don't seem to make it an overly-large phone. It's as big as it needs to be to house its 4.7 inch screen with no overly wide sections around the screen that just happen to waste space. The phone also has one of the things I love most – a physical button and two capacitive-sensitive buttons. The specifics about the size and weight of this phone are: 131.6 x 66 x 9.9 mm in size ( or 5.18 x 2.6 x 0.39 in ) and circa 123.9 g ( or 4.37 oz ) in weight. There were those that claimed the design of this device was in fact a copy of Samsung phones, but let us keep history in mind when saying that LG was, in fact, the first to come out with this type of design that Samsung later copied from them.
DISPLAY
The 4.7 inch screen of the Lucid 3 is an IPS LCD display with 16 million colors that can house a resolution of 540 x 960 pixels and has a pixel density of approximately 234 pixels per inch. The screen is also protected by a sheen of Corning Gorilla Glass 3 for a bit of added defense against minor scratches and a few falls or accidents ( provided they don't destroy the inner components ).
SOUND
Sadly, there's nothing really present here to make the LG Lucid 3 stand out from all the rest. It seems to have no audio enhancements whatsoever, be them on the hardware side or on the software side. This phone is pretty much standard on the audio side ( which isn't necessarily a bad thing, but I like to listen to music often on my phone so a bit of extra quality never hurts ).
MEMORY
The memory of the LG Lucid 3 isn't all that bright, but it's at the very least decent. The phone has about 8 GB of storage space which can be expanded upon via the Micro SD card slot which can use any card of up to 64 GB. The RAM of the phone, however, isn't all that impressive – it's limited to 1 GB of RAM. Under normal circumstances, this will do just fine, only don't try and overload it with too many apps or games or you might experience a few occasions on which your phone will act up and run a bit slow.
DATA CONNECTION
The LG Lucid 3 doesn't have any GPRS or EDGE, being a CDMA device, however, it's internet speed is great: EV-DO Rev. A of up to 3.1 MB/s and LTE. The Wi-Fi of this phone is also 802.11 a/b/g/n with Dual-Band, Wi-Fi Direct, Wi-Fi Hotspot and DLNA. The Bluetooth connection of this phone is v4.0 with A2DP, LE and EDR. This device also has a Micro-USB v2.0 port and has NFC-support as well.
CAMERA
The camera of this phone is one of the things people seem to have problems with – not that it's defective or anything, but they don't like the fact that it has 5 MP instead of 8. However, despite not having 8 MP, it can still record video in 1080p HD at 30 frames per second and snap photos at resolutions of circa 2592 x 1944 pixels. There's also a secondary VGA camera on the front of this device for all the "selfie" maniacs out there. The somewhat few features of this camera include: Autofocus, LED flash, Geo-tagging, Face and Smile Detection, Panorama and HDR.
BATTERY LIFE
The battery of the LG Lucid 3 is a standard Li-Ion 2440 mAh one. Any rigorous endurance tests have yet to be carried out for this battery, but the alleged promised battery life is somewhere around 360 hours of stand-by and up to 12 hours and 30 minutes of talk-time.
HARDWARE
Not much is known about the hardware of the LG Lucid 3. The only thing we can say for certain is that its processor is a Quad-Core 1.2 GHz. All and all it shouldn't prove too low of a hardware setting as long as you don't over-do it and load it with too many unnecessary things.
SOFTWARE
Thankfully, the LG Lucid 3 has no problems here as it's equipped with the latest software version out there – Android OS v4.4.2 KitKat. Until further notice ( when the next version comes out ), this phone should be okay.
FEATURES
The LG Lucid 3, while not one of the most overloaded phone, still packs a few decent features. It has a satisfactory amount of sensors ( Accelerometer, Proximity and Compass ), its messaging is done via SMS ( with Threaded View ), MMS, E-Mail, Push E-Mail and IM and its browser uses HTML. Unfortunately, there's no radio support on this device, but at least the GPS of this phone supports A-GPS. The only color in which the LG Lucid 3 is available is Black.
Below is a brief list of some of the things the LG Lucid 3 can do:
SNS integration
Google Search, Maps, Gmail
YouTube, Google Talk
MP4/DivX/Xvid/H.264/H.263/WMV player
MP3/WAV/WMA/eAAC+ player
Document viewer
Photo/video editor
Organizer
Voice memo/dial/commands
Predictive text input (Swype)
That's been it for the LG Lucid 3. If you'd like to give the phone a try, feel free to click HERE for one of the more reasonable prices I could find. Remember, the phone is FREE if you get a contract ( which you will need if you want to use it as a phone – CDMA device, you know ). In the mean time, I hope you enjoyed reading this review as much as I did writing it and I hope you like the phone.