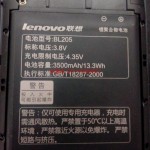 Some time ago we had some news about Lenovo overtaking Samsung in China in the near future. Apparently, Lenovo are making huge innovations in most domains of their mobile devices. I personally think this is great – a computer manufacturer that has started making mobile devices as well, and to top it all off: they are doing really, really well for themselves.
So far, Motorola has been the only one to provide humongous battery life in their smartphones, but obviously Lenovo is about to challenge that fact with their P770. This is an Android OS v4.1 Jelly Bean equipped device with a huge 3500 mAh battery ( 200 mAh more than the Motorola Droid RAZR MAXX HD ).
The Lenovo P770 is measured at around 133 x 67 x 11.9 mm and weighs somewhere around 161 grams. It is somewhat a bit bulkier than the RAZR MAXX HD, as the Motorola phone is around 131.9 x 67.9 x 9.3 mm big and weighs around 157 grams. This phone also has a 4.5 inch screen with qHD IPS and it is powered by a 1.2 GHz Dual-Core Cortex-A9 processor with 1 GB of RAM on it.
The P770 is rated at just about 29 hours of continuous talk-time and nearly a month of stand-by time. The phone features around 3 power-saving modes: Long Stand-By, Normal and Custom. It automatically calibrates the battery reading to display the most accurate of battery percentages. It is not clear yet if the battery is user-replaceable or not ( the Motorola Droid RAZR HD MAXX HD has a non-replaceable battery ). Also, this device features a 5 MP camera with LED flash, VGA front-facing camera, 2 microphones for noise reduction and a customized Android OS v4.1.
While the specs don't sound all that exciting ( not at all, actually ), the Lenovo P770 is priced at CNY 1699 ( or 273 dollars or around 210 euros ) in China ( where it is also available ) and you also get an included 8 GB memory card for the phone. Up until now, the phone is known to exist only in China, and Lenovo has yet to announce plans to make it available world-wide.