The recent polls show that Android Jelly Bean is still way below expectations. While when you consider all the Android OS versions as a whole, Android ends up as it is dominating more than half of the world-wide OS market, if you take version separately the latest version of this OS is still not as satisfactory as the creators of it would have intended. Perhaps that is due to the speed with which Updates to Jelly Bean are delivered world-wide, or perhaps there are other factors to be taken into consideration. One thing's for sure, however, and that's that Android, no matter what version it bears, is still growing in popularity.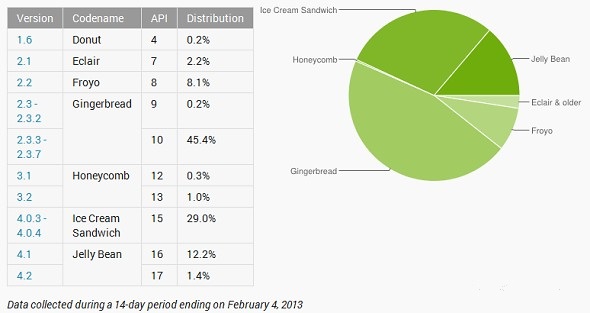 As the fastest growing as far as popularity is concerned, Jelly Bean managed to snatch up 3.6% of the market share over the month of January. With the increase of 3.4% from last December, Jelly Bean's market shares have been growing at a rather steady pace. However, all of its fast growth taken into consideration, Jelly Bean is still below the 15% mark and as things stand, the Android OS version that seems to be the most wide-spread is 2.3.x Gingerbread. The distance between Gingerbread and all the others, as it would seem, is astronomical.
Almost all of the older Android versions lost tiny fractions of their market shares in January. One would guess that the reason to that would be the increase in the total number of Android devices ( with the newer ones running nothing aside from Gingerbread, Ice Cream Sandwich or Jelly Bean ). As marketing intelligence would dictate, there have been way more Android devices with later versions released than there have been updates for the older devices with older versions. Considering that things are going the way they are right now, it would take quite a bit of time for Gingerbread to lose its leading position to some of the newer versions. Judging from the marginal decline, it also seems the sales of Gingerbread devices are still going quite strong.
Below you can find the recap of the market share changes that occurred in the period between January 3 and February 4:
Android 1.6 Donut: 0.2%>0.2% (change not reflected in the first decimal place)
Android 2.1 Eclair: 2.4%>2.2% (10% decline)
Android 2.2 Froyo: 9%>8.1% (10% decline)
Android 2.3.x Gingerbread: 47.6%>45.6% (4% decline)
Android 3.x Honeycomb: 1.5%>1.3% (13% decline)
Android 4.0.x Ice Cream Sandwich: 29.1%>29% (0.2% decline)
Android 4.x Jelly Bean: 10.2%>13.6% (33% increase)