There was a lot of talk about the new hardware of the Galaxy Note 3. There was a lot of talk about the Note 3 in general, now that you think of it, but a lot of it revolved around its hardware. Well, to be fair to everything, a lot of it revolved around the size of the Galaxy Note 3, but we've already grown used to it. I personally like the Galaxy Note 3's size and think it just right for someone who has big hands ( myself, I'm part of said category ). There were rumors that the hardware was better, but now the official announcement has put things to right and all the false rumors were snuffed, while the real ones proven true.
Samsung has officially announced an enhanced version of the chipset they made themselves, the Exynos 5 Octa. Currently, the Octa chipset is available only for the i9500 Galaxy S4 flagship. This second gen of Exynos 5 Octa might be called Exynos Evolved and will be officially shown next week. So far, the teaser picture just says it is a "more powerful, enhanced Exynos 5 Octa". Below you can find said teaser: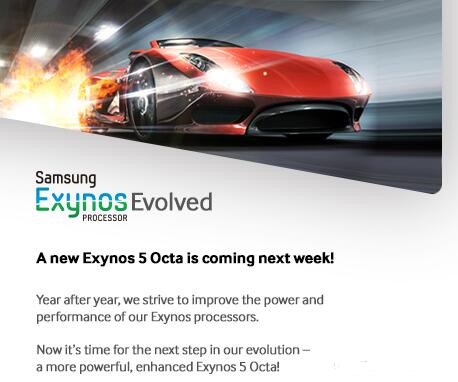 As it would have, it shall be launched during the same time as the Galaxy Note 3 is to be unveiled, more precisely, somewhere in September, where as the launch is this Fall. The smartphone has been rumored for a while now and apparently, it shall be available in a bunch of versions: one of them comes with a Snapdragon 800 and the other will be powered by this new Exynos chipset.
Samsung says they will provide detailed specifications in the following week. Only time will tell and hopefully bring more info about this new GPU and the exact clock speed of the eight cores.