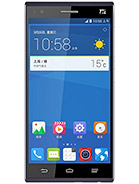 Today we'll be taking a little look at the ZTE Star 1, a highly anticipated phone from ZTE that packs a bit of power on it and is sold for a price that won't break your bank. I may be going a bit out on a limb in saying that this device is sort of like the perfect package, offering both a decent amount of strength a lot of neat features. ZTE seem to have made it their specialty to release the best mid-range devices out there for some of the best prices. The only disadvantage in that is that they're somewhat limited in their availability – generally towards Asia but there were cases of these phones making it to the States or in Europe ( if all else fails, just buy and pay the postal fee, I always say – in some cases, you'd steal make it out pretty cheap in comparison with the devices on some local markets ).
The ZTE Star 1 is one of the best mid-range devices I've seen for that price – it actually brings a lot of features to the table that actually belonged to the flagship devices. The one problem you may experience with it ( as all mid-range phones have a few drawbacks to them, which is normal – heck, low-end devices have by that logic mostly bad-parts ) is the battery – for the hardware it's packing and the screen, especially, it may end up being a bit lower than you need.
SUMMARY
The pricing of this phone can go anywhere between 300 and 400 dollars ( which for a phone with this amount of features and its key points in mind, isn't too much at all ), depending on where you got it from or what deals applied to it. Most of the cases I like to judge whether or not the value the device brings me is at the very least equal ( if not superior – best case scenario ) to the value I'm paying. I'm happy to say that this phone is one of those increasingly rarer cases in which the price you pay is actually worth the value brought to you by the device. While there are slight limitations and disappointments in a few of the features of the phone, over-all it's other bonus ones compensate for the lack of them. You will have to be pretty careful with the phone, though, as there are no built-in protection methods and accessible as it may be, you wouldn't want to buy another one just because you were clumsy enough to let an accident happen to it.
GENERAL
The networking used by the  ZTE Star 1 is quite advanced – sure, it's regular GSM, but it can use 2G and 3G networks and it also has support for 4G LTE networks. The phone is currently available ( although not in that many countries – China for sure and maybe in Malaysia and India in the nearby future, too ) since April, month in which it's been also announced.
BODY
The ZTE Star 1 isn't a very large phone – come to think of it, it's only large enough to accommodate its 5.0 inch screen, without really wasting too much space with thicker-than-normal edges or with overly wide plastic margins. The specifics about this phone's size and weight are: 139 x 69 x 6.6 mm ( or 5.47 x 2.72 x 0.26 in ) and 130 g ( or 4.59 oz ), respectively. The design of the phone seems similar to the Sony Xperia design – plain, thin and sleek body with a few rounded margins here and there and it also has capacitive buttons on the front ( I've noticed an increase in popularity of that on-screen-button trend, which I'm not exactly a huge fan of ).
DISPLAY
The screen of this device is one of the finest out there without going into QHD territory ( which is still relatively new tech, not available aside from a few examples here and there ). This 5.0 screen of the ZTE Star 1 is of the IPS LCD type with 16 million colors that can handle a resolution of 1080 x 1920 pixels and sports a relative pixel density of circa 441 pixels per inch. Unfortunately, as I've previously mentioned slightly, there's no means of screen protection so you'll have to be extra careful not to mix it with keys in the same pocket or try to avoid falls as much as possible ( usually these damage the inside components – rarely is the screen the only part that cracks, but I'm just putting it out there ).
SOUND
The audio capabilities of this phone are quite amazing. While the ZTE Star 1 doesn't have any hardware-based audio enhancements, it does come equipped with one of the best software-based audio enhancements there are – Dolby Mobile Sound Enhancement. Some would argue that Beats is better, but considering they now officially belong to Apple, I doubt we'll be seeing much of them on the future Android smartphones – not without the manufacturers paying a heavy tax for it and then get sued anyway, just because Apple can.
MEMORY
The memory on this phone is quite neat. It has an internal storage space of circa 16 GB which can be expanded upon via the MicroSD card slot, a slot which can use any card of up to and including 64 GB. The ZTE Star 1 also has a pretty impressive RAM memory – 2 GB, to be more precise. All things considered, you should experience close to no bottlenecking due to the RAM ( or other parts, either, as you will soon come to know ).
DATA CONNECTION
The connectivity of this device is pretty good – it has both GPRS and EDGE and can access the internet with LTE speeds too. The Wi-Fi of this phone is 802.11 a/b/g/n with Dual-Band and Wi-Fi Hotspot support and also the ZTE Star 1 has Bluetooth v4.0 with A2DP support on it as well. The USB port on this device is of MicroUSB v2.0 format with USB On-the-Go support, although, sadly it lacks MHL-support and the phone seems to lack an HDMI port ( therefore, you won't be able to put the image of the phone on a larger screen for entertainment purposes ).
CAMERA
Both the cameras of the ZTE Star 1 are fairly impressive. The phone has one main 8 MP camera on the back and a secondary 5 MP front-facing camera as well. Unfortunately, the features of the camera are rather limited, although personally I'm never bothered by that as I rarely use the mobile cameras – still, those features are: Autofocus, Dual-LED Flash ( with Dual Tone  ), Geo-Tagging, Touch Focus and Face Detection.
BATTERY LIFE
The battery of this phone seems slightly smaller than needed, the Star 1 having a Non-Removable Li-Po 2300 mAh battery on it. The alleged battery life offered by this is circa 460 hours of stand-by and 20 hours of talk-time. I wouldn't really base my opinion around those numbers because rarely is the case that a battery ( especially a 2300 mAh ) to sustain the phone-life for so long with the amount of hardware and the display present on this device.
HARDWARE
The ZTE Star 1 is doing pretty well on the hardware side. It has a Qualcomm Snapdragon 400 chipset, a Quad-Core 1.6 GHz Cortex-A7 processor and an Adreno 305 graphics unit. On their own, this spec wouldn't be that impressive, but coupled with the 2 GB of RAM on this device they make for quite a show. The ZTE Star 1 should be easily capable of running just about any game or app out there ( provided you don't want it to run the Tegra 4 games or something equally absurd in terms of hardware demands ).
SOFTWARE
There's nothing really bad to report here – the software ( for the moment ) is the latest version of Android that you can find – Android OS v4.4.2 KitKat.
FEATURES
The amount of features present on this device include: a couple of sensors ( Accelerometer and Proximity ), HTML5 for the browser, A-GPS support for the GPS and Java via MIDP Emulation. The messaging on this phone is done via your standard methods of SMS ( Threaded View ), MMS, E-Mail, Push E-Mail and IM. The ZTE Star 1 is available for purchase in 3 colors so far: Black, White and Pink.
Here's a brief list of what this smartphone can do:
SNS integration
Active noise cancellation with dedicated mic
MP4/H.263/H.264/WMV player
MP3/eAAC+/WMA/WAV player
Google Search, Maps, Gmail, YouTube, Calendar, Google Talk
Document viewer
Photo viewer/editor
Voice memo/dial
Predictive text input
This concludes our little review of the ZTE Star 1. Over-all it's one of the best mid-range devices you could get for that pricing. You're not bound to find something much better than the Star 1 in your search, at least not without dishing out an extra 100 dollars. The only true downfall of this device is its limited availability, but hopefully in the nearby future it will be easier for people world-wide to get it. Hope this little review has helped you see the ZTE Star 1 in a different light and that it, at the very least, answered some of the questions you might have had about it.