I've seen something recently that bugged me out quite a bit. And I'm probably not in the position to get mad at this, but it's done in one of the many types of advertising that I positively HATE – the comparison type. I'm really displeased at the ad that a company known as Viber posted, an ad through which they were comparing themselves to Skype.
I'll give and say that I've never used Viber, but I've been using Skype almost since it came out. There was no such thing as Skype Premium ( or maybe it was, but it wasn't bugging me so much with ads of it at the time ) when I first started using it. I understand that there may be those that use Skype for voice calls as well ( to phones and other such numbers, not to other contacts ), and that they demand a price for that ( as it's normal ) – what I don't understand is why a company would feel the need to resolve to such aggressive means of advertising like comparisons.
Apparently, Viber is a quite popular cross-platform calling and VOIP service – don't blame me for not knowing about it, as most of the people in my country have never even heard about it. Now this company, Viber, has announced its latest thing: Viber Out, a service that lets users place calls to any phone numbers. It was accompanied by the following picture, a picture that seemed to be attacking Skype's service – Skype Out – by offering significantly cheaper rates.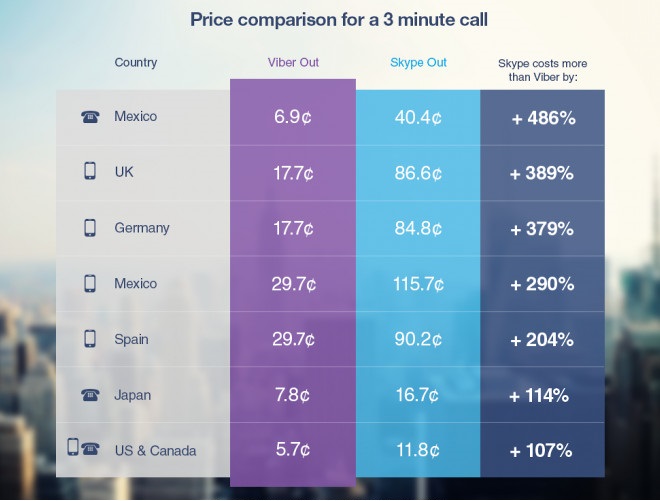 A bit similarly to the Skype system, the Viber Out service uses a credit system which can be bought through in-app purchases or via the credit card using Viber's desktop client. Now while its credit card usage is limited to the desktop version, the program itself is available for a wide range of operating systems, OSes such as: Android, Windows, Mac, Linux, Windows Phone, BlackBerry, Symbian, S40, Bada and iOS.
This newcomer has some impressive stats, granted: it's used by 200 million people in 193 countries, and with the Viber Out service it allows people to call others even without Viber installed. However, while it may be advantageous, it's doubtful that this new program will cause too many problems for giants like Skype since, unless I'm mistaken, Skype also provides monthly contracts similar to those offered by your local carriers. And when saying something like this, you may think to yourself "But that defies logic". Well, the mentality of the common denominator also defies logic. Most people will abstain from using a new program they're unfamiliar with and stick with those that they've used for years and years.
It remains to be seen how this will affect the competition, but I'm not impressed, especially because of the type of advertising they're offering. I severely disagree with Compare Ads – I believe that the comparing should be done by the Buyer and not the Seller. It seems only fair.