Greeting and welcome back, reader. This is the second part of my Top 10 of the best Android phones of this year. The first part contained #10 through #6. This part will contain #5 through #1.
As you've already noticed, some of the phones that I already placed into this Top 10 aren't officially available worldwide. Well, the thing is, this is a Top 10 of the phones of 2012. When I say that, I refer to the whole 2012, not just to 2012 up to now or 2012 up to the half of Q3. If we want to refer to the phones of 2012 we will consider all of the phones that will come out in 2012.
Henceforth, most of the phones of this part are phones that haven't yet come out. Yet they will come out until the end of 2012 and thus they can be considered phones of 2012. Sure, in this long and glorious year for Android, we have had a ton of good phones that can be placed into tops. But of course, there is one thing to be good, and a completely other story to be the best. These phones I have put in this Top 10 are technologically superior to the rest of the phones.
The superiority of these device can be noticed in all sorts of benchmarks and tests. Sure, you may claim that other phones are better suited for other tasks, but the fact remains that certain phones were designed for certain tasks. For instance, the Nokia PureView was designed as a good camera and the Galaxy Beam was designed as phone with a projector. So naturally, none of these phones can be compared to those phones and the way they operate in those particular tasks. But once you compare them on a general level, you will come to see my point of view.
#5 Xiaomi MI-2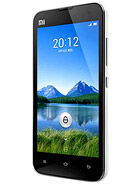 This is yet another really powerful phone. This one isn't something I've heard too much about. Can't say I've heard too much about the manufacturer either, but then again, I'm European. It must be a pretty big hit in Asia perhaps,  else they wouldn't be able to launch a phone with such powerful capabilities.
This phone has a lot of good things about it. Its hardware is more than impressive enough. Its hardware isn't a Tegra 3, but it's more than capable enough to equal it or even surpass it ( Chipset : Qualcomm APQ8064 Snapdragon; CPU : Quad-Core 1.5 GHz Krait; GPU : Adreno 320 ). The display of this phone is an IPS LCD, so one of the finest possible ones with a pixel density and image clarity to envy. The memory is also great, as this phone has 2 GB of RAM. The camera is also an 8 MP one, so it's more than powerful enough. The connectivity of this phone is good and it also has USB MHL, so no HDMI port is needed.
From here on phones tend to have less and less bad points, but as long as the smallest one is available, there's something to write about. While the internal storage space of this phone is 16 GB, I have yet to see whether or not it will have a Micro SD card ( the matter is still being discussed ). Also, the audio output of this device is pretty standard as it lacks any and all sound enhancements, be them software or hardware based.
I have yet to create a review for this particular phone, but keep your eyes open and watch this website as I will be creating one in the near future.
#4 LG Optimus G E973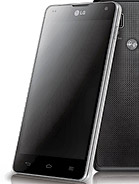 This is the phone from LG that I mentioned in the previous part. This device is the one that can be considered to take the place of the main flagship representing LG. Not only does this device look awesome with its sleek and beautiful design, but it also has a ton of features and a more than capable enough hardware configuration.
Almost every little thing about this phone is good. Actually, it has so few bad parts that I may have to cut short the review of this one. But that isn't necessarily a bad thing, now is it? The LG Optimus G E973 is, perhaps, the strongest phone I've seen from LG yet. It has been a while since I've seen LG get so far ahead of its competition. Sure, they have always been "Top Dogs" in the playground, but never have they been so close to attaining the leading role. Trust me when I say this, to release two Flagship devices in the same year is something fierce indeed. But I've dabbled enough besides the point. The hardware of this device may not be Tegra 3, but it is strong enough to equal it, or even overtake it ( Chipset : Qualcomm MDM9615 / APQ8064; CPU : Quad-Core 1.5 GHz Krait; GPU : Adreno 320 ). The camera of this phone is phenomenal to say the least. You would say that too if you knew how rare a 13 MP camera is on phones. To top it all off this phone has a screen of the purest quality possible – True HD-IPS LCD. The RAM of the Optimus G E973 is 2 GB, so there's no complaint whatsoever there, and the phone also has a connectivity to tremble before, and it even includes a USB MHL port. The audio output of the device is also something awesome since the phone is equipped with Dolby Mobile sound enhancement. Also, this phone has NFC – if you don't know what that is, I've explained in some of the older articles.
The bad parts of this phone are pretty few. The only "bad" point can be considered a question mark since the internal storage space is somewhat unknown. However large that space may be, the phone has a Micro SD card slot on it as well. Also, while it may be discouraging to see that it does not have the latest version of Android OS, know that despite coming out with Android OS v4.0.4 on it, there is a planned upgrade to v4.1.1 in the near future.
If you would desire to read a more detailed review of this phone, check out our LG Optimus G E973 review.
#3 HTC One X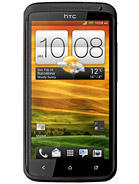 What I believe you're asking yourself now is "Why is the HTC One X the third, when it is just as powerful as the Samsung Galaxy S III?". Well, my dearest reader, that is an interesting question you pose and I shall answer it. As you may have already gathered by now, I placed the phones in the order of their Hardware, and since most of them have similar hardware specs, I had to differentiate between them by judging their overall scores, capabilities and features. Sure, this one is a cut above the Galaxy SIII simply because it has Tegra 3 technology in it, which allows it access to the Tegrazone and all of its contents. However, if we are to take into consideration the rest of the features that this phone has, it is greatly inferior to the S III.
Its good points are many. One of them is the fact that it has Tegra 3 in it, as I've already mentioned. Its screen is also quite good, the HTC One X having a Super IPS LCD2 screen, which provides vivid colors and clear images. It also has a very effective means of screen protection – Corning Gorilla Glass. The connectivity is very good, the One X also having USB with MHL, thus removing the need for an HDMI port. The camera is also pretty good, the phone having an 8 MP camera with a ton of features to make up for it.
One of the few bad things this phone has is the memory. I have nothing against the 1 GB of RAM that it has. What bothers me is the fact that it has 32 GB of storage space out of which only 26 are user-available. Also, the One X has no card slot whatsoever on it. And speaking of things they don't have, the sound enhancements are also lacking severely – both hardware and software based ones. Sure, the phone has Beats Audio on it, but that isn't classified as a sound enhancement, rather, more as a feature. Apart from the mediocre sound quality, nothing else is wrong with it.
If you would like to read a more detailed review of this phone, check out our HTC One X review.
#2 Samsung Galaxy S III
Before you go all out ballistic on me for doing this and asking "What could possibly be better than the Galaxy S III?" stop a moment and listen. Sure, the Galaxy S III is powerful and has managed to be the Flagship of Samsung for this year. But right now Samsung is doing the same thing LG did. The same thing I spoke so much of above – they replaced their Flagship with a better phone. You will see in just a few minutes what I'm talking about. This remains one of the strongest phones nonetheless, but it does have some places where it could have been improved.
The good parts of this phone are so many that I may not be able to fit them all in one paragraph. The thing is, the phones on #3, #2 and #1 don't have any Bad parts, but some of them have things that could have been improved. The hardware, for instance, is extremely powerful. While it may not be a Tegra 3 phone, it still equals it in power and reliability ( Chipset : Exynos 4412 Quad; CPU : Quad-Core 1.4 GHz Cortex-A9 ; GPU : Mali-400MP ). The screen of this phone isn't so great – it is a Super AMOLED screen. While Super AMOLED has been really great up till now, there are other screens out there with higher quality. Still, I am not expecting Samsung to change their technology, rather, to adapt it in the following months if it needs to. Of course, there are tons of "Super AMOLED" screens. While they differ from one another, they are identical in name. The screen also has the most effective means of screen protection as of yet – Corning Gorilla Glass 2. The internal storage space of the device varies between 16, 32 and 64 GB, and to top it all off it has a Micro SD card slot that can take any card of up to 32 GB. The RAM is 1 GB, so it could have been better. The connectivity is great, considering it also has USB MHL and USB On-the-go-support. It also has NFC on it, and if you don't know what it is, do check out our older articles for explanations. The camera is an 8 MP one but it has a ton of features to make up for it. It also has the latest version of Android, and if it's not installed on it, you can always upgrade manually.
The only "bad" point of this phone, per say, is the fact that it has no audio enhancement whatsoever installed on it, no hardware one and no software one. That puts it somewhere into mediocrity as far as sound is concerned. However, with all the other things it has, the S III is anything but ordinary.
If you would life to read the fully detailed review of the Galaxy S III, do check out our Samsung Galaxy S III review.
#1 Samsung Galaxy Note II N7100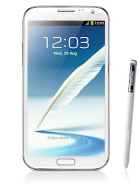 Those bright enough among you already realized eons ago where I was going with this review. Of course, who else to be Nr.1 than the best phone of the year of 2012. Who cares if it's currently not out yet. When it actually does come out most of the people will probably buy it as it is more awesome than any phone I've seen. Hell, it's more powerful than any tablet I've seen, and I've seen a lot of them. It's only fitting to mention this device as both a phone and a tablet, since after all, it is something born of both worlds and yet never truly belonging to neither. This is a large phone, or a small tablet, or a phone-tablet-hybrid also known as Phoneblet.
This phone is by far the strongest one I've seen ever. It's hardware is phenomenal, and while it may not be Tegra 3, it's certainly as strong as it and just as capable ( Chipset : Exynos 4412 Quad; CPU : Quad-Core 1.6 GHz Cortex-A9 ; GPU : Mali-400MP ). This device will launch with the latest version of the Android OS on it – Android OS v4.1 Jelly Bean. The screen of this device is a 5.5 inch Super AMOLED one with Corning Gorilla Glass 2 defense ( the strongest means of screen protection known to this moment ). The memory of this phone is also something else, the Galaxy Note II being available in three versions : a 16 GB one, a 32 GB one and a 64 GB one. All 3 of them has Micro SD card slots ( standard ones that can use any card of up to 32 GB ) and 2 GB of RAM. The connectivity of this device is awesome, it having both USB with MHL and USB On-the-go-Support. Not to mention it also has NFC. The camera of the device is an 8 MP one with more than a ton of features to make up for the camera not exceeding 8 MP.
The only problem I have with this device is the fact that it doesn't have any sound enhancements whatsoever on it, be them software-based or hardware-based. This foolish decision is pushing the phone into a sea of mediocrity as far as the audio output is concerned. However, the rest of the phone is splendid enough to pull it out and still make it the best phone of up to now.
I have yet to create a review of this device, but I will make one soon enough so keep your eyes peeled on this website to read it when it is done.
This concludes my list of the best phones of 2012. I hope you enjoyed it and if you have a problem with the arrangements, know that they are mostly for show as the phones are pretty similar. However, I tried to add as much order as I could to them. If you enjoyed it I am glad for you, but if you did not, there's always next year, right?
Thank you for reading and have a nice day!