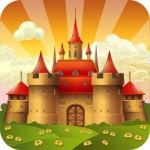 Today we'll be taking a look at a pretty neat little "adventure" game. I use the term "adventure game" loosely, as this game hardly classifies as an adventure one. Sure, it has all the similarities to the adventure genre, but it can't be so easily placed into a single genre. This game has elements from multiple genres of games and features a lot of mini-games and puzzles of different origins and with little similarities. With all the original content and diversity this game is offering, it should come to nobody's surprise why it costs as much as it does. Even so, personally I don't believe that 2 dollars for an Android Game is all that much. Consider this: as a smoker you spend roughly 5 times as much on cigarettes daily. Perhaps that is not the most adequate / political correct example, but it is a practical one to which a whole bunch of people can relate.
Judging by the reception this game received, I'd say that it isn't altogether that bad. There were those that said the levels become somewhat difficult at some point in the game, but then again, with absolutely every action there is a handful of people that can't help but complain about how "difficult" it is. Heck, even with a few flaws here and there, this game is sure to bring you a few hours of entertainment.
FEATURES:
This game is a combination between more genres such as Hidden Object or Match 3 and so on
The game has over 50 levels for you to play
The game features a vast and beautiful fairy-tale world filled with mysteries and riddles
In case you have a problem with it, the game has a complete absence of violence
This game has some of the better looking high-quality graphics out there
This game also has a set of original mini-games for you to enjoy.
DESCRIPTION:
In the kingdom of Arroyo, the King is on the lookout for somebody to take up the burden of the throne when he is no more. The person that finds the Royal Ruby is to inherit the kingdom. Rian, the royal scholar, believes he has found the heir to the kingdom in a peasant girl named Elisa.
The Enchanted Kingdom: Elisa's Adventure is a very colorful fairy tale world where humongous dragons, wise magicians, kind monsters and peculiar plants live and prosper. You are to help the young heiress Elisa to ascent to the throne and learn how to rule her country. The road to power is covered with all sorts of fascinating quests.
This adventure game cleverly combines Match-3 with Hidden Object games. Your goal as a player of this game is to unravel the mysteries and riddles that encompass more than 50 captivating levels and search the colorful locations for hidden objects. This game's high quality and 3D styled graphics will both delight and impress all users, be them younger or older.
You can get this nifty little Android game from Amazon.