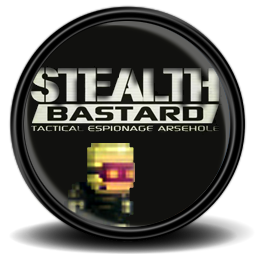 It's no big secret that I love PC games – and I like almost all the genres ( aside from the Survival Horror ones – I hate being a lemming and not being able to harm the opponent ). On occasion I also like to play some Stealth Games, but I find them to be extremely slow – granted it makes sense but stand a bit too much and you end up predicting the routes the enemy will take and all will be come a series of very scripted events that gets tedious and boring real fast. I loved the Splinter Cell series, for instance, but some of them were PAINFULLY slow ( the first ones were more stealth-based, the newer ones are more forgiving if you want to make it into a Third-Person Shooter ). You'll never have that problem with Stealth Bastard…
To sum it up, this game is like the unholy child between Super Meat Boy and Metal Gear Solid. This is probably the only fast-paced, nail-biting antidote to tippy-toed sneaking simulators that the world has so desperately needed. Also, before going ahead and complaining about the graphics of the game, keep in mind it's an Indie game ( aka not made by some huge gaming company ) and it was made in Game Maker Studio – which, from my stand-point, makes it all the more impressive.
Features:
Hide in the shadows with a real-time shadowing system!
Evade a wide range of eagle-eyed lethal robotic foes!
Hack your way to the exit… and to the next challenge!
Squeeze through doorways mere seconds before you're sliced into pieces!
Die in a variety of gruesome, cruel ways!
Create your own fiendish deathrooms and share them with the world – all in the game!
Shave seconds off your playtimes and rule the global leaderboards!
Description:
While in other stealth-games you usually have options – like avoid nasty situations by simply killing the thing that saw you – that's not the case here. With Stealth Bastard, if you're seen, you're dead. The premise is simple – you have nothing but your wits and some top-of-the-line Stealthing Goggles and you're objective is to sneak your way through a deadly facility where every wrong move can mean your end ( beginning to see how it resembles both Super Meat Boy and Metal Gear Solid yet? ). There are quite a few obstacles for you to face inside the game, too – obstacles like: trigger-happy robots, lethal lasers, crushing walls and so forth. To finish this, you will need quite a bit of stealth and no small amount of speed in order to beat the facility's security systems.
Below I'll post a short video for you to see what this game can really do:
Where can you get this? Well, at the time I wrote this the best deal was found HERE, on the Humble Store ( where the price was cut from 10 dollars to 3 dollars, not to mention you get it cross-platformed ). I've mentioned a few times for some other games WHY it's better to get it from the Humble Store. One of the best reasons is that part of the money goes to charity, but if that doesn't impress you, you're also getting the game in multiple versions – there's the Android version, there's a DRM-free version, and there's a Steam Version that works for Windows, Linux and Mac. Frankly, that's one of the best deals I could find for this game. Even IF by the time you decide to get it, the game will cost more, I can assure you it's worth it. It's probably one of the best Indie games of its year and extremely entertaining ( or frustrating, depending on your personality ).
Also, if you think it's a hoax there ( there are those whose paranoia runs deep, it seems, although I personally can vouch for their veridicity and seriousness – thing which I wouldn't do for everything ) on the Humble Store, here's a link to the Official Website, although I cannot say whether or not it also offers it in .apk form for Android. Try if you will, but my personal choice is the first-mentioned one.
To sum up, try Stealth Bastard if you're into stealth-games, try it out even if you're not into them as you can't really say this is the traditional stealth-game we all know and are used to, and if you don't like it, at least you helped support the creator and / or the Child's Play Charity.