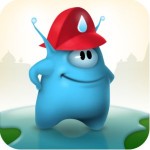 Today we'll be reviewing an Android Game, and a really good one too. This game is similar, in a way, to Angry Birds  as far as the level selection goes ( I gave that example since this game is the most known worldwide, although this kind of level arrangement with stars for rating was present for a lot of time before Angry Birds first appeared ). This is a physics game as it most realistically mimics the physics of water and fire. That being said, you may require quite a powerful phone to run it, or at least a good one that's better than most of the 2010 phones. Still, the game is pretty fun and is a good way for you to kill some time.
STORY
On a Planetary Moon, far, far Away
The inhabitants of something called Titan, one of Saturn's moons, lived out their days happily and peacefully in straw hut homes, without needing any protection or defense for as long as anyone can remember. One day, however, space tourist from Earth inadvertently crashed through Saturn's rings ( leave it up to humans to ruin everything ), bringing a storm of flaming asteroids that crashed down on the surface of Titan. To combat the widespread fires threatening their fragile and vulnerable homs, the Titans built a massive water cannon. And who better to man those cannons, than YOU, the player.
DETAILS
Using the previously mentioned water cannon which is mounted on some sort of crane, the player must adjust the height and angle of the cannon to put out random fires on the level, move obstacles, spin wheels and activate traps. This is a very challenging water physics-based puzzle game. One must think before shooting and analyze the course of the water and obstacles which may come between you and your objective since you don't have an unlimited supply of water. The game's currency, or prizes, is made up of "drops" which you earn more of if you use less water.
Being one of the most realistic water physics games ever seen on mobile devices, Sprinkle is quite the little brain-teaser that has often left player bashing their heads against the walls in order to figure out a way to complete each puzzle and bypass each obstacle.
FEATURES
Winner of the International Mobile Gaming Awars best casual game
Incredibly realistic water physics
72 brain-teasing puzzles
Enjoyed by more than four million people
This game has amazing water physics : some of the most realistic water physics ever seen on a mobile device make this game – Sprinkle, an exciting, addictive and visually stunning puzzler.
Sprinkle also has some really Brain-teasing puzzles : what starts out as simply pointing and spraying to quench each fire becomes much more challenging through all of the 72 levels, as players must overcome the intricacies of each puzzle before either time or water runs out.
There are also obstacles such as Blocks, Boulders or Cogs. To overcome them you must use the power of your water cannon to move blocks of ice and boulders, spin giant cogs and depress traps in order to reach and put out each and every last fire.
TECHNICAL DETAILS
Size: 25.0MB
Version: 1.7.2
Developed By: Mediocre AB
Application Permissions: Open network sockets.
Minimum Operating System: Android 2.3
Approximate Download Time: Less than 4 minutes
AWARDS :
Winner of Best Casual Game in the 2012 International Mobile Gaming Awards
"Gaming App of the Day"–[Kotaku]
"Sprinkle is a solid puzzle game in a similar vein as Crush the Castle or Angry Birds, yet carries gameplay and an identity distinct from either." 4/4 Must have–[Slide To Play]
"Wonderful concept, realistic water, adorable aliens, catchy music, satisfying play" 5/5–[Modojo]
"Sprinkle makes fighting fire with physics (and water, of course) a heck of a lot of fun" 4.5/5–[148Apps]
"The game quickly made its way to every member of my family"–[ArsTechnica]
You can purchase this Game from Amazon.