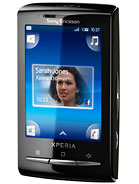 This Android Phone is quite similar to the Samsung Galaxy Mini. It even shares the name of Mini. It is quite similar to the Galaxy Mini in performance and in size as well. But don't take my word for granted, have a gander below and check for yourself. Here's the Sony Ericsson Xperia X10 Mini. Enjoy.
Processor : 600 MHz, Adreno 200,Qualcomm MSM7227
RAM : N/A
Android OS : 1.6 Donut
Camera : 5 MP
Display : 240 x 320 pixels, 2.55 inches (~157 ppi pixel densit
On the display side, this Android Phone has a TFT capacitive touchscreen with 16 million colors. It does have a catch though, as the people that made it insist on the idea that it is more effective in 65K colors. The screen is 2.55 inches big and has a resolution of 240 x 320 pixels. The screen's pixel density reaches around 157 ppi.
On the memory side, this phone doesn't really have any RAM – fact that raises questions such as: how fast can it run? I can't really answer that but I can tell how much storage this phone has. It has an internal storage space of around 128MB. The internal storage space isn't enough for you ? No problem, you get a MicroSD card of 2 GB upon purchasing this phone.
This phone has a 5 MP camera with a resolution of around 2592 х 1944 pixels. Some of the features of the camera include : autofocus, LED flash and geo-tagging. The video recorder can record in VGA quality at a steady 30 fps. Since there are other cameras out there similar to this one which record at 720p I'd say it kind of blows. Well, at least it has video light. No secondary camera though, so everything comes with a toll.
On the hardware side, this phone has a 600 MHz processor and an Adreno 200 combined with a Qualcomm MSM7227 chipset. It's just as  powerful as the Galaxy mini, apparently. It means that the folks at Sony Ericsson knew what they were doing since they released this phone an year before the said Galaxy.
As far as the software goes, this phone has Android OS v1.6 Donut pre-installed on it but it can be upgraded to 2.1 as well. Normally I frown upon such old Android OS versions, but this is an oldie but goldie phone, so I forgive it.
All and all, it's a pretty awesome phone and you'd be foolish to think otherwise. For more information about this phone and/or purchase details, click HERE.