I don't know about you guys, but I'm always keen on new versions of Android. Usually I make the mistake of getting pre-releases and stuff like that just to see the new features added, but, if I can, I always get the full official update the same day it comes out.
Google recently detailed the state of Android OS versions in September: Jelly Bean is gaining slowly, while pre-4.1 versions decline slowly but surely. Pre-2.1 versions account for about 1% of devices right now, but those are now considered too old for the new Play Store app and are not included in the charts. With that, the only survivor of Android's archaic past is 2.2 Froyo that remains alive makes up for a mere 2.2% of the whole. See this chart below for future reference: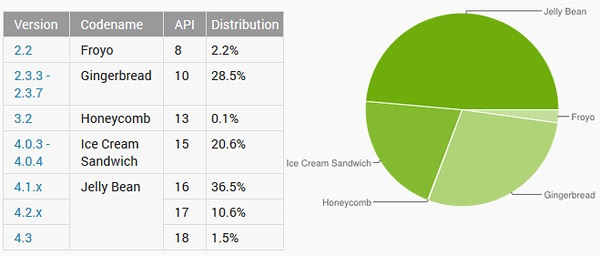 Android 2.3 Gingerbread is still wide-spread and powering around a third of all Android phones and lying steady at 28.5%, having fallen a couple of percentage since August. It still is the second most popular version after 4.1 Jelly Bean. Android 4.0 Ice Cream Sandwich is losing ground at a slower rate, dropping a single percentage pint. Honeycomb (3.2) is at the 0.1% threshold, where it has been for months now ( it's a safe bet that it will disappear completely soon ).
Leaving the others aside, Jelly Bean is the one that interest us the most. The first 4.1 version declined a bit, perhaps due to the 4.2 updates rolling out. The second version of Jelly Bean, 4.2, has crossed the 10% mark growing two percentage points. What's astonishing is that 4.3 scored a 1.5%, considering that the Nexus devices that have it have just recently hit the shelves.
The adoption of 4.3 is spreading faster than anticipated, considering 4.2 took from November ( when it was 0.8% ) to February to get up to 1.6%. Google is also reporting the OpenGL version support and 2.0 has an overwhelming 99.8%. Strangely, OpenGL ES 3.0 isn't included even though 1.5% of Androids are running 4.3.