Although mobile gaming is stronger than ever and we can see all types of games on our smartphones and tablets, there are still quite big problems when it comes to gameplay quality. Biggest issues are with fast-paced and too complex titles because they suffer from poor controls on touch screens. That's why mobile gaming favours strategies over FPS titles, or puzzle games over RPGs.
Today I would like to show you new logical game called Save the snail 2. It is sequel of fairly good title (3.9 on Google Play with more around half milion downloads) but is it worth your time investment, however is free?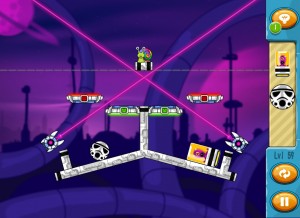 Game revolves around one unlucky snail caught in time machine. This is it for the story, because developers only needed some trivial excuse to use multiple themes based on historical periods. First is era of dinosaurs followed by 19th century and finale takes place in the distant future full of lasers and teleports. All game environments are very well done with animated background and right atmosphere. Every era contains 20 levels so it is 60 altogether and completing game will probably entertain you few hours. Luckily, game mechanics are polished and fun while different historical periods quite drastically change gameplay with different active objects player can utilize to save the snail.
Trailer is very well made and shows parts of gameplay
Main goal in every level is to protect snail – mostly hide him from objects falling from above at the end of each level. To do so, you must also throw various object from side menu to game map. Sometimes you must push snail to hideout, but in most cases, you have to create this hideout beforehand. Some levels require good timing others will test your logical thinking.
Levels are created to have one correct solution but it is not rare to come across situations where player have at least limited freedom. Game is based on simplified but quite realistic physics so it allows you to experiment "what will happen if I try to do this crazy move?"
It is overall very good game – cute, quite long, free and nicely brain-teasing. You can get it from  Google Play.