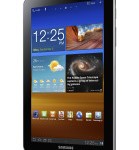 I usually don't review/preview Tablets, but I'm starting to run out of Android Phones, so I figured, why the hell not ?
And what better way to start my new tab-spree than with the best Tab of all. The Samsung Galaxy Tab 7.7.
This Tab was actually the reason for a very short-spanned trial in Japan due to the fact that Apple was too afraid of it. Little did they know, none of their weak products can compare to Galaxy products.
Processor : Dual-core 1.4GHz ARM Cortex-A9 processor, Mali-400MP GPU, Exynos chipset
RAM : 1 GB
Android OS : 3.2 Honeycomb
Camera : 3.15 MP
Display : 800 x 1280 pixels, 7.7 inches (~196 ppi pixel density)
This tab has a really great display, being a Super AMOLED Plus capacitive touchscreen with 16 million colors. The screen resolutions is 800 x 1280 pixels, the screen itself being 7.7 inches big. That means that the pixel density is approximately 196 pixels.  That means that this tab has one of the finest screens out there, but being a Galaxy Tab, it has the same build as all the others, having a somewhat slim yet quite long screen.
On the memory side, it has 1 GB of RAM and the internal storage space varies between the model you purchase. It can either be equipped with 16, 32 or 64 GB of internal storage space. And if that wasn't enough, it can also use a microSD card of up to 32 GB.
On the camera side, this tablet has a 3.15 MP camera that can photograph pictures  at resolutions as high as 2048 x 1536 pixels. Some of the few features of the camera include : autofocus, LED flash and geo-tagging. The video recorder can record video at 720p HD at a steady 30 fps. It also has a secondary 2 MP camera.
On the hardware side, it has a Dual-core 1.4GHz ARM Cortex-A9 processor. It also has a Mali-400MP GPU and an Exynos chipset. That's the best configuration out there for any Tablet made up until now.
On the software side, it has Android OS v3.2 Honeycomb.  As far as I know, that's the latest version of the great and mighty Android OS for the tablets, but I suspect in a few months it will be replaced by 4.0. If you're interested in this tab, do click HERE.