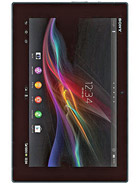 Today we'll be taking a look at a really awesome tablet – the Sony Xperia Tablet Z. First off, before anything further is said, it's important to point out that this tablet is available in a few different versions. We've chosen to take a look at the Wi-Fi version of the tablet ( the one with no 3G support ). Personally, I consider this version better for the following reasons: firstly, it's cheaper than the other version and doesn't require you paying for a continuous internet connection to one provider or anther, and secondly, all the places I often frequent are equipped with a free Wi-Fi connection. Therefore, thus weighing the advantages and disadvantages, I came up with the conclusion that this version of the tablet is, by far, the superior one.
One of the few disadvantages of this particular device is its size. While it's expected of a 10.1 inch tablet to be large, as you can obviously tell from the small picture on the left, there is quite a thick plastic edge to the tablet. Sure, it may look great and feel quite good in the usage process, but some people may not agree with the increase in size.
SUMMARY
First off, don't expect the Sony Xperia Tablet Z to support any GSM network, at least not this one ( the 3G / LTE version does and uses a Micro-SIM card for the networking ). Secondly, the Sony Xperia Tablet Z is one of the few tablets I've seen that actually has two names and wears them accordingly. In the case of this tablet, its two names are given for each version of the tablet as following: SGP311 for the 16 GB storage space model and SGP312 for the 32 GB storage space model. Also, I talked a little bit about the pricing of this device earlier. Well, time to be more precise: while you can get this device for around 500 and some dollars, you'll be paying at least a few hundreds of dollars more for the LTE version ( which, in my opinion, isn't a very wise investment unless you absolutely NEED that particular version of tablet ). An interesting thing to note about this tablet is the fact that, like many other good Xperia phones released by Sony, this device is also protected from many of the elements. If you keep on reading, you will see exactly what I mean.
GENERAL
The SIM card of the Sony Xperia Tablet Z is totally absent, as I've already said, and thus any hint of connectivity that this tablet could have been capable of goes out the window ( aside from the Wi-Fi – that's still there ). It's been available for a while now ( since May, to be precise ), this particular tablet, but I personally feel that it should have received much more attention and should be more wide-spread than it is.
BODY
The exact size of the Sony Xperia Tablet Z, while it may be a bit big, isn't all that exagerated or out of the ordinary. The exact dimensions are as follows: 266 x 172 x 6.9 mm ( or 10.47 x 6.77 x 0.27 in ) and it weighs somewhere around 495 g ( or 1.09 lb ). What's particularly interesting to note about the Sony Xperia Tablet Z is the fact that it is one of those IP57 certified devices that are restitant to water and dust to some degree. That's a pretty neat feature to have for one such device and it is definitely one of the more useful features ( you never know when the unthinkable may happen and it's good to plan ahead ).
DISPLAY
The type of screen on this device is an LED-BackLit LCD capacitive touchscreen with 16 million colors. As I probably already pointed out, this is a 10.1 inch tablet and it can house a resolution of 1200 x 1920 pixels. Unfortunately, the Sony Xperia Tablet Z's pixel density leaves some room for doubt. Having a mere 224 pixels per inch ( approximately ), one cannot help but ask whether or not this is suficient. Well, I for one have had the pleasure of playing around with one such device and can honestly say that there's not much of a difference between this and 300+ ( for most users, it should prove to be more than enough ). The multitouch of this tablet is one of those more interesting ones that can support up to 10 simultaneous fingers on it. Regarding the display, the Sony Xperia Tablet Z seems to be running the Sony Mobile BRAVIA Engine 2. Also, on the topic of protection: this display is covered by sheet of shatter proof and scratch-resistant glass, so it should ensure that it survives a fall or two ( but I wouldn't really recommend dropping it on purpose ).
SOUND
In the case of the Sony Xperia Tablet Z, there are certain audio enhancements that need to be taken into consideration. First off, we have a pair of Stereo Speakers instead of its regular single large Loudspeaker. Secondly, we have a software-based 3D surround sound enhancement installed on this device as well. Naturally, there are no alert types for this particular device as it is not a phone.
MEMORY
There are a couple of things about the memory that you already know, such as the fact that the Sony Xperia Tablet Z is available in a 16 and 32 GB version. What you don't know, however, is that it also has a MicroSD card support that uses any MicroSD card of up to 64 GB. Also, no matter what version of device you choose, all of them have 2 GB of RAM, so as far as speed goes you should be all set for the next year or so ( disturbing how the market changes so fast, isn't it? ).
DATA CONNECTION
While the Sony Xperia Tablet Z may not have GPRS or EDGE, it does have NFC support and an Infrared Port on it. Regarding the WLAN of this device, that's a whole other story: Wi-Fi 802.11 a/b/g/n with Dual-Band, DLNA and Wi-Fi hotspot. As far as the Bluetooth connection of this tab goes, we're talking v4.0 with A2DP. This tablet has a MicroUSB v2.0 USB port that has support for MHL ( in other words, it can act as an HDMI port through an MHL A/V Link cable ).
CAMERA
The Sony Xperia Tablet Z has two cameras installed on it: a secondary frontal 2.2 MP camera that records 1080p full HD at 30 frames per second, and a main 8.1 MP camera on the back that also records in that manner, but it has HDR support on it as well. The features of the main camera include: Autofocus, Geo-Tagging, Touch Focus, Face & Smile Detection and HDR. While I generally despise taking photos with tablets ( mirror selfies with tablets are the most cancerous thing to ever hit the internet ), it would seem like a rather good camera to use on the spot if nothing smaller or more powerful is available.
BATTERY LIFE
The battery of this tablet is a pretty decent one, yet my one quarrel with it is that it is non-removable. Still, the strength of a Li-Po 6000 mAh battery cannot be denied. This battery can sustain your tablet's life for ( allegedly ): 890 hours stand-by, 110 hours of music play and around 10 hours of using apps or multimedia-related things. It would seem quite a decent battery at first glance, however, future testing should be employed.
HARDWARE
The hardware of the Sony Xperia Tablet Z pales in comparrison to other devices ( especially those of 700+ dollars ), yet it still is better than the bulk of all tablets. Don't take my word for it, though – see for yourself: we have a Qualcomm Snapdragon APQ8064 chipset combined with a Quad-Core 1.5 GHz Krait processor and an Adreno 320 video card. Call it what you will, but to me that's some powerful hardware that can maybe run anything out there for the next year and a half at the very least.
SOFTWARE
Misfortune would have it that the Sony Xperia Tablet Z doesn't come with the latest version of the Android OS pre-installed on it. However, despite the fact that it comes with Android OS v4.1.2 Jelly Bean installed, there is hope that it will maybe support the latest version as well ( it already support 4.2 and is update-able to it ).
FEATURES
The Sony Xperia Tablet Z is one of those tablets that's packed full with all sorts of neat things and features that would make anyone jelous. This tablet has quite a few sensors ( like Accelerometer, Gyro and Compass ) and it also is capable of using Java as it uses it through MIDP emulation.. The GPS of this device is quite unique as all of the versions of the tablet support A-GPS, but not all of them support GLONASS as well ( it's dependent on the market from which you get it ). There is also a Stereo FM radio with RDS on this device, if you're interested in using it, or if you're the "more internet, less anything else" kind of person, you can take to the browser which uses HTML5. The messaging on this device can be done via: E-Mail, Push Mail, IM and RSS. There are two available colors for this tablet: Black and White ( both look great ).
Below you can find a brief list of what this tab is capable of:
SNS integration
TV-out (via MHL A/V link)
Xvid/DivX/MKV/WMV/MP4/H.264/H.263 player
MP3/WAV/eAAC+/FLAC player
Organizer
Document viewer
Photo viewer/editor
Voice memo
Predictive text input
This concludes our tiny review of the Sony Xperia Tablet Z. Hope it has helped you in answering at least a couple of questions about the device.