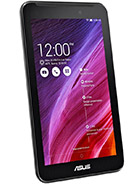 Today we'll be taking a look at the Asus Fonepad 7, one of those interesting tablets that also has support for GSM voice-communication, SMS and MMS ( if you won't use them, at the very least you can put an internet SIM in it and be done with it all ). With the tablet market being dangerously close to stagnation at the moment ( because, let's face it, they're not as popular as people believed they'd be ), I'm glad that Asus decided to release a tablet with GSM support ( although, to be fair, they do seem to be more popular now ).
Frankly, this isn't the strongest of tablets out there, but I doubt you'll find anything for a lesser price that's as good as this one. It has a few neat features of its own, despite lacking severely in some other parts. Also, I think it's a necessity to specify that this is the 2014 model ( the one released in May 2014 ). There is a 2013 model to this tablet as well ( released in October 2013 ), but the main difference between them is that the 2014 model is made for a much lower budget and has a lot of the features cut from it. Fret not, for I will specify which features are lower than their somewhat older counter-part.
SUMMARY
The Asus Fonepad 7 ( the 2014 model ) is, as I've said, way weaker than the 2013 version, however, it does have a few a few things that the previous one did one – such as the size and weight being smaller and the fact that it can use two SIM cards. Aside from those, however, if you're not really looking for a low-budget tablet, I'd suggest steering clear of this one as you will most likely not find what you're looking for. Personally, I wouldn't do my work on such a tablet, but I find its a great device for kids to play on or to occasionally watch a movie or read an article ( provided your standards regarding the screen aren't too high ). I know I'll probably get some hate about that remark with giving it to children ( I notice this being an issue now – they're even going as far as calling it an "addiction" ), but frankly, ANYTHING is dangerous and has bad consequences if you don't know how to manage it – in the end it's not the kid's fault for liking something entertaining, it's the supervising adult's fault for not stepping into the situation and regulating it properly in the first place. Aside from the uses, the Asus Fonepad 7 is a really neat kind of device as far as aspect goes ( it's pretty petite and light, especially compared to the previous model ).
BODY
The body of this device isn't that big ( at least not as big as the one of the 2013 model ) and it's a bit lighter. The specifics about the size and weight of this device are: 192 x 110 x 10.7 mm ( or 7.56 x 4.33 x 0.42 in ) and it will weigh around 290 g ( or 10.23 oz ). It's not much smaller, but if you look at the two side-by-side you'll see that the 2013 model has slightly thicker plastic margins around the screen ( in the end, that's the decisive fact regarding the size of the tablet ). Otherwise, there's not really anything here to set it apart and it has a pretty basic and simplistic design.
DISPLAY
The screen of this device isn't as good as the 2013 model, due to the fact that certain cuts had to be made to reduce pricing. It's just as big ( 7 inches – as the name also suggests ), yet the resolution and pixel density are lower: 600 x 1024 pixels resolution with circa 170 pixels per inch ( as opposed to the 800 x 1280 pixels resolution and around 216 pixels per inch density of the Asus Fonepad 7 2013 model ). No actual screen protection method is present for this device ( similarly to the old one ), so you'll have to pay attention with it and avoid drops as much as possible.
SOUND
Nothing really sets this tablet aside from the perspective of its audio capabilities – it doesn't have any impressive sound enhancements, be them on the software or the hardware side. The same can be said about the older model, too. It also didn't have any audio enhancements on it whatsoever.
MEMORY
The memory of this device is a tad bit better than the memory of the previous model, but then again, it's more or less the same too. Let me elaborate: the first Asus Fonepad 7 ( 2013 one ) had either 8, 16 or 32 GB of internal storage and a Micro SD card slot that could use cards of up to 32 GB. This model, however, has either 4 or 8 GB of internal storage, yet its Micro SD card can use cards of up to 64 GB. On the RAM side, however, they're both the same – 1 GB ( decent speed, but don't expect high performance ).
DATA CONNECTION
Having regular GSM-support, the Asus Fonepad 7 naturally has both GPRS and EDGE on it. The speeds reached on the internet by this device are: HSDPA of 42 MB/s and HSUPA of 5.76 MB/s. The Wi-Fi of this tablet is 802.11 b/g/n and it's capable of Wi-Fi Hotspot. This device also has Bluetooth v4.0 on it and a Micro-USB v2.0 port, however, with no MHL support nor an HDMI port. As far as connectivity goes, it's doing a bit better ( the older model has Bluetooth v3.0 on it ), however, the older version also has LTE support ( though, it doesn't support dual-SIM ).
CAMERA
The camera of this device is pretty weak ( WAY weaker than that of the previous model ). The Asus Fonepad 7 has a 2 MP camera ( where as the other one had a 5 MP one ) that can record video in 720p format ( where as the other one could do it in 1080p at 30 frames per second ). The tablet also has a frontal VGA camera ( which is inferior to the 1.2 MP one that could record in 720p which was found on the first Asus Fonepad 7 ). The only two features of which the main camera is capable are: Geo-Tagging and Autofocus.
BATTERY LIFE
The battery of this device is similar to that of its previous version, in the terms that both have Non-Removable Li-Po batteries with 15 Wh power that can give you around 619 hours of stand-by ( allegedly ), up to 10 hours of multimedia use and around 30 hours of talk-time ( or so they like to brag ).
HARDWARE
If any of you come from the PC and know how bad the Atom series were from Intel ( they were only present on Netbooks, and since those failed to rake in a profit, Intel decided to try its luck with mobile-devices ), then you won't like this device on bit: this tablet has an Intel Atom Z2520 chipset and a Dual-Core 1.2 GHz processor on it. I know from a fact that the Intel Atom on the PC was bad, and frankly, I'm not willing to put my money down on the idea that this will be much better than that. On the other hand, the apps and games here aren't as demanding as they are on the PC, so at least Asus Fonepad 7's got that going for it. What the 2013 model had on this one was the fact that it was also equipped with a PowerVR SGX544MP2 GPU ( where as this one doesn't have anything note-able ).
SOFTWARE
Unfortunately, no version of the Asus Fonepad 7 has Android v4.4 KitKat on it. This one comes with 4.3 Jelly Bean on it, where as the other has 4.2 Jelly Bean pre-installed ( although you can upgrade it manually later ).
FEATURES
There's not a lot of features to talk about here. The sensors on this tablet are pretty limited to only two ( Accelerometer and Proximity ) and there are also the usual: HTML for the browser, Java through MIDP emulation and standard messaging ( SMS with Theaded View, MMS, E-Mail, Push Mail and IM ). There's no built-in Radio support for this device, however, its GPS does have support for both A-GPS and GLONASS alike. The colors in which this tab is available in are: White ( for the Single-SIM version ) and White, Black, Red and Blue ( for the Dual-SIM version ).
Here's a brief list of the things the Asus Fonepad 7 can do:
SNS integration
MP3/WAV/AAC player
MP4/H.264/H.263 player
Organizer
Photo viewer/editor
Voice memo/dial
Predictive text input
This concludes our little review of the Asus Fonepad 7. While you may think it's not worth getting due to its severe limitations, keep in mind that it's more than HALF the price of the Asus Fonepad 7 of 2013 ( the first one is worth circa 300 dollars, give or take, where as this one goes for a maximum of 135 dollars – if those features aren't worth that amount of money, I don't know what is ). Hope you've learned a thing or two about this low-end tablet and found this little review useful in deciding a verdict for yourself about it. To me, it's a great device for a limited number of purposes – good for casual use or to give to a child, but not fit for any advanced processes or those with overly-large standards of quality.