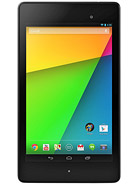 One of the best tablets to ever hit the market here in my country was the Asus Google Nexus 7. It was incredibly popular mostly due to its low pricing and affordability, not to mention that it was light, compact, easy to use and quite powerful as well. You can imagine my surprise when I saw that they decided to create an updated version of this very successful tablet. The Asus Google Nexus 7 (2013) brings a lot of improvements to the older original tablet.
Since I don't necessarily think that I can capture them all into a single, small description, I shall treat this like a review for a new product and cover it extensively.
First off, the aspect of the device has been greatly improved. I was quite partial to the original design as well as it was simple and incorporated the principle of "less is more" quite effectively. What the first version lacked, this one modifies and rectifies, and it does that without increasing the price all that much. The original cost about 200 dollars in most shops in the US and this one is quite close to that price ranging at around 250 dollars. Considering the many improvements it has in it, I'd say it's still WAY cheaper than the tablets offered by other competitors.
SUMMARY
The Asus Google Nexus 7 (2013) is also known under a few other names as well, and in many different forms. It is often referred to as the Asus Google Nexus 7 2, or the Asus Google Nexus 7 2 Cellular. As the name would suggest, the cellular version comes with support for 3G and 4G networks. Since the original Nexus 7 had no support for mobile networks and some people preferred that it stayed that way, the device is available with no cellular network support as well. Frankly I see no use of GSM support on tablets aside from using an Internet SIM and find it ridiculous that some people actually consider TALKING on such devices as they would on phones. Using it as a phone means blocking half of your field of view with a block-shaped device, and personally, I find it extremely impractical. Aside from the extra networking I just mentioned, this new Nexus 7 is able to handle a bit more strain hardware-wise as it comes with a few improvements. It is also stronger as far as the software goes as well.
GENERAL
I already talked a bit about the networking of the Asus Google Nexus 7 (2013), but without actually posting any specifics. Well, to clarify more, this is how it is: 2G ( GSm 850, GSM 900, GSM 1800 and GSM 1900 ) for ALL versions of the device, 3G ( HSDPA 850, HSDPA 900, HSDPA 1700, HSDPA 1900 and HSDPA 2100 ) and 4G ( which varries and can be LTE 700, LTE 750, LTE 800, LTE 850, LTE 1700, LTE 1800, LTE 1900, LTE 2100 and LTE 2600 ). The card that the Asus Google Nexus 7 (2013) uses is Micro-SIM. It is currently available, having been announced and released in July 2013.
BODY
The exact size of the Asus Google Nexus 7 (2013) is as follows: 200 x 114 x 8.7 mm or 7.87 x 4.49 x 0.34 in and it weighs around 290 g ( the Wi-Fi version ) and 299 g ( the LTE version ) or around 10.55 oz.
DISPLAY
The exact screen-related information of the Asus Google Nexus 7 (2013) is as following: an LED-backlit IPs LCD capacitive touchscreen with 16 million colors capable of a resolution of 1920 x 1200 pixels and with 7.0 inches in diameter ( as the term Nexus 7 would suggest ). The pixel density of this device is quite large, being around 323 pixels per inch ( way above the limit perceivede by the human eye ). The screen is protected by some Corning Gorilla Glass display so that it can survive any accidental crashes or scratches ( but most users get protective covers for tablets, anyway ). The Multitouch of the Asus Google Nexus 7 (2013) is quite advanced, being able to support up to 10 simultaneous fingers on it.
SOUND
As far as the sound goes, it has minor things that set it apart from the majority of tablets out there. The only thing that sets it apart from the other tablets is its loudspeaker, having a pair of Stereo Speakers instead of a regular Loudspeaker on it. The rest is text book: a standard 3.5 mm audio jack and all the alert types you can think of.
MEMORY
As far as the memory of the Asus Google Nexus 7 (2013) goes, this tablet shares the same problem as its predecessor – it lacks a Card Slot. Sure, it comes in two versions – a 16 GB and a 32 GB one, but that's not necessarily enough. People seem to want to get reckless with their apps and games and want to install as many as they can, without actually stopping to think about space. Well, at least as far as RAM memory goes, this tablet is supperior to the other one, having 2 GB of RAM instead of just one.
DATA CONNECTION
From what I mentioned earlier about the connectivity of the Asus Google Nexus 7 (2013) it is inferred that it has a GPRS, EDGE and HSPA+ and LTE speeds. The WLAN of this tab is a Wi-Fi 802.11 a/b/g/n with Dual-Band. The Bluetooth on the Asus Google Nexus 7 (2013) is a regular v4.0 one with A2DP and LE on it. The tablet also has NFC and its USB port is a MicroUSB ( SlimPort) v2.0 one.
CAMERA
While the original Nexus 7 didn't have a camera at all, that problem was rectified with this one. The Asus Google Nexus 7 (2013) has not one, but two cameras on it – main one and a secondary frontal one. The main camera is a 5 MP one that can also record video in 1080p HD with 30 frames per second and the secondary frontal camera is a 1.2 MP camera. The features of said main camera are as following: autofocus, geo-tagging, touch focus and face detection.
BATTERY LIFE
The battery of this tablet is a pretty strong one. Its only disadvantage is the fact that it is non-removable. Still, the battery is a Li-Ion 3950 mAh battery which can sustain the device for up to 9 hours of multimedia use.
HARDWARE
The hardware of the Asus Google Nexus 7 (2013) is pretty powerful. It has certainly been improved over that of the original Nexus 7. This tablet has a Qualcomm Snapdragon S4Pro chipset which sports a Quad-Core 1.5 GHz Krait processor and an Adreno 320. While it may not have the good old Tegra that the other one did, it still is stronger and more competent than the other one and capable of running anything at the moment.
SOFTWARE
The operating system used by this tablet is a pretty new one ( one of the latest versions, actually ). The Asus Google Nexus 7 (2013) has Android OS v4.3 Jellybean on it.
FEATURES
The Asus Google Nexus 7 (2013) has an Accelrometer, a Gyro and a Proximity sensor installed on it and can do messaging through E-Mail, Push E-Mail, IM and RSS. The browser of this device uses HTML5 and not Flash. It has no support for Radio, but too few people use it nowadays anyway. The GPS of this device is one with A-GSP support. The Asus Google Nexus 7 (2013) has no Java support and it is only available in the color Black.
Below you have a list of what the Asus Google Nexus 7 (2013) can do:
Wireless charging
HDMI port
Google Wallet
SNS integration
MP4/H.264 player
MP3/WAV/eAAC+/WMA player
Organizer
Image/video editor
Document viewer
Google Search, Maps, Gmail, YouTube, Calendar, Google Talk, Picasa
Voice memo
Predictive text input (Swype)
This concludes my tiny review of the Asus Google Nexus 7 (2013). I hope you had as much fun reading it as I had writing it and that it at least answered a few questions you might have had about the device.