Personally, I do not have an Xperia P phone. What I know for sure is that it doesn't have the latest  Android Version on it when it is released, nor does it have an update available. That is why I posted this under "Relatively Good News". There is now an update to Jelly Bean, however, it isn't the official one ( semi-official, still, if so many have heard of it – usually there ALWAYS are updates, but most aren't so famous ).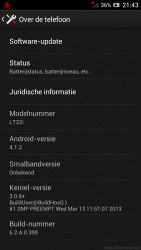 An Android Jelly Bean ROM with firmware 6.2.A.0.399 has leaked out. Initially, it was meant for internal testing on developer Xperia P units, but it has been found to work on production units as well.
Now you may find yourself asking: "Is there any risk to this?". In everything, my good reader, there is risk – even in walking on the street. However, you aren't obligated to do this if you do not want to. It is quite similar to the rooting of Android devices. If you have the know-how and the willingness to do it, why not go for it?
However, the ROM isn't yet at its final stage. Therefore, it would be advisable to make a backup ( and of course it goes without saying that you do it at your own risk ). Also, a prerequisite is that you need to either be running a stock ICS ROM or a ROM based on stock AOSP in order to flash the phone. Your bootloader will also need to be unlocked. After that is done, just copy the ROM in the phone, reboot in recovery mode and flash it.
If you're not content with unofficial test versions and are curious as to when the official version is coming out, I am afraid I will have to disappoint you as I have absolutely no idea when it is supposed to hit the market. Until then, I can only hope that you Xperia P users don't mess up too badly and fry your phones in your ravenous hunger for Android Jelly Bean.