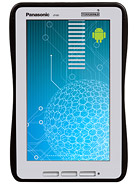 As with the last Panasonic tablet we've seen, there isn't enough information about this one either. Even fewer info than the other one. Still, we can only assume it's similar to the other Panasonic tab I've written about.
Processor : Not enough info
RAM : 1 GB
Android OS : 3.2 Honeycomb
Camera : Not enough info
Display : Not enough info
The screen of this tablet is an LCD with a capacitive touchscreen that has around I don't know how many colors since there isn't that much data about it out there. All we know for sure about the screen is that it's 7 inches big, but no other information was leaked at the moment. This tablet also has the unique feature I've mentioned before, that of the screen having an anti-reflective and anti-glare display. That's a pretty rare feature among tablets.
On the memory side, this tab has an internal storage space of 16 GB. It also has 1 GB of RAM, which allows for quite a bit of multitasking. The storage part isn't that much of a problem. If you need more space, you can use the MicroSD card slot which can use any MicroSD card of up to 32 GB. On the memory side, it's similar to the other Panasonic Toughpad I've written about.
No information about the camera. We know for sure it has one, it has a video recorder and a secondary camera as well. No further details about the camera were leaked.
No news about the hardware specifications.
On the software side, it has Android OS v3.2 Honeycomb. That's quite a disappointment since we don't even know for sure whether or not it can be upgraded to 4.0. Then again, neither did the last Panasonic tab I've written about.
A pretty decent tablet I might say, even without all the information being made public. The only main difference between this one and its counterpart is that this one has a different shape, thus different screen. They'll probably have the same configuration as well since they were both announced at the same time.
You can get this tablet from Amazon.