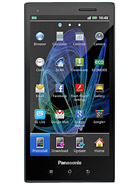 Today we shall be taking a brief look at the Panasonic Eluga. This phone is quite a decent one with good enough hardware specifications and not a bad looker either. The Android OS is good for this phone, not the best, but good enough. What really managed to spark my attention about the Panasonic Eluga is the fact that the makers insist upon the fact that this phone is water proof ( for a while, anyway ). That's an interesting claim to make about an electronic product considering that the death of every electronic device is often caused by the same substance we humans require for life – H2O. The waters of life can also cause death, as is with humans and as is with devices ( even more so with devices ). Seeing a phone that can be water-proof is something really special and something not seen in your everyday life. Still, one can't help but ask oneself : why submerge something as delicate as the phone. And I don't use the word "delicate" lightly considering that this phone will break in a zillion pieces if it hits the ground from the distance of 1 meter or so. Why would you want to deliberately submerge this phone under water is beyond me, but I guess the folks down at Panasonic decided they want to be prepared for all eventualities. Glad to see that the Panasonic Eluga is a great phone that fulfills most need of the average person. This shows that Panasonic is really trying hard to make their phones better and better. It won't be that hard however, considering their reputation, being some highly respected audio device producers or TV sets as well ( I'm not sure since the stores in my town aren't up to par with the regular standards ).
All things considered, let's commence with this little review / preview of the Panasonic Eluga.
Processor : Dual-Core 1 GHz
RAM : 1 GB
Android OS : 2.3.5 Gingerbread
Camera : 8 MP
Display : 540 x 960 pixels, 4.3 inches (~256 ppi pixel density)
BODY
The size of this phone is around : 123 x 62 x 7.8 mm. The Panasonic Eluga weighs around : 103 grams. As mentioned before, the Panasonic Eluga has an IP57 certified dust and water resistant casing. Also, it's water proof up to 1 meter depth and 30 minutes. Again, why would you purposely submerge such a phone under water is beyond me, but I guess you can't argue with "some" people.
DISPLAY
The display of this phone is an OLED capacitive touchscreen with around 16 million colors. The resolution reached by this display is around 540 x 960. That isn't something so phenomenal considering that the screen itself is 4.3 inches big. The pixel density of this screen is around 256 ppi. The Panasonic Eluga also has multitouch on it but who knows how many fingers can work simultaneously on it since there isn't enough relevant data to point out such a minor detail. Minor detail as it may be, since there are phones which actually tell you the exact number, I have high expectation for every one of the rest. If it's possible, why not do it, after all ?
SOUND
The alert types supported by the Panasonic Eluga are : vibration, MP3 and WAV Ringtones. The phone is pretty  basic on the sound part. Basic, or default if you prefer it that way. It has nothing on this part to make it stand out from the crowd or to make it seem different from the others. No advanced sound enhancement methods or anything. Everything is basic on it as far as the sound is considered ( with a loudspeaker and 3.5 mm jack but nothing more ). However, with the reputation of Panasonic I'm pretty sure it may have a form of sound enhancement or that the sound of this device is extremely clear. After all, Panasonic didn't receive the title of one of the best in the audio industry if it had bad products.
MEMORY
The internal storage space of the Panasonic Eluga is limited to 8 GB of space. 8 GB is pretty big for some storage space considering that you can place a few full length movies in there and two or three discographies. However, if you feel that the allocated 8 GB isn't enough to suit your needs, don't bother getting this phone since it has no Card Slot which means you have to stick with what you have and not try to improve it. Even all those things considered, still a good phone. It's capable of quite a bit of multitasking too considering it has the largest amount of RAM currently available for such a device : 1 GB of RAM.
DATA
The Panasonic Eluga has GPRS and EDGE ( although I have no idea what Class they are since it isn't specified ). The Panasonic Eluga also has HSDPA speet at around 21 MB/s and HSUPA speed at around 5.76 MB/s. The WLAN of this phone is a Wi-Fi 802.11 b/g/n with DLNA and Wi-Fi hotspot. The Elgua also has a Bluetooth v2.1 with A2DP and EDR. Also, this phone has NFC, something you don't really see too often among phones. Well, some newer phones have it, but the older ones haven't seen it. The USB connection of this phone is done via MicroUSB v2.0. Enough with the technicalities, let's move on.
CAMERA
The main camera of the Panasonic Eluga is an 8 MP snapper capable of photographing at resolutions as big as 3264 x 2448 pixels. The main camera's features include and are limited to : autofocus, LED flash, touch focus and geo-tagging. It also has a video recording ability ( like every other camera ) although there isn't enough information available about the phone. However, it's safe to assume that the video recorder is capable of recording at 1080p full HD with a steady 30 fps. We can't be certain about the features of the video recorder and it's safer not to assume what they are. The secondary camera is a something, if it is, since there isn't any info available on this one either. However, we can also assume that if it will have a secondary camera, it will be one of these three : VGA or 1.3 MP or 2 MP. That's it for the camera part.
HARDWARE
The hardware of this device is decent. The processor is a Dual-Core 1 GHz processor. The chipset is a TI OMAP 4430. What I'm disappointed to see is that it has no notable GPU. In that case the chipset is obliged to take the role of the GPU and the processor is also supposed to serve that role. But that shouldn't be a problem considering it's a dual core. Dual-Cores were made for things like this : handling multiple operations at the same time. As I already said, pretty decent hardware configuration.
SOFTWARE
The Android OS version that this phone comes equipped with is Android OS v2.3.5 Gingerbread. However, before I start flinging dirt at it for being a new phone with an old OS, there will be an upgrade to v4.0 Ice Cream Sandwich somewhere in the near future. When that will be I cannot say since the ETA for "planned upgrade to x.yz" can even be as long as a few months. Time will only tell in these situations.
FEATURES
The sensors of the Panasonic Eluga include : accelerometer, proximity sensors and compass. The messaging of this phone is done via : SMS ( with threaded view ), MMS, E-MAil, Push Mail, IM and even RSS. The browser of the Panasonic Eluga supports HTML and Adobe Flash. The Panasonic Eluga doesn't have a radio, which is disappointing but not so much considering that there are so many radio apps and you can listen to whatever radio station on their websites. The Panasonic Eluga also has GPS with A-GPS support and Java through Java MIDP emulation. The colors that the Panasonic Eluga will be available in are : black and silver.
Here is a short list of the capabilities of the Panasonic Eluga :
MicroSIM card support only
Active noise cancellation with dedicated mic
DivX/MP4/H.264/H.263 player
MP3/WAV/eAAC+/AC3 player
Organizer
Image/video editor
Document viewer
Google Search, Maps, Gmail,
YouTube, Calendar, Google Talk, Picasa integration
Voice memo/dial
Predictive text input
Well this has been the review / preview of the Panasonic Eluga. I hope you enjoyed reading it just as much as I enjoyed writing it and if you have any suggestions of things which should be added to my reviews / previews do feel free to leave them in the comment section below and I shall be sure to take them into consideration when writing my future projects.