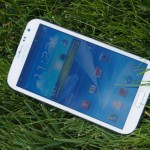 The Samsung Galaxy Note II is one of the most powerful phones at the current time, and a personal favorite of mine. So, of course, as any fan of that particular device, I am glad to see that it is doing well. But that is not the point of this particular piece of news. The fact that this device is selling so good and is adopted by more and more people indicates one thing: the world is embracing change.
Last year, when Samsung introduced the Samsung Galaxy Note to the world, they did so on a risk. There were so many people that said the phone was way too big to be practical. However, there were much more people that said it would be good. Therefore, the phone was a hit as it sold enough pieces as to create a profit over the production cost.
Therefore, since the phone did so well, it was to nobody's surprise when we saw them release the Note II. Granted, you can't say it was so unsurprising when you've seen what it was capable of. This was a pretty good investment on Samsung's side as they managed to do good once more with this particular device as well.
The Galaxy Note II, this 5.5 inch phablet, or phoneblet or whatever you choose to call this phone and tablet hybrid, is now in over 3 million pockets worldwide, and just 37 days after its September launch.
Samsung actually said that "The rapid Galaxy Note 2 sales have a meaning of not just creating a new category of smartphone, but also of popularizing the category.". In the end, that's what really matters, does it not? In the end, you strive to create something great and build something that will aid humanity in more than just one way, but if the people aren't the ones to validate it and recognize its value, it is all in vain.
While the number of 3 million units sold isn't as impressive as the Galaxy S III or even Apple's iPhone 5 sales, it is still a pretty large milestone for the company and for any device in this class. The hit of the first Galaxy Note wasn't as big, as it only sold 2 million units in the first four months after its premiere ( which still exceeded the initial expectations by quite a bit ). Therefore, it is safe to assume that the Samsung Galaxy Note II was a sound success.