It's no big secret that Nokia is owned by Microsoft now, and whether that's good or not remains to be discussed ( I'll do that at some point in time – weight the advantages and disadvantages, so keep a look-out for that article ). As things seem now, Nokia owns a rather impressive portion of the Windows Phone market – 90%. These numbers are taken from the latest report of AdDuplex, a complete report that reveals an impressive amount of information about the Windows-Phone landscape.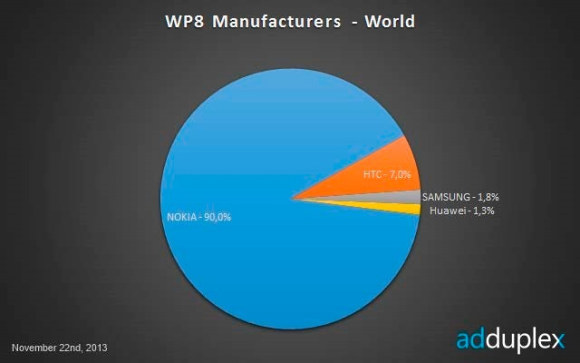 It's to nobody's surprise that the Nokia Lumia 520 accounts for 25% of ALL Windows Phone devices, what comes as a surprise instead is the fact that Windows Phone 7 devices account for another 25%. Allow me clarify WHY this is surprising: all those WP7 phones will NEVER see WP8 as they stopped updating them, so in other words: they are like the remaining Gingerbread phones compared to the rest of the Android devices that only use Jelly Bean and above.
The only other smartphone from Nokia with a decent market share is the Lumia 920 and Lumia 620 ( aside from the Lumia 521, which is just the 520 with a rebranded name ). Aside from the Lumia 920, Nokia seems to be lacking any other High-End devices with appreciable market shares. Not even their newest products managed to make any significant impact on the market.
Aside from HTC with their occasional WP-powered phones, neither Samsung or Huawei managed to leave a lasting impression. In the US, the 3 largest carrier each have their own Windows Phone: Lumia 521 for T-Mobile, Lumia 822 for Verizon and Lumia 920 for AT&T. In the UK, however, things are different: the Lumia 520 leads, followed closely by the Lumia 800 and then the HTC 8S.
By looking at all these things, one thing is clear: Microsoft practically owns its own market, but as opposed to Android ( see THIS ), it BADLY needs a few High-End phones if it means to cut it.
Now you may be wondering: WHY would an Android site wright something about Windows Phones? Well, I have had the privilege of using a Lumia 920 and I don't find it all that bad, but the lower-end WP devices tend to lag quite a lot. Therefore, while WP devices DO have a bit of potential, they REALLY need more high-end phones.