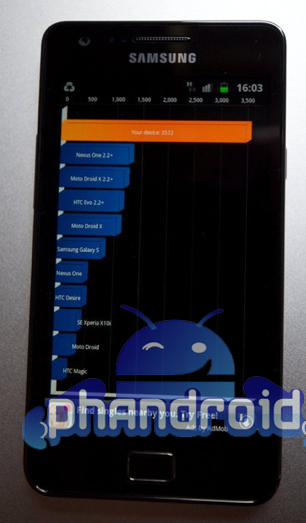 Today, Samsung launched the successor of it's already very popular Galaxy S phone – the Galaxy S II. From the looks of it, the Galaxy S II seems like the best smartphone money can buy right now. Period.
I've just realized that with such a high score and performance the Galaxy S2 II is 10x as fast as a low-end Android phone like HTC Wildfire or LG Optimus One that use the old ARM11 600 Mhz CPU's. Three years ago that kind chip was in high-end phones, and this shows just how fast technology is moving in the mobile market and for the ARM chips which seem to break Moore's Law by becoming 2x-2.5x faster every 12 months, instead of just 2x faster every 18-24 months.
Once we get to 2.5 Ghz quad core Cortex A15, which might be as early as late next year, I don't think most people will still want an x86 chip for their daily tasks, because that one will be more than powerful enough, while making their notebooks or tablets much more energy efficient.
[Via
Phandroid
]