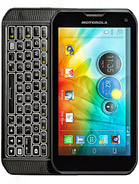 Today we'll be reviewing the Motorola Photon Q 4G LTE. This is a really awesome phone with a more than decent enough hardware configuration. While it does say that this phone is specifically designed for the Sprint service providers, I do believe that it can be purchased in other places as well. This device has a ton of good features and a ton more of capabilities on it.
While there may be some complaints regarding its hardware configuration, keep in mind that this is a 4G phone, and 4G phones are rarely equipped with hardware that can be called Strong. Also, before actually doing anything, notice what the phone has – a QWERTY keyboard. By simply adding a physical keyboard to your device you are sacrificing a lot of space which could be used, for let's say, some hardware improvements.
Still, this was the design Motorola chose for the Motorola Photon Q 4G LTE. Let us hope that they will also turn a profit with it since I find it that people are no longer so interested in physical keyboard equipped phones. Of course, it may be just my imagination talking, but such seems to be the case for me. Even so, there are those who still find them good as they often aid them better in writing, but I find it easier to just use Swype and set it as you like. It will save you much more time if you know how to use it.
SUMMARY
This phone, the Motorola Photon Q 4G LTE is definitely one that has more good points than bad ones. Even its few bad points can only be considered bad if you choose to have a problem with them. I mean, considering that it is a 4G phone with a QWERTY physical keyboard, that leaves little space for adding more powerful tech into the phone. The only truly "bad" parts of this phone are that it isn't same as the strongest phone available at the moment. Still, that one is excusable as it is easy to understand why.
The more interesting fact I've noticed about it is the fact that it is one of the rare phones with an actual HDMI port. I for one find it quite weird to equip a phone with an HDMI port considering that most of them already have one since they managed to implement it into the devices via the USB port. I am of the opinion that you have no need of using older technology as long as new one is available. Still, there may always be the possibility that you don't have enough funds to upgrade to the newer tech.
Other than that, I don't think I have any more complaints about this phone. I apologize for not providing you with more useful information, but if you truly want to know more you are to keep on reading. This part is intended to be more of a trailer for the real review. While often I do consider making the articles shorter, I do have a really large amount of information to fit into the text. I try and make it as easily to scan for the important bits as possible, but other than that I can't do more.
GENERAL
I am lead to believe that the Motorola Photon Q 4G LTE is available in more than one version as far as networking goes. I am saying this since I've found it impossible for a phone to have both CDMA and normal networks on it. I assume that the CDMA one has the following networks : 2G ( CDMA 800 and CDMA 1900 ) and 3G ( CDMA 2000 1xEV-DO ) while the regular one has the following networks : 2G ( GSM 850, GSM 900, GSM 1800 and GSM 1900 ) and 3G ( HSDPA 850, HSDPA 1900 and HSDPA 2100 ). Also, both of them have the same 4G network : LTE 1900.  I imagine there's quite a price difference between the two. The Motorola Photon Q 4G LTE was announced in July 2012 and has yet to come out. It is scheduled to come out somewhere in August 2012.
BODY
This phone is fairly standard as far as size is concerned. The Motorola Photon Q 4G LTE is around 126.5 x 66 x 13.7 mm big and it weighs somewhere around 170.1 grams. As you can obviously tell for yourself, the size of the phone is just right. It isn't too big, but not too small either. I am of the opinion that 4.3 inches is the optimal size for the screen of the phone.
DISPLAY
The display of this phone, as I've already mentioned, is the perfect size, but perhaps not the best quality. I will let you decide that for yourself after understanding all the factors. The Motorola Photon Q 4G LTE has a TFT capacitive touchscreen with approximately 16 million colors.
The screen size, as I've already mentioned, is the perfect size for an Android phone, that being 4.3 inches. The resolution housed by this particular screen is around 540 x 960 pixels. The pixel density of this device is also a really good one, the phone having almost the best pixel density available. While some may complain and claim that 256 ppi is nowhere near 300+, I say it takes a very well trained eye to spot the differences, especially on such a small screen.
The Motorola Photon Q 4G LTE also has Multitouch on ts screen, however, I can't say whether or not it's the enhanced kind which can support more than two simultaneous fingers on it ( I never really understood why you'd need so many, but then again, who am I to judge ). This phone also has a Scratch-Resistant Glass coating to its display for better screen protection. Also, I mentioned earlier that the screen is a TFT one. It is still as good as an AMOLED one or better even, considering that it has ColorBoost technology installed on it.
SOUND
There isn't much to be said about the audio output capabilities of the Motorola Photon Q 4G LTE. While it doesn't appear to have any noticeable sound enhancements on it, you will later see in the Features part that it does have some nice audio related features, but those are more like "call audio" related. I'll let you be the judge of that. Other than that there isn't much to be said here, other than this is a fairly basic phone as far as audio is concerned.
MEMORY
The memory of this phone is really good. I do have my disappointments about the Motorola Photon Q 4G LTE's memory, but we will get to those in just a minute. The internal storage space is really big – 8 GB. For me that's more than enough, but if you require more, the phone has a Micro SD card slot as well which can use any card of up to 32 GB. The RAM of the Motorola Photon Q 4G LTE is around 1 GB. This is perhaps my only disappointment on this part. Since 2 GB of RAM is already there for anybody to grab, why not use that? But we don't always get what we want now, do we?
DATA CONNECTION
The connectivity of this device is pretty darn awesome. Contrary to being a 4G phone, the Motorola Photon Q 4G LTE has GPRS on it, however, it has no EDGE. Still, I do think that the CDMA one will not have these things, but then again, I may be wrong. Even so, the Speed of this device is pretty good. It can be classified as following : Rev. A of up to 3.1 MB/s, HSDPA of up to 21 MB/s, HSUPA of 5.76 MB/s and LTE. The WLAN of this phone is Wi-Fi 802.11 b/g/n with both DLNA and Wi-Fi hotspot. This phone also has Bluetooth v4.0 on it, with A2DP, LE and EDR. The Motorola Photon Q 4G LTE also has NFC on it, if you know what it is. The USB port of this phone is a Micro USB v2.0 one.
The short story of NFC is that it is sort of like the old Infrared connection, only faster than anything you've ever seen. I guess in laments terms you could compare it to USB v3.0 speed. Maybe not as much, but close. Here's the official description of it:
Near field communication (NFC) is a set of standards for smartphones and similar devices to establish radio communication with each other by touching them together or bringing them into close proximity, usually no more than a few centimetres. Present and anticipated applications include contactless transactions, data exchange, and simplified setup of more complex communications such as Wi-Fi. Communication is also possible between an NFC device and an unpowered NFC chip, called a "tag".
CAMERA
The camera of the Motorola Photon Q 4G LTE is one of the finest cameras around. Of course, it may not seem so good now since we have so many of them, but it's still really good. We're talking about an 8 MP camera here that can photograph at resolutions of approximately 3264 x 2448 pixels and recording in 1080p full HD at around 30 frames per second. The features of this camera are as following : autofocus, LED flash, geo-tagging, face detection and even image stabilization. Also, the Motorola Photon Q 4G LTE seems to have a secondary frontal camera as well. While we do not know how many MP it has, we do know it is a HD one.
BATTERY LIFE
The battery of the Motorola Photon Q 4G LTE is a fairly powerful one. This phone has a Standard Li-Ion 1785 mAh battery on it. While the manufacturer doesn't specify how long said battery can keep the phone alive in 2G mode, they o tell us how long in 3G. Therefore, just take that time and realize that it can survive for much more in 2G. The stand-by time of the Motorola Photon Q 4G LTE is up to 220 hours and the talk-time up to 7 hours and 30 minutes. Both of those times are measured in 3G mode, so with a greater power consumption.
HARDWARE
The hardware of the Motorola Photon Q 4G LTE isn't its forte. While it isn't all that weak either, you can't really compare it to the high ranking more powerful phones either. The only thing this phone has is a Processor – that being a Dual-Core 1.5 GHz processor. It may have other hardware components as well,things such as a chipset and a GPU, but they seem to be less than notable. Still, the hardware configuration is sufficient enough to run most of the apps out there.
SOFTWARE
The OS version of the Motorola Photon Q 4G LTE is Android OS v4.0.4 Ice Cream Sandwich, so altogether not that bad. However, there is always room for improvement, here as in any domain. Since Android OS v4.1 Jelly Bean is already out, it is a fair let down to see that this phone isn't even on the list of receiving it. Even so, let us hope it will run up to par as it is.
FEATURES
The Motorola Photon Q 4G LTE, despite not having so much hardware strength, is packed with all sorts of features. The sensors of this phone are : Accelerometer, Proximity and Compass. The messaging of this phone can be done via : SMS ( with Threaded View ), MMS, E-Mail, Push E-Mail and IM. The Browser of this device uses HTML, but oddly enough, it has no support whatsoever for Adobe Flash, fact which could prove problematic. This phone has no Radio whatsoever on it, however, that's usually rarely a problem since you can always download a radio app from the internet. This device also has GPS with full A-GPS support. This phone also has Java via Java MIDP emulation. The only available color for this device is Black.
Here is a brief list of what the Motorola Photon Q 4G LTE can do :
SNS integration
HDMI port
Active noise cancellation with dedicated mic
MP3/WAV/WMA/AAC+ player
MP4/WMV/H.263/H.264 player
Document viewer
Photo viewer/editor
Organizer
Voice memo/dial/commands
Predictive text input (Swype)
This concludes our little review of the Motorola Photon Q 4G LTE. If you feel that anything is lacking from this review feel free to leave your suggestions in the comment section below for things which should be added and I will be sure to take them into consideration when writing my future projects. In the meantime, I sincerely hope you had as much fun reading my little review as I had writing it.