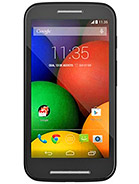 Today we'll be taking a look at the Motorola Moto E, otherwise known as one of the cheapest low-budget smartphones you could get ( that's can also do a thing-or-two and doesn't run like a brick-phone ). Few people have truly managed the performance of creating something both cheap and good, but Motorola seem to have found the recipe for success. They made some big progress with the Moto G and now they're trying their luck with the Moto E, another low-budget smartphone.
Personally, I think it's kind of hard to make it with a lower-budget phone in this world, especially due to the mentality. I'm not sure about others, but I've found the general mentality to automatically classify something Cheap as Bad ( it doesn't help that many manufacturers seem to be propagating that stereotype and reduce the quality significantly in order to reduce the price ).
SUMMARY
While similar in design to the Moto G, on paper it has about half the power of the Moto G, yet the Moto E moves incredibly fluid and feels as if it weren't a low-end device. The folks at Motorola did a great job with the optimizations as far as this phone is concerned. Ever since 2011, if I'm not wrong, their main objective was to stay out of the Spec Race / War and instead focus on delivering the best you can get for that price range – and they succeeded in that objective, too. While on paper the phone would seem limited here and there, and some people do seem to have a problem with its design and thickness, there's not really many alternatives out there that are better than this device – especially not for the price of 130 dollars. As I've said, this phone has been extensively optimized to work as smooth as possible with what it's got and you'll find no bottlnecking or severe lag spikes whatsoever when using it.
GENERAL
As far as connectivity goes, this phone is only limited to 2G and 3G. Optionally, the Motorola Moto E can be bought with Dual-SIM that works in the Dual-Stand-By Method. The type of SIM card found on this device is also of Micro-SIM format. Currently, the device is available world-wide, having been announced and released in May 2014.
BODY
The Motorola Moto E is fairly large, especially since today's standards seem to dictate a phone thinner than paper. However, I tend to agree with Motorola in their curvy design of the phone – not only is it beautiful to look at but it also feel great in your hand. The specifics about the size and weight are 124.8 x 64.8 x 12.3 mm ( or around 4.91 x 2.55 x 0.48 in ) and 142 g ( or 5.01 oz ), respectively. The only thing notable about the design of the phone ( apart from the rounded ages and all-around curved aspect ) is the two grills on the front – with the Black version of the phone they look good, but they seem sort of out-of-place for the white one.
DISPLAY
The screen of this phone is quite decent, especially for this price range. The Moto E is equipped with a 4.3 inch capacitive touchscreen that can reach a resolution of circa 540 x 960 pixels and houses a pixel density of circa 256 pixels per inch. While the screen may not fit everyone's standards of quality, its screen protection sure does – the display of this device is covered by a sheen of Corning Gorilla Glass 3. In other words, the screen should survive and brush off minor scratches and perhaps some falls too ( but the problem with falls is that they usually cause internal damage ). Also, the device seem to be somewhat splash resistant, and if it has the same coating as the Moto G, you could say it's quite impressive.
SOUND
Unfortunately, there's nothing really that special about the sound o the Motorola Moto E. It has all the standard things and no audio enhancements intalled on it whatsoever, be them on the hardware or the software side.
MEMORY
The memory of the Motorola Moto E is quite intersting. As opposed to the original Moto G ( I say it like this since the new LTE model is different ), the Moto E also has a MicroSD card slot capable of using any card of up to 32 GB. Also, this is a real necessity, especially due to the fact that it only has an internal storage of 4 GB ( out of which only 2.21 are user-available ). The RAM memory on the Motorola Moto E is also fairly small in comparison to other newer devices, but considering all the optimizations done to this device on the software side, 1 GB of RAM is more than enough.
DATA CONNECTION
As far as its connectivity goes, the Motorola Moto E reaches decent speeds for its 3G ( specifically: 21 MB/s Down and 5.76 MB/s Up ) and it also is equipped with both GPRS and EDGE. The WLAN of the phone is also Wi-Fi 802.11 b/g/n with Wi-Fi hotspot support. The Bluetooth version of this phone is v4.0 with LE and the device also has MicroUSB v2.0 on it ( however, with no MHL support or anything else, and the phone itself doesn't really have any HDMI port either ).
CAMERA
To clear things up ahead of start, this isn't really a great camera-phone – actually it's anything BUT that. The only camera present on this phone is a main 5 MP one ( the kind that can't record in 720p, but instead it records in 480p at 30 frames per second ) and its only two features are Geo-Tagging and Touch Focus. It's a pretty decent camera for this phone and I'm sure that had the phone been equipped with a stronger camera its price would have also increased exponentially.
BATTERY LIFE
There's something fairly weird about the battery of this phone. While the back of the Motorola Moto E is interchange-able, the battery of the phone is non-removable. The battery present in this device is a Non-Removable Li-Ion 1980 mAh battery. No details were given about the alleged life-time, but it can pretty much ensure you a full day of heavy-usage before bugging you about charging it.
HARDWARE
The hardware for this phone, while not evidently something too powerful, it's still strong enough as to run just about anything ( in its availability range ) without a hitch. The exact specs are: a Qualcomm Snapdragon 200 chipset, a Dual-Core 1.2 GHz Cortex-A7 processor and an Adreno 302 GPU. This, coupled with the 1 GB of RAM that the phone has, is enough to run its OS and its system apps without feeling the least bit encumbered.
SOFTWARE
The Android version present on this device is one of the latest one ( at the moment ) – Android OS v4.4.2 KitKat. The fact that it runs so well with such a low hardware configuration indicates that the phone has had some extensive software optimization.
FEATURES
The features of this phone aren't many in number, but they're sufficient for a low-end device. There are couple of sensors ( Accelerometer and Proximity ), the browser uses HTML, the phone has Java through MIDP emulation and the GPS has A-GPS support and GLONASS support as well. Also, the Motorola Moto E has FM radio too. The colors in which this phone is available are quite a lot ( most are limited to the color on the back – my advice is get the Black one and then a White cover – it will look great ): Black, Turquoise, Lemon, White, Pink, Red and Blue.
Below you'll find a brief list of what this phone can do:
SNS integration
MP3/AAC/WAV player
DivX/WMV/MP4/H.263/H.264 player
Organizer
Photo viewer/editor
Google Search, Maps, Gmail
YouTube, Google Talk, Picasa
Voice memo/dial
Predictive text input
This concludes our little review of the Motorola Moto E. If you like the phone and would like to give it a try ( why not, after all – it'll only set you back 130 dollars ), I can provide you with a link for it – simply click HERE. I hope you've enjoyed reading it as much as I did writing it and that you've learned a few thing about this phone. I tried keeping it as short as possible so as not to go into too many unnecessary or boring details, yet still cover everything there was to cover
.