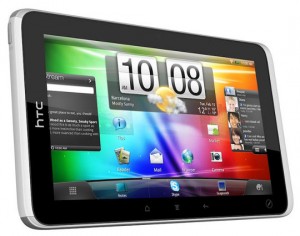 HTC's first tablet project is the Flyer, a tablet that works with a capacitive type stylus, so it's targeted at those interested in a stylus, but not so much at the rest of Android users, considering it doesn't have the tablet tailored OS that is Honeycomb.
So why didn't HTC use Honeycomb? My first guess is because they didn't want to use a Tegra 2 chip in their tablet, which was the only chip Google optimized for initially, and their strong partnership with Qualcomm prevented them from having a Honeycomb tablet. Qualcomm's dual core chip wouldn't have been ready until sometime around June this year anyway.
Since they knew they couldn't use neither Tegra 2, neither a dual core Snapdragon, they decided to try to make something more original with their first tablet, and re-use their Sense skin for it. That's how I believe they came out with the idea of making a stylus based (not mandatory) tablet. This would give them the excuse to not use Honeycomb from the start, since they had to heavily modify the software anyway.
I don't now how well the Flyer will do in the market without a dual core and Honeycomb, an at a $499 price when the Tegra 2 Asus Transformer will only be $399, but I assume it will at least be taken into consideration by people who need a tablet with a stylus.