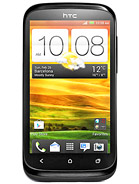 Today we'll be reviewing the HTC Desire X. This may not be the best looking phone out there, but you can get one for around 300 dollars and it has a more than decent enough configuration. Not to mention it looks positively awesome. But perhaps that is only my opinion, however. I, for one, have always found HTC phones looking awesome.
Anyway, to sum this phone up in a few words: you won't get a better value than what this phone is offering for such a low price. Its hardware configuration is decent, its software version is more than good enough and it is generally just a good phone. You can use this device for just about any purpose whatsoever, but with a few minor limitations. For instance, you can't really buy this phone and have high expectations for it running all of the powerful games out there.
Frankly, it came as a bit of surprise to me that HTC decided to turn a single phone into a whole generation of phones. Just like the Galaxy and Optimus and many other series, so too has the Desire series appeared. Don't believe me? Just check out how many HTC Desire phones there are out there. Granted, little originality was used in the making of these phones, it's still a series. I am not referring to the HTC Desire X when I say this, as this phone was a bit better and slightly more improved than the rest.
SUMMARY
As I said I would do some time ago, I would start all of my reviews / previews ( but for the sake of not being so politically correct, I will call them reviews ) off with a brief summary of the device to be reviewed. I won't offer so many specific details here, but for those interested in knowing just the basic things about the device, this is where you can find them out.
Just as any device, the HTC Desire X is a phone that has both advantages and disadvantages. Of course, this device has a tad bit more advantages than disadvantages. Even its weakest features are still acceptable. They are only weak if you choose to make them weak. It all depends on perspective, if you will. If you want to compare the device to the strongest configuration available, of course it will seem weak and end up lacking. However, if you compare them to the majority of already available devices, you won't be disappointed.
The hardware of this device is relatively decent and it is capable of running all but the most hardware-demanding games. However, if somebody desires a device strictly for Android Games, I'd suggest getting a strong tablet, not a phone. Such a phone is mostly for business purposes and normal / casual purposes. It also looks positively beautiful  to boot.
GENERAL
This device comes in two different versions as far as the networking goes. Either that, or it is a Dual-SIM phone. I have yet to find out which it is as the manufacturer has not been very forthcoming with their information. Even so, the networks used by this device are as following : 2G ones ( GSM 850, GSM 900, GSM 1800 and GSM 1900 ) and 3G ones ( HSDPA 900 and HSDPA 2100 and there is another one with HSDPA 850 and HSDPA 2100 ). The HTC Desire X was announced in August and it was set to come out somewhere around September 2012. However, the device has yet to come out, so one can only assume it has been delayed to somewhere in October.
BODY
The size of this phone is relatively standard. It is a bit smaller than I am used to, but it's still pretty decent enough in size. It is sized enough to house a 4.0 inch screen. The size of this device is : 118.5 x 62.3 x 9.3 mm and it weighs somewhere around 114 grams. I don't know whether or not its still worth mentioning, but this device also has Touch-Sensitive Controls. However, with all of the devices equipped with that feature, it has slowly but steadily been accepted world-wide as "standard", and it is a tad bit weird if a device is lacking that feature now. That it how the technology of today moves, however. It is a very volatile market in which once something new comes out and is used on a small number of devices that become popular, the people tend to believe that that certain feature is "How it's supposed to be".
DISPLAY
The screen of this device is a relatively good one. The quality is notice-able, but it could use a bit of improvement in some parts. The device has a Super LCD capacitive touchscreen with 16 million colors. Here's the official description of the Super LCD ( or SLCD, if you prefer ) and a justification of why it is used:
SLCD is a display technology used in modern smartphones such as later revisions of the Droid Incredible and Droid Incredible 2. Some manufactures had moved back to SLCD displays because of the expense and lack of production capacity of AMOLED displays. SLCD screens have remained popular as power consumption is comparably lower when displaying lighter colours such as the white background found on most internet pages. While AMOLED technology generally displays darker blacks and truer colours making videos and images appear clearer and more vibrant, SLCD technology avoids the need for pentile subpixel formations (which use a larger shared blue subpixel to avoid fading over time) and thus creates sharper detail making text appear clearer.
The screen size of this device, as I've already mentioned, is 4.0 inches. This screen can house a resolution of approximately 480 x 800 pixels. The pixel per inch rate of this device is also pretty good. The HTC Desire X's pixel density is somewhere around 233 ppi, which by my standards, is pretty darn good for a screen this size. Should the phone have a large 4.3 or 5.0 or even 5.5 inch screen, then most certainly 233 ppi will not be enough. However, as we stand, this is more than enough for such a phone.
The device also has Multitouch on it, however, it isn't the advanced sorts that can support more than 2 simultaneous fingers. Personally, I never really understood its logic, but some may find a use for it. Unfortunately the device has no means of screen protection whatsoever installed on it, so you will have to be extra careful with its handling. This device also has the HTC Sense UI installed on it, should you choose to use it ( I believe it comes with it already activated, but can be turned off just as easily – most of them can, anyway ).
SOUND
There isn't much in the way of hardware-based sound enhancements for the HTC Desire X, however, it does have a pretty good software-based sound enhancement. Personally, I'm not a fan of that particular sound enhancement and believe it's a tad overpriced, however, since so many people actually use it one can only assume that it may be at least half worth all of the hype. I am referring of course to Beats Audio sound enhancement. As far as the rest of the sound related things go, there isn't much to be said. It is pretty default as far as the others are to be taken into consideration.
MEMORY
The memory of this device is relatively good. Altogether, the device is pretty good as far as the memory is concerned. Sure, it's far from the best ones out there, but it is still more than half decent. The internal storage space of this device is around 4 GB. Sure, it may not be altogether that much, but it's more than enough for me. Should you require more, know that the device has a Micro SD card slot that uses any Micro SD card of up to 32 GB. This device also has a pretty decent amount of RAM. The HTC Desire X has around 768 MB of RAM. While that is good, it is far from the current maximum of 2 GB. One should not have high expectations about the speed of the device.
DATA CONNECTION
The HTC Desire X has both GPRS and EDGE connections, however, it isn't specified how fast any of them can go or what Class they each are. The Speed per say of this phone is : HSDPA at 7.2 MB/s and HSUPA at 5.76 MB/s. The WLAN of this device is a Wi-Fi 802.11 b/g/n with both DLNA and Wi-Fi Hotspot. This phone also has the ultra-fast Bluetooth v4.0 with A2DP. The USB port of this device is a Micro USB v2.0 one. However, this USB port has no MHL, and seeing as how this phone has no HDMI port either, wave goodbye to the HDMI idea.
CAMERA
The camera of this device isn't an overly spectacular one. The HTC Desire X has a regular 5 MP camera that can photograph at resolutions of approximately 2592 x 1944 pixels and record video in 480p quality at around 30 frames per second. It is sort of disappointing to see that this camera cannot record video in full HD format, especially in this day and age when we have so many 5 MP cameras capable of recording in HD. The features of this camera are pretty few as well. The device barelay has: autofocus, LED flash and geo-tagging. Also, on an unfortunate note, the HTC Desire X has no secondary frontal camera whatsoever on it.
BATTERY LIFE
The battery of this device is a fairly strong one. However, it is sort of logical for the battery to be capable of maintaining such a long life, since this device isn't altogether that powerful as to demand an ungodly amount of power. The battery of the HTC Desire X is a Standard Li-Ion 1650 mAh one. This battery can sustain the phone for up to 833 hours in 2G stand-by mode and up to 750 hours in 3G stand-by mode, and also up to 20 hours of talk-time in 2G and 10 hours of talk-time in 3G.
HARDWARE
The hardware of this phone is good. It is far from the best, but it's more than decent enough to withstand just about any task you throw at it. The processor of the HTC Desire X is a Dual-Core 1 GHz one and it is accompanied by a Qualcomm MSM8225 Snapdragon chipset and an Adreno 203 GPU. All and all, it's decent enough to get the job done.
SOFTWARE
The Android OS version of this device is a good one, but far from the best. This seems to be the whole theme of this device : Good but not the Best. The HTC Desire X has Android OS v4.0.4 Ice Cream Sandwich installed on it. It is sort of disappointing to see that no talk whatsoever is around about the phone ever receiving the update to Android OS v4.1 Jelly Bean.
FEATURES
The sensors of this device are as following : Accelerometer, Proximity and Compass. The HTC Desire X's messaging is done via : SMS ( with Threaded View ), MMS, E-Mail and Push E-Mail. The browser of this device uses HTML5 but has no support built in for Adobe Flash, fact which could prove problematic. The Radio of this device has yet to be announced. This phone also has GPS with built-in A-GPS support. This phone also has Java through Java MIDP emulation. The colors in which this is available are Black and White.
Here is a brief list of what the HTC Desire X is capable of :
SNS integration
Dropbox (25 GB storage)
MP4/H.263/H.264/WMV player
MP3/eAAC+/WMA/WAV player
Google Search, Maps, Gmail, YouTube, Calendar, Google Talk
Organizer
Document viewer
Photo viewer/editor
Voice memo/dial
Predictive text input
This concludes our little review of the HTC Desire X. Thank you for reading this review. I hope it has been as helpful as possible. If you feel that anything is lacking from this review feel free to leave your suggestions in the comment section below for things which should be added and I will be sure to take them into consideration when writing my future projects. In the meantime, I sincerely hope you had as much fun reading my little review as I had writing it.