Many people think they can do a better job than the manager and GM of their favorite baseball team, and now you can prove your mettle on the go with MLB Manager 2015, which runs on Android smartphones and tablets. It's an official licensee of MLB.com, which means it has official logos for all the teams, along with the real players found on their Opening Day rosters. MLB Manager 2015 even features the World Series trophy.
This game from Out of the Park Developments puts you in charge of one of the 30 Major League Baseball teams, letting you sign free agents, trade players, negotiate contract extensions, set your lineups and pitching roles, deal with injuries, draft a new crop of prospects and watch them develop into tomorrow's superstars, and more. As the season progresses, you can watch the statistical leaderboards and check the standings.
You also get to call the shots from the dugout, deciding when to steal, when to put on the hit-and-run, when to pull your pitcher, and more. A robust play-by-play tells you everything that's happening on the field, and when you're done, you can peruse the box score. If you'd prefer not to play games out, just make sure your strategies are set and sim ahead as far as you want. You can even tell the game to sim decades into the future – When it's done, you can look back through the past World Series winners and see if any newcomers appeared on the all-time statistical leaderboards.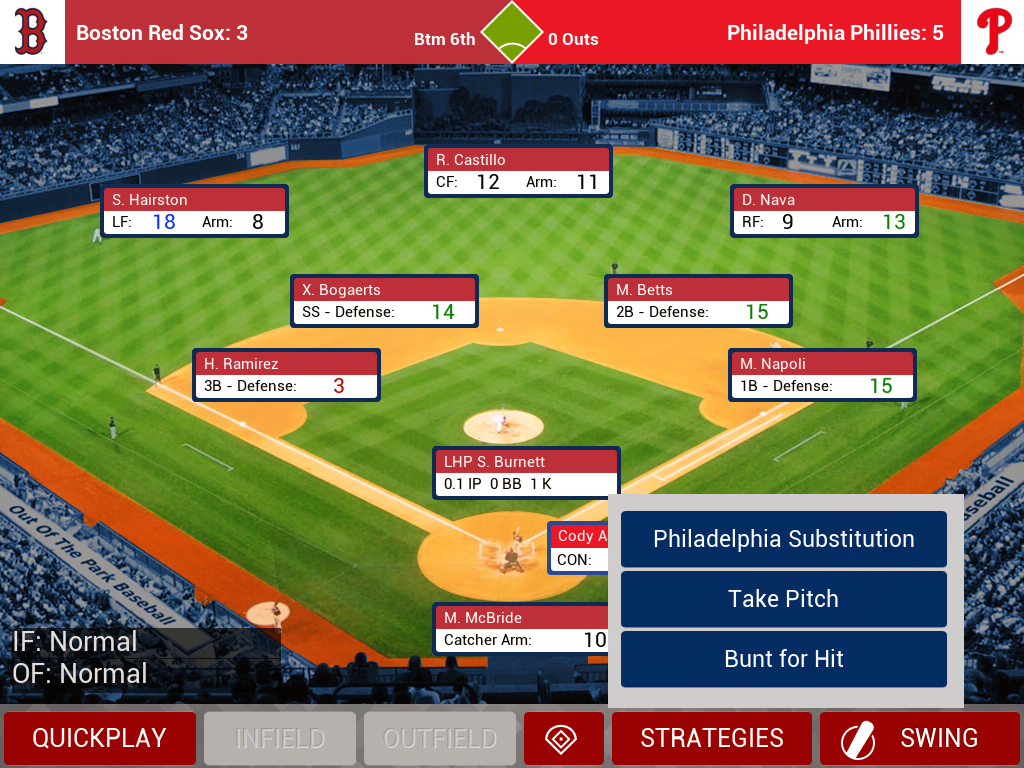 MLB Manager 2015 also uses an extensive A.I. system to bring your baseball world to life. Bench a star player and you'll get a message from him asking to be placed in the starting lineup or traded. Make an offer to a free agent and he may let you know that another team is willing to pay him more money, so you need to beat that contract if you want him on your team next year. In addition, other teams' GMs respond to your trade offers in realistic ways, and their managers will try to outfox you during games with their own strategic decisions.
In addition, the game has a news system that keeps you up to date on everything happening around in your baseball world, including trades, injuries, suspensions (yes, brawls can happen), All-Star Game selections, top prospects in the upcoming draft, and more. The news system also lets you know about amazing feats, such as multi-hit games, no-hitters, and perfect games.
After you finish the 2015 season, you can keep playing for years, decades, and even centuries into the future, watching your team's fortunes rise and fall. Win a few World Series and your team owner will increase your budget, but if you fall on tough times, you'll have less money to spend on high-profile free agents and will need to rebuild by drafting top prospects and finding low-cost free agents who are diamonds in the rough.
MLB Manager 2015 used to be known as iOOTP Baseball and was previously an iOS-only game. Now it's available for Android too, so a whole new crowd of mobile gamers can experience the thrill of victory and the agony of defeat anywhere they go.
By the way, MLB Manager 2015 is a scaled-down version of Out of the Park Baseball 16, which runs on PC/Mac/Linux. If running a baseball team is your thing, you should check it out, since it offers additional features beyond the mobile game, including full minor leagues, many customization options, online leagues, and much more.