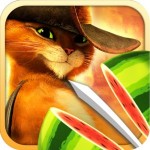 Today we'll be taking a look at another Android game inspired from a movie. Well, to be more precise, it is a game that was already famous but decided to take on another appearance. We all know how successful the Puss in Boots movie was as it offered an in-depth view of one of the most popular characters in the Shrek saga. In this game you sort of take the role of that lovable cat with irresistible eyes and a deadly sharp blade at its hip to do nothing else but slice fruit.
If you enjoyed both the game Fruit Ninja and the movie, you will most definitely enjoy this game as well. Apart from the normal game you are used to, this app offers a few extra features such as voice clips from the movie ( I assume – unless, of course, Antonio Banderas himself has decided to voice this app all again ). In my opinion, that is one of the main things that the original Fruit Ninja lacked: voice acting. I am of the opinion that a spoken voice in any game weighs a tad bit more than just words on a screen.
Also, as a simple warning, I do believe you require something with Multitouch to play this. While I am not aware how advanced that Multitouch needs to be, I can only assume that the standard one should suffice. If not, I do believe a lot of Xperia products have that advanced sorts of Multitouch that can support more than 2 simultaneous fingers.
FEATURES :
This game lets you experience a new twist in the classic Fruit Ninja gameplay
You have a few new game modes such as: Desperado or Bandito
You will find yourself getting an annoying amount of encouragement from Puss in Boots as you slice your way through dozens of fruit
Same as the classic Fruit Ninja game, you can customize your Blade, or, seeing as how here you play with Puss in Boots, your Claws.
When you think you're good enough, go online and climb the leader board to become the ultimate Puss in Fruits.
DESCRIPTION :
The suave, fruit-slashing main character of Puss in Boots faces a challenge that would make any Sensei proud. Be prepared to embark on a journey of familiar fruit-slicing action as Puss in Boots. You will encounter a wealth of new and exciting challenges as you search for the fabled Magic Beans.
Try and play for as long as you can in the Bandito mode where the challenge level will only increase as you progress. Become the greatest Fruit ninja warrior of all time. Each stage puts you in the middle of a never before seen fruit frenzy adventure. Face off against the overgrown fruit from the Giant's castle, survive precision and timing challenges and fight against the all-out fruit onslaught with all the more and new obstacles. Also, for the first time ever, throw down against the much requested Tomato ( you know how it is: Intelligence is knowing a Tomato is a fruit, but Wisdom is not adding it to the Fruit Salad ).
Desperado mode, on the other hand, is an enhanced and re-mastered version of the classic Fruit Ninja game. However, this time around you will be facing even more fruit, unique waves and even the elusive Magic Beans from the movie.
Also, there is the whole new Ninja Stash to explore where every upgrade and unique piece of content will be stored.
You can get this most interesting application from Amazon.