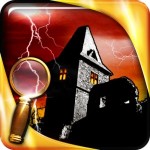 Today we'll be reviewing another Point & Click / Hidden Object / Adventure game caleed Frankenstein : The Dismembered Bride. Many of you may be bored by now by the Hidden Object genre of games. However, I ask you this : what other games can you run on all of the Android Phones. Exactly – there are those with not so powerful phones and they need entertainment too.
The premise of this game is pretty interesting. As opposed to finding all sorts of silly objects, as other games would have you do, this one makes you locate body parts in order to reassemble the bride of Frankenstein ( sp you'd think, but you'll see just how wrong you are when you get it ). Gruesome as it may sound, have faith that there's not a single drop of blood in this game and all of it is made for the laughs.
The reception this game got isn't too bad either. While you'd think people wouldn't really enjoy it since it is just a foolish little Hidden Object / Adventure game,you'd be surprised at how many people actually liked it. You wouldn't expect an Extended and HD version of an older game to be so popular.
FEATURES :
This Extended Edition also includes the HD version
You have new puzzles
There are new scenes present
You have to find new objects
There are new mini-games
There are also new characters
It has an improved interface, brought to life with the collection of key objects
It offers an improved gaming experience
It has a longer life span
DESCRIPTION :
You have to help Brad in finding the parts of Janet's body, his fiancee, as well as the pieces of the monstrous machine which will be used to put her body back together in the Frankenstein manor.
Brad is searching for list lost wife – Janet. She has disappeared and has been missing for a few months. After a long search, his quest leads him to Bavaria, near a mansion where his car breaks down. Brad discovers that the house is owned by a weird scientist : Lord Albrecht von Frankenstein. Janet was the test subject of his previous experiment. She is still alive, but scattered around the house.
Open your eyes and be of help to Brad in his quest through several Hidden Object screens. Enjoy the humorous dialog lines. Find Janet's body, the missing machine pieces, collect objects to help you solve the puzzle and find object to clear your path.
The game has a 2x zoom to help you delve further into the pictures. If that doesn't help, cheat and use a hint. A shiny halo helps you find one of the objects.
Find all of the chambers of the mansion : the greenhouse, the torture chamber, the cemetery. The realism of those rooms and their sound effects are stunning. They really help immerse you into that world.
The dialogue can vary from : investigation, suspense, horror and humor. You will definitely notice the subtle change in tone and the dialogue's second degree.
This game contains : 23 screens to examine, free navigation, search for objects ( of a list, identical objects or collectibles ), unlimited help ( 2x zoom and reloading hints ) and magnificent sets comprised of high resolution images.
You can get this game from Amazon.