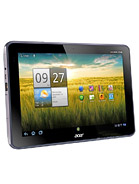 Today we'll be reviewing the Acer Iconia Tab A700. This tablet isn't a relatively powerful one with an extremely strong hardware. However, there does seem to be a minor problem with this tablet. I have witnessed many people, respectable people, say that this device doesn't really run pretty well. Despite having the same hardware as the HTC One X, for example, it runs much, much worse and it lags pretty badly. Now I'm not sure whether to believe it or not, but then again, one can't help but hear things.
Should those things be true, what should one expect to be the problem ? The hardware, perhaps ? Hardware which, may I remind you, functions flawlessly on other devices. Or the software, maybe ? Software which, just like the hardware, can't help but be perfect. Nay, I say. The only thing to blame in the creation of this tablet, taken by eliminating the other factors, is the creator itself. Acer couldn't wait longer and they rushed the process of creation. Such is the case with any product that you rush and don't think too much about optimization. Take for example, video games. We all know about the franchise of games Grand Theft Auto. The game Grand Theft Auto IV for example, at least the PC version, was terrible. You have better chances of running Mafia 2 on the highest details perfectly than GTA IV. And all that because the producers, in their unfathomable hunger for money, rushed the product to an early start. Also, despite being rushed to come out earlier than its time, the Acer Iconia Tab A700 is still not available and no news of a concrete release date is around. But enough with introductions, let us commence this little review.
SUMMARY
As I promised a while back, I would start off all my reviews with a little summary of the good and bad of the device to be reviewed. As I already mentioned, the Acer Iconia Tab A700 is a great tablet, granted some people claim that Acer just took the best things available, put them all together and started praying for the best and that the best never happened. The hardware of this tablet is an extremely powerful one and it can run absolutely any app and game, even some games for the PC if you know how to transfer them into Android. Not only does it have a hardware that can do anything, but it also has a software on it that enables it to handle most apps and games out there. And as if those two weren't enough, the Acer Iconia Tab A700 also has a ton of features sprinkled on top of that lethal mixture.
Now, my sources tend to be inconclusive about certain things about this device. However, just know that if I can't provide concrete information, I can most certainly provide a few headers that can help you determine the things that I can't clarify. Being a little vague ? Let me demonstrate : for example, my sources don't say anything about the size of the tablet, but we do know how big the screen is. By looking at the tablet we see that it has pretty wide edges, so we take the size of the screen and just add an inch for each side, and thus get an approximation of the size. But let's not waste any more time with foolish calculations and commence this little review.
GENERAL
The Acer Iconia Tab A700 is one of those rare tablets that can actually support networks on it, or SIM cards, depends on how you prefer to call it. Not many tablets can actually do that, and while some people may wonder : why would you even need SIM cards on your tablet ? I can answer that you don't really need SIM cards, but you do need internet cards. Now, to be blunt, NEED is a strong word. You don't really NEED internet on such a device, but considering that its main purpose was internet surfing at a large enough screen and the occasional game, app, movie or even e-book ( for those that actually read in their spare time – a luxury not many people can afford and many people tend to dis-consider ), why not?
Getting back to the matter at hand, those networks we were talking about. They are as following : 2G ( GSM 850, GSM 900, GSM 1800 and GSM 1900 ) and 3G ( HSDPA 900 and HSDPA 2100 ). This tablet was announced quite a while back and even so it hasn't come out yet. Worse even, we don't even know anything about the release date. We know for sure that the Acer Iconia Tab A700 was announced in January 2012. However, we don't have that certainty about the release date, considering that every one of my sources claim it will come out OFFICIALLY in Q3 of 2012. All and all, the fact that it has supported networks is a plus and one reason to want to purchase the Acer Iconia Tab A700.
BODY
As I mentioned a while back, I would be over-joyed to provide you with info about the size of the Acer Iconia Tab A700, but since my sources aren't benevolent enough as to release that piece of info, we'll just have to do this the old fashioned mathematical way. If the screen is around 10.1 inches big and the tablet has some pretty wide edges, you can only imagine that it has some 12 inches or so in diagonal. There's no problem with the weight, however. That one we know for sure how big it is – around 649 grams. While that weight may seem big to some, know that it isn't all that much considering this is a pretty massive tablet. Other than this little info, I'm afraid I can't say much more about this part, unless we take into consideration the fact that the Acer Iconia Tab A700 is a superb tablet, but most people don't care about that as they like to get binders or things similar to binders for their tablets.
DISPLAY
The screen of the Acer Iconia Tab A700 is a really good looking one and a really nice one, but the type of screen isn't something out of the ordinary. The type of screen of this tablet is LCD capacitive touchscreen with approximately 16 million colors. I have inconclusive data for this part, so I can't really compare this type of screen with any other leading screen type for quality comparison. We can only assume it's a good one, but then again, only time will tell. The screen size, as I already mentioned, is around 10.1 inches and it can house a great resolution of approximately 1920 x 1200 pixels. The pixel density of this screen is around 224 ppi. This pixel density is good, but it is far from great. Normally I have no problem with pixel densities being under 300 for phones. But this is in no way a phone. It's acceptable for device with screens of up to 5 inches, but for a screen of 10.1 inches that can house a full HD film without much effort, the difference between 2xx ppi and 3xx ppi is extremely noticeable. This device also has Multitouch on it, but it's not the advanced kind of Multitouch that can support more than two simultaneous fingers on it. Also, there's no screen protection for this tablet, so I can only advice you to be extra-careful with it. In conclusion, the screen is pretty good but the pixel density could have been better and the display could have had the least bit of screen protection just to feel extra safe.
SOUND
This tablet, apart from the rest of the tablets, is one of those particular Android Tablets that can support Alert Types on it. I figured this was worth at least mentioning considering that it's a pretty rare feat among tablets. The Acer Iconia Tab A700 also has a few sound enhancement on it, both hardware-based and software-based. The hardware-based sound enhancements consist of a very nifty pair of stereo speakers instead of the default loudspeaker. Not to mention, this device also has some software-based sound enhancements, and what software-based sound enhancements does it have – Dolby Digital Plus. Dolby used to be the best, now I believe that thing "Beats" or whatever it's called overtook it. Frankly, I'm a normal person and have no idea about sound so I can't weigh the advantages of Beats over other things, and honestly, neither can the average Beats buyer. But once it has been endorsed by a celebrity, that product becomes God's gift to the world. I'd definitely purchase this tablet for its sound, as it's quite efficient, both on the hardware side and on the software one as well.
MEMORY
The internal storage space of the Acer Iconia Tab A700 varies, as this tablet is available in three different versions : a 16 GB one, a 32 GB one and a 64 GB one. Of course, there is a notable difference between the prices of those three versions. As if 64 GB wasn't enough ( if you have the coin for it ), this tablet also has a Micro SD card slot that can take any Micro SD card of up to 32 GB. Add those two up and you have as much memory as a small hard-drive or a very large memory stick ( if one of that size even exists ). The RAM of the Acer Iconia Tab A700 is also something you don't see every day : this tablet has 1 GB DDR2 RAM. Apparently tablets and phones have started differentiating between their RAM as well. That isn't a good sign, it means that they will get old faster this way. I know this out of personal experience. But enough about that. In conclusion, the memory of the Acer Iconia Tab A700 is great, especially if you require a whole lot of storage space. Since the tablet has an USB v2.0 port on it as well, my guess is you can also use external hard drives with it as well. Let's not forget that the RAM is also quite exquisite, considering that this tablet has 1 GB of DDR2 memory.
DATA CONNECTION
This tablet has both GPRS and EDGE on it, however, it is unknown ( thanks to my sources ) what Class they each are and what Speed they can each reach. Same inconclusiveness can be applied to the Speed of the Acer Iconia Tab A700 as well : all that is known is that it can be both HSDPA and HSUPA. This device also has Wi-Fi 802.11 b/g/n with Wi-Fi hotspot on it. In case you've missed my definition of Wi-Fi hotspot, here's the short version : it allows you to create a place to which people can connect via Wi-Fi; in that place all of the connected people will be consuming your internet and your Speed will be shared equally among the people connected; this thing can have drastic consequences if you're on an internet that taxes by traffic. The Bluetooth of this tablet is a v3.0 one with A2DP and EDR on it. Since I'm not in the mood of defining A2DP and EDR, just know that you're better off with them, than without them. The USB ports of this device ( ports, since this tablet has more than one ) are both Micro USB v2.0 and USB v2.0. The advantage of having an USB v2.0 port on your device is that you can easily install other OS-es on it, should you get tired of the current one ( this can void warranties and can damage your device, however – try to refrain from it ). The connectivity of the Acer Iconia Tab A700 is pretty good and the tablet should open anything almost instantly.
CAMERA
The main camera of the Acer Iconia Tab A700 is a 5 MP one. However, this camera is one of those more advanced 5 MP camera that can also record video in 720p HD at around 30 frames per second. This 5 MP camera can photograph at resolutions of approximately 2592 x 1944 pixels. The only features of this camera are as following : autofocus, LED flash and Geo-tagging. I already said that it can record video in 720p HD at around 30 frames per second. The Acer Iconia Tab A700 also has a secondary camera, however, it isn't mentioned what camera that secondary one is. Since I've no info, I'll assume it's a VGA one. However, only time will tell.
BATTERY LIFE
The battery of the Acer Iconia Tab A700 is a Standard Li-Ion 9800 mAh one. While this battery may seem big, know that such a tablet demands a lot of power so it's sufficient for the tablet's hardware and power demand. Unfortunately, it isn't mentioned how long this battery can sustain this tablet in stand-by, but in the end that stand-by time is irrelevant since you'll be using the tablet. No normal human being would pay 300+ dollars on a device just to leave it on their desk without touching it or using it all. The Talk-Time of this tablet is measure at around 10 hours, after that it's flat line for the battery. In conclusion, the battery is a good one, however, let us hope it will be enough for this tablet.
HARDWARE
The hardware of this device is the ultimate model of hardware available. This device is a Tegra 3 one, and since Tegra 3 is a chipset with a Quad-Core of 1.5 GHz, you can imagine just how fast this device will run games and apps. The video card is also a very strong one considering that all Tegra 3s have ULP GeForce 2 on them as GPUs. There is simply nothing else to be said about this hardware. If you have doubts about how powerful it is, just check the Tegrazone and know that all that you see there can be run by you if you purchase this device.
SOFTWARE
As I mentioned before, the software is another one of the good points of the Acer Iconia Tab A700. The Android OS of this device is Android OS v4.0 Ice Cream Sandwich. Currently there is no newer version of the Android OS available. However, there is one in development – Android OS v4.1 Jelly Bean. There's not much point in talking about that update now since it will be months until we know what devices can support it and even more months until we see which of those chosen few will be the first to get it.
FEATURES
The sensors of the Acer Iconia Tab A700 are as following : Accelerometer, Gyroscope, Proximity and Compass. The messaging on this device can be done via : E-Mail, Push Mail and IM. The browser of this tablet uses HTML and has built-in support for Adobe Flash. As of now, it is unknown whether or not this tablet will have Radio, however, know that that isn't a problem since you can always get an app for that. The Acer Iconia Tab A700 also has a GPS with A-GPS support and Java via Java MIDP emulation. This tablet is available in the following colors : Titanium Gray and Metallic Red.
Here is a brief list of what the Acer Iconia Tab A700 can do :
SNS integration
HDMI port
Active noise cancellation with dedicated mic
Google Search, Maps, Gmail
YouTube, Google Talk, Picasa integration
MP3/WAV/WMA/eAAC+ player
XviD/MP4/H.264/H.263 player
Organizer
Document viewer
Predictive text input
This concludes our little review of the Acer Iconia Tab A700. If you feel that anything is lacking from this review feel free to leave your suggestions in the comment section below for things which should be added and I will be sure to take them into consideration when writing my future projects. In the meantime, I sincerely hope you had as much fun reading my little review as I had writing it.