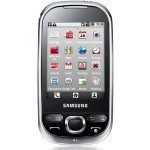 Recently a friend asked me to recommend an Android phone. I told him that first he should look at his carrier and see what they can offer. I noticed that the cheapest Android phone was a Samsung i5500. When I took a closer look I noticed that it runs Android 2.1, which was considered new at that time.
After he got the phone I was very impressed. The phone is very smooth, actually you feel that you keep an iPhone in hands. What also I was impressed was the battery length, the phone is able to stay almost a week alive, it is incredible for any Android phone, while I have to charge every night my LG Android phone.
What I liked the most is the lock screen which can be used instead of the hard default Android lock screen. Is is very similar to the iPhone slider.
The only disadvantage is that there are a lot of buttons, 7 total. I see it as a disadvantage, because I get lost often in so many buttons, but new Android users can see the buttons helpfull in their move from a classic phone to a smartphone.
I invite you to take a closer look at this nice cheap phone. Click here to visit Samsnug i5500 page.