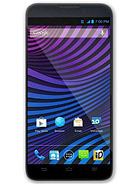 Today we'll be taking a look at the ZTE Vital N9810 ( we'll be referring to it as simply the ZTE Vital for short ). The ZTE Vital is a pretty interesting phone, one that we haven't reviewed in a while. This is one of those special kind of devices that don't use regular GSM networks, but instead work with those CDMA networks. This is a device made specifically for the network known as Sprint, and Sprint is known to provide some pretty good quality as far as their networking goes ( or so I've heard ).
The ZTE Vital is a fairly interesting phone, albeit it is kind of expensive, but then again most CDMA phones are. Now in all fairness, it is hardly over-priced. Maybe it could do with being a bit lower, but most components and features of this device justify the modest 350 dollar price that you'll most likely come across for this phone. If you manage to find it cheaper, props for you, but I still find it somewhat expensive.
SUMMARY
While the pricing of the ZTE Vital may be somewhat steep, it's not overly too expensive. Generally, it's a pretty affordable phone with some really great features. ZTE is long known to work with Sprint and they have a pretty long history together of making good phones ( not GREAT, but good enough for relatively affordable prices ). There are very few letdowns about this phone, so few that they're quite easy to overlook.
GENERAL
You already know that, while this phone can use a SIM card, that one isn't a regular GSM one, but a CDMA one. It uses standard CDMA networks for both 2G and 3G, yet the ZTE Vital also has 4G on it. It has been available for purchase ever since June, having been announced and released during that single month.
BODY
The size of this device is pretty standard. The phone, as you can very well tell from that small picture, isn't overly wide or large and has no unnecessary space. The exact dimensions of the ZTE Vital are: 142 x 71.4 x 10 mm ( or approximately 5.59 x 2.81 x 0.39 in ) and it weighs approximately 154 g ( or 5.43 oz ). Generally, it's just about big enough to house the screen ( which is 5.0 inches big ) and not leave any more room for unnecessary plastic.
DISPLAY
While you may know the size of the screen, it's important to also know the type. Thankfully, the type of screen on this device is: IPS LCD with 16 million colors, so it offers quite a bit of quality. The resolution of this screen is 720 x 1280 pixels and it can house a pixel density of approximately 294 pixels per inch ( which makes it 99.99% perfect – only the most well trained eye, and I seriously doubt any human possesses it, can spot an imperfection ). The ZTE Vital also has Multitouch on it, yet none of that advanced kind that supports more than two fingers at once. This phone also has a bit of screen protection with a sheet of protective glass.
SOUND
The sound of the ZTE Vital is nothing to brag about – it lacks any and all sound enhancements, be them software-based or hardware-based. As far as sound is concerned, this phone is about as stock / default as they come.
MEMORY
There may be some that have a small problem with the internal storage or the RAM ( both being limited at 8 GB and 1 GB, respectively ). While nothing can be done in order to increase the RAM, you can increase the storage space via the Micro-SD card slot, as it is one of those rare kinds that can take any and all cards of up to and including 64 GB.
DATA CONNECTION
This phone, having no support for GSM networks, naturally lacks GPRS and EDGE. The Internet Speed of this device is: EV-DO Rev A of up to 3.1 MB/s and LTE. The Wi-Fi of this device is 802.11 b/g/n with Wi-Fi hotspot too. The ZTE Vital also has Bluetooth v4.0 with A2DP and LE. While on the topic of data connection, it would be worth it to mention that this device is also equipped with NFC. The USB port of this phone is a standard Micro-USB v2.0 one without MHL.
CAMERA
The main camera of this device is a pretty impressive one: a 13 MP camera which can photograph at resolutions of 4032 x 3224 pixels and record video in 1080p full HD quality at 30 frames per second. The ZTE Vital also has a secondary frontal camera of 1 MP, but that one isn't so impressive as the main one. Some of the features of the main camera include: autofocus, LED flash, geo-tagging, touch focus, face detection and panorama.
BATTERY COLOR
The ZTE Vital has a pretty good battery: a Li-Ion 2500 mAh battery. Thankfully, it's not the non-removable kind that I so hate and loathe. For how long this battery can sustain the phone, some say that it can keep it alive for close to 15 hours of talk-time, but the specifics I cannot say ( considering they usually endure medium-to-heavy use in my hands ).
HARDWARE
The hardware of the ZTE Vital is pretty damn good: the phone's equipped with a Qualcomm MSM89860 Snapdragon chipset, a Dual-Core 1.5 GHz Krait processor and an Adreno 225 GPU. Sure, it's not great, and for some of the newer, more demanding apps it will barely cut it, but I have a strong feeling that it will prove to be sufficient for most tasks.
SOFTWARE
The software version on the ZTE Vital is not the newest out there, but it's sufficient. This device has Android OS v4.1.2 Jelly Bean on it, and while it may not be the LATEST out there, it still is good enough for such a phone. It will offer a lot of stability and a whole bunch of unique and interesting features ( so many you won't be able to count ).
FEATURES
The ZTE Vital doesn't have an exagerated number of features, but still more than most. This phone's sensors are: Accelerometer and Proximity. The browser of this device uses HTML and also the phone has no support for radio, but it does for Java via the Java MIDP Emulation. The GPS of this phone has built-in support for A-GPS. The ZTE Vital is available in two colors: Black and Blue, both looking quite well.
Below I'll give you a short list of what this device is capable of:
SNS integration
Active noise cancellation with dedicated mic
MP4/H.263/H.264/WMV player
MP3/eAAC+/WMA/WAV player
Google Search, Maps, Gmail, YouTube, Calendar, Google Talk
Document viewer
Photo viewer/editor
Voice memo/dial
Predictive text input
This concludes our little review of the ZTE Vital. Hope it has helped answer a few questions you might have had about the device and offered you at least the tiniest bit of info.