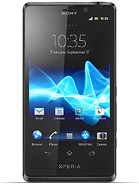 Today we'll be reviewing the Sony Xperia T. For some, this phone is also known as the Sony LT30p, however, I find Xperia T to be much easier to pronounce and refer to, rather than LT30p. Other than the name, this phone is really powerful. It has been quite some time since I reviewed an Average-to-Powerful phone and I figured: why not come back with a relatively powerful phone.
The Sony Xperia T is a device that has a lot of really good features and a few less than ideal ones, but still powerful. It is stronger than your average phone, but it won't reach the strength levels of a Quad-Core one or a Tegra 3 one. Still, this device is capable of doing quite a large amount of stuff.
One thing that is starting to get a bit bothersome, for me at least, is the fact that Xperia hasn't yet thought of a more original design for their products. Don't get me wrong, the Sony Xperia T looks superb, but the curvy back and large plastic side beneath the screen is really starting to get old for me. I realize that there's not much diversity to be had here since there are only so many combinations you could do, but trying at least to modify it a little wouldn't hurt.
SUMMARY
As I promised I would do over 9000 years ago, I would start all my reviews with a brief summary of the phone. However, one will find little to no useful information or solid data in this part. This is more intended as a general guideline or trailer, if you will, for the rest of the article / review. In this part I will try to list a few of the good and bad parts of this device. I can't necessarily say that the Sony Xperia T has any truly bad parts, rather, it has some points that could have been stronger.
The Sony Xperia T is a fairly strong phone with a more than decent hardware configuration. While it may be light years away from the Quad-Core Tegra 3 equipped devices and their equivalents, the Xperia T is still quite powerful. Plus, with all of the average -to-good hardware, software and features it has, this phone is bound to be more acceptable / decent as far as price is concerned. It should pretty much be affordable for all pockets ( that's the logic of it all anyway, however, I have serious doubts whether or not Sony will be logical with this device or just do what they do with their VAIO laptops and overprice them – granted not by much, but overprice is overprice ).
What is pretty interesting to note about this phone is one of its features. The Sony Xperia T has limited Cloud Storage of up to 50 GB. I suppose it would seem cheaper to pay 1 dollar a month or such a low price to store your files online, rather than invest into some expensive memory card. Of course, in the long run, you may find advantages and disadvantages. Thing is you can't really consider the "long run" as far as phones go since you'll probably keep it for an year or a maximum of 2 years tops and then decide to change it. Rare are the cases in which people actually use their mobile phones / smartphones more than the warranty period.
Also, a big disadvantage of this device, from my point of view anyway, is the fact that it only has support for MicroSIM. That being said, if you have a connection with a regular SIM cards as I have, you will have to go to the nearest service provider shop and change your service style. While doing that, most will ask for a certain fee, and in that situation, the consumer is the one who has to suffer ( monetarily speaking ).
GENERAL
This device is not a 4G one and it isn't a CDMA one either. The Sony Xperia T uses the standard 2G and 3G networks as its network types. Those networks are as following : 2G ( GSM 859, GSM 900, GSM 1800 and GSM 1900 ) and 3G ( HSDPA 850, HSDPA 900, HSDPA 1700, HSDPA 1900 and HSDPA 2100 ). The Sony Xperia T as announced in August 2012 and has yet to come out. However, it is expected that it will be hitting the market in September 2012.
BODY
The aspect of the Sony Xperia T, as I already said, isn't all that unique. To me it would seem that Sony has been using the exact same design over and over. Other than a few minor modifications, nothing seems to indicate to me that this is a NEW phone. Anyway, the size of the device isn't all that big. It is a bit larger than your standard phone, but still quite decent and pocket friendly ( as in it will still fit in your pockets ). This device also has Touch Sensitive Controls instead of frontal buttons, although I'm not really sure that's even worth mentioning nowadays.
Have you ever noticed that when some piece of technology is used widely enough, people tend to get used to it so much that they will be asking themselves "What is wrong?" if that little detail is missing? Take for example these Touch Sensitive Controls. When they were first introduced, people thought they were a really big deal. However, if a device lacks this detail Now, it is suddenly not good enough. We tend to forget much easier nowadays and appreciate things much less.
DISPLAY
I will be honest with you. The quality of the screen is not the finest out there. While it may have a TFT capacitive touchscreen with 16 million colors, it does have an awful lot of features that improve quality quite a bit. Still, one can't help but think of the quality it could have had would it have all these features and another type of screen. Even so, this small "disadvantage" brings an awful lot of advantages as well. One of them is the fact that it should lower the price quite a bit. While it should lower the price, I can't really say whether or not it will actually be low.
The screen of the Sony Xperia T is the size of 4.55 inches. While the standard size we are used to is 4.3 inches for a screen, this one does not exceed it by too much. The resolution reached by said screen is 720 x 1280 pixels. The pixel density of this device is a really marvelous one. The Sony Xperia T has a pixel density of 323 ppi, which is more than you would ever need. Keep in mind that the human eye can perceive only up to 300 ppi, so going over that limit is a bit over-kill.
The Sony Xperia T has Multitouch on it as well, the kind that can support up to 4 simultaneous fingers on it. The device also has a relatively efficient means of screen protection : Shatter Proof and Scratch-Resistant Glass. This phone also has Temscape UI installed on it and the Sony Mobile BRAVIA engine.
SOUND
There is nothing special about the Sony Xperia T's audio. This phone has no sound enhancement whatsoever on it, be it hardware-based or software-based. The phone has the default Alert Types, Loudspeaker and 3.5 mm jack that all smartphones have.
MEMORY
The memory of this device is pretty good. The Sony Xperia T has an internal storage space of around 16 GB which can be expanded via the Micro SD card all the way up to 32 GB. The RAM of the Sony Xperia T isn't so strong for this period of time in which we live, but it is still a relatively large amount. The phone has 1 GB of RAM on it. It's pretty good and would have been the best an year ago, but now we have 2 GB of RAM as the maximum amount.
DATA CONNECTION
The connectivity of the Sony Xperia T is pretty good. More so even, this device also has NFC on it. What that NFC ( Near Field Communication or something like that ) does is act as a very strong and fast connection between two devices. It is very similar to the old Infrared devices in terms of distance. In order for it to work you have to get the two devices as close as possible. I believe the optimal position would be to touch them to one another and keeping them close for a few seconds.
Well, leaving that aside and coming back to the connectivity of the Sony Xperia T. The device has both GPRS and EDGE. While we don't know what class each of them is, we do know what speed each of them can reach and I certainly believe that is even better. The GPRS can go all the way up to 70.4 KB/s and the EDGE up to 236.8 KB/s. The Speed of the device is : HSDPA of up to 42.2 MB/s and HSUPA of up to 5.76 MB/s. The WLAN of this device is Wi-Fi 802.11 a/b/g/n with Dual-Band, Wi-Fi Direct, DLNA and Wi-Fi hotspot. The device also has Bluetooth v3.1 with A2DP. Also, it has a MicroUSB v2.0 (MHL) port. Since it is MHL, it does not require an HDMI port as it will all be done through the MHL A/V Link.
CAMERA
The main camera of the Sony Xperia T is a 13 MP one which can photograph at resolutions of approximately 4128 x 3096 pixels and record video in 1080p full HD with around 30 frames per second. The features of this camera are : Autofocus, LED Flash, Geo-Tagging, Touch Focus, Face Detection and Image Stabilizer. The video recorder also has some features of its own. Those features include : continuous autofocus, video light and video stabilization. The secondary camera of the Sony Xperia T is a 1.3 MP that can record in 720p HD at around 30 frames per second.
BATTERY LIFE
The battery of the Sony Xperia T is a fairly strong one. This battery is a Standard Li-Ion 1850 mAh one. It can sustain phone life for up to 450 hours of stand-by in 2G, 410 hours of stand-by in 3G, 7 hours of talk-time in both 2G and 3G and up to 16 hours of continuous music play. While I did say before that the device has no sound enhancement whatsoever, the quality of music must be somewhat superior to your average smarphone, else the creators wouldn't have bothered adding this part about Music Play.
HARDWARE
The hardware of this device is pretty decent. It isn't as powerful as a Quad-Core phone, but then again, it isn't as expensive as one either. The processor of this device is a Dual-Core 1.5 GHz Krait. The Sony Xperia T also has a Qualcomm MSM8260A Snapdragon motherboard and an Adreno 225 graphics card. Say what you will about the configuration but know that with a few tweaks it can even run games such as Grand Theft Auto III.
SOFTWARE
The Android OS of this device is Android OS v4.0.4 Ice Cream Sandwich. I admit it is somewhat disappointing to see that the Sony Xperia T won't have the latest version of Android OS on it. What comes as an even bigger disappointment is the fact that this device won't be receiving any new update anytime soon. There is no news whatsoever whether or not it will ever receive the update to v4.1 Jell Bean.
FEATURES :
The Sony Xperia T is packed with features. The sensors of this device are : Accelerometer, Gyroscope, Proximity and Compass. The messaging on this phone is done via : SMS ( with Threaded View ), MMS, E-Mail, IM and Push E-Mail. The browser of the device uses HTML5 but sadly has no support for Adobe Flash. This phone also has Stereo FM Radio with RDS. Its GPS has support for both A-GPS and GLONASS. The device also has Java through Java MIDP emulation. The only available colors for this device are: Black, White and Silver.
Here is a brief list of what the Sony Xperia T can do :
MicroSIM card support only
50 GB of Cloud storage (time limited offer)
SNS integration
TV-out (via MHL A/V link)
Active noise cancellation with dedicated mic
MP4/H.263/H.264/WMV player
MP3/eAAC+/WMA/WAV/Flac player
Document viewer
Photo viewer/editor
Voice memo/dial
Predictive text input
This concludes our little review of the Sony Xperia T.  Thank you for reading this review. I hope it has been as helpful as possible. If you feel that anything is lacking from this review feel free to leave your suggestions in the comment section below for things which should be added and I will be sure to take them into consideration when writing my future projects. In the meantime, I sincerely hope you had as much fun reading my little review as I had writing it.