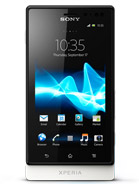 Today we shall be looking at the Xperia Sola. This is a pretty decent Android Phone, a bit weaker than Sony's famous Xperia S though, with some really good performance features. It's far from weak, but then again it's quite far from the Quad-Core equipped devices as well. Still, if it makes you feel any better, know that the Dual-Core 1 GHz on this phone was also used in the iPad 3 ( even though the iPad 3 is weaker than most Android Tablets released by Samsung last year and definitely weaker than the Acer Tranformer 700 ). What more is there to say about this device other than : Sony makes some really wonderful products and I especially liked what they did with the Xperia Play.  That phone managed to mimic the PSP but was more compact and could do more things. If an Android Phone managed to do that imagine the possibilities for the future.
But enough dilly-dallying. Let us commence with this little review / preview of the Sony Xperia Sola.
Processor : Dual-Core 1 GHz
RAM : 512 MB
Android OS : 2.3 Gingerbread
Camera : 5 MP
Display : 480 x 800 pixels, 4.0 inches (~233 ppi pixel density)
Let us begin by taking a look at the body of the Sony Xperia Sola. The dimensions of this phone are as follows : 116 x 59 x 9.9 mm. The weight of this phone is around 107 grams. The Sony Xperia Sola also has Touch-Sensitive controls n it.
Let us move on to the display of the Sony Xperia Sola. The Type of screen on this phone is a Capacitive Touchscreen with 16 million colors. I am not so sure what the type per say is since there isn't that much information available about this phone, either that or it has a plain capacitive touchscreen. The resolution reached by this device is around 480 x 854 pixels. The screen's size is around 3.7 inches big. The pixel density of this screen is around 265 ppi. The Sony Xperia Sola also has Multitouch ( with no relevant information on how many fingers can run simultaneously on it : such as 4 or 10 or something like that ). The Sony Xperia Sola's screen also has screen protection : scratch-resistant glass display, which is a decent enough form of screen protection. Also, this phone has something I haven't heard about or seen : floating touch display. I have no idea whatsoever what that thing could be but I suppose it serves as an activate-able UI.
Moving on to the sound part of this little review / preview of the Sony Xperia Sola. The Sony Xperia Sola has vibration and MP3 Ringtones as Alert Types. Also, this phone has a Loudspeaker with stereo speakers ( that's something you don't actually see everyday ) and a 3.5 mm jack. Obviously, since I have written about any, there aren't any sound enhancement methods installed on this phone such as Dolby or others for clarity. And since there isn't much more to say about this part, let us move on.
Moving on to the Memory of the Sony Xperia Sola. The internal storage space of this device is around 8 GB. However, since Sony has a habit of making phones with N storage space but out of which only M is usable, so is the case with the Sony Xperia Sola. Out of all of the 8 GB of space, only 5 GB are user-available, the rest are meant for the use of the System. Still, if you require more space on your phone, you're always welcome to use the card slot which uses any MicroSD card of up to 32 GB ( it doesn't say up to 32 GB per say, but one can only assume since that thing applies to 99% of cases ). Now looking at the RAM, one can't help but feel a bit disappointed. One would assume that having a Dual-Core processor this phone would also have the maximum amount of RAM, which is 1 GB, but apparently this phone manages to defy the laws of logic and common sense and will come out with a rebellious 512 MB of RAM ( which means it has half the speed and multitasking ability of a 1 GB phone ).
Moving on to the data connection part of the Sony Xperia Sola's review / preview. The Sony Xperia Sola has GPRS and EDGE although I do not know what Class of GPRS and EDGE. It also runs with HSDPA and HSUPA speed, although again, there isn't any specification whatsoever of the speed in MB/s reached by any of those. The WLAN of this phone is represented by a Wi-Fi 802.11 b/g/n with DLNA and Wi-Fi hotspot. The Sony Xperia Sola also has Bluetooth v2.0 with A2DP and EDR. The Sony Xperia Sola has NFC on it as well ( I've noticed it's a feature not many phones happen to have ). Also, the USB connection of this phone is done through a MicroUSB port for v2.0.
Moving on to the camera of the Sony Xperia Sola. The main camera is a 5 MP snapper being able to take photographs a surprising resolution of 2592 x 1944 ( I'm just kidding, it's not surprising at all – that's actually the default maximum resolution of any 5 MP camera ). What impressed me about the camera of this phone is that it has a lot of features. One could say it's trying to compensate for the fact that it doesn't have a secondary frontal camera by including a whole lot of features for the main. Well, whatever their reason, I like it. The features as follows : autofocus, LED flash, geo-tagging, touch focus, face and smile detection, 3D sweep panorama and even image stabilization. Also, the video recorder of this camera is one of the more special ones since it's capable of recording at 720p HD at about 30 fps. The video recorder also has some features of its own such as : continuous autofocus and video light.
Let us move on to the hardware of the Sony Xperia Sola. The processor of this device is a Dual-Core 1 GHz processor, as I've mentioned before ( repeatedly, I might add ). The Sony Xperia Sola also has a NovaThor U8500 chipset. Can't say I'm too familiar with the NovaThor chipsets, probably new or something since I haven't really seen much of them. Apparently there is no GPU, etiher that or it is included in the chipset. Either way, decent specs nonetheless.
The Operating System of this device is Android OS v2.3 Gingerbread. I've stated this on too many occasions how much I disapprove of new phones coming out with older Android OS versions. However, there is no need to rant about this phone considering that it has a planned upgrade to Android OS v4.0 quite soon after the release date ( which will probably be somewhere in Q2 of 2012 ).
Now let us take a look at the features of this device. The sensors of the Sony Xperia Sola are : accelerometer, proximity and compass. The messaging of the Sony Xperia Sola is done via : SMS ( threaded view ), MMS, E-Mail and Push Mail and even IM. The browser of the Sony Xperia Sola supports HTML5 and Adobe Flash. The radio of the Sony Xperia Sola is a Stereo FM radio with RDS. The GPS of the Sony Xperia Sola supports A-GPS. The Sony Xperia Sola also has Java via Java MIDP emulation. The colors in which this phone will come out are : black, white and red.
Here at the end of this little review / preview I shall show you a list of the things that this phone can do :
SNS integration
Active noise cancellation with dedicated mic
MP4/H.263/H.264/WMV player
MP3/eAAC+/WMA/WAV player
Google Search, Maps, Gmail,
YouTube, Calendar, Google Talk
Document viewer
Voice memo/dial/commands
Predictive text input
Well, this concludes our little review / preview of the Sony Xperia Sola. If you feel that anything important has been left out of this review / preview feel free to leave your suggestions for things to be added in the comment section below and I shall be sure to take them into consideration when writing my future projects. In the meantime, I hope you enjoyed reading this as much as I enjoyed writing it.