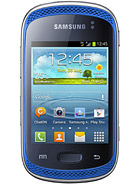 Well, it has been quite some time since I reviewed some Android Phones. College life will do that to you, but this is not a time for excuses. With the holidays being so near, many people will make huge expenses on decorations and all the food they will be putting on their tables. In the eventuality that you want to buy a phone in this period, you may want to consider the price of the device in a bigger measure. That's why I chose to review this cheaper Android phone, in the hopes that it might satisfy a wider variety of people.
This is one phone that is not very strong, but it wasn't built for strength. This is one of those phones built for a sole purpose while keeping the idea of low budget in mind. The Samsung Galaxy Music S6010 is very similar in its purpose to thoe older Nokia Xpress Music we used to own, or Sony Ericson with the Walkman feature. I imagine that the sound quality on this device is more than half decent as it has more than 1 speaker. Feel free to tell me more about it once you get this phone and have a chance to use it extensively.
OVERVIEW
For those of you who aren't so interested in reading all about the phone, I decided to place a small piece that pretty much sums it all up at the beginning of the article, just so you don't have to read all the lines of text until you reach your conclusion whether or not it is a good phone or a bad one. I can say this, however. This is most definitely a more budget approach if you want to get an Android phone and do not want to spend a whole lot. However, this is one of those phones made for a purpose, and as the name would suggest this particular device is one that handles Music play quite well.
If you want to consider it on a global scale and compare it to some of the more powerful monsters you can find around, of course this phone will come out lacking. However, if you consider it as it should be taken, as a standard device with above average configuration, it should come out as a pretty good device. The hardware isn't much to look at, but this phone is good for other reasons. One of them would be its sound output as this device doesn't have a regular speaker, but two stereo ones which are also enhanced by its SRS sound enhancement. Also, the device moves pretty quickly and the chance of it lagging on you is quite slim ( unless, of course, you load up the phone with all sorts of demanding or unknown apps ).
GENERAL
One thing I really like about this phone is that it uses the Standard Mini-SIM that most of the people are used to. I do so despise the Micro-SIM that is used by all the new phones out there, and frankly I could never understand the logistics behind it. If the phone is big enough for you to put a 5.something screen on it, why not place a regular SIM slot as well? But that's besides the point, however.
The supported networks of this device are as following: regular 2G ones ( GSM 850, GSM 900, GSM 1800 and GSM 1900 ) and regular 3G ones ( HSDPA 900 and HSDPA 2100 ). This phone was announced in October 2012 and it was expected to be released worldwide around December, but it isn't available yet so I guess the expectations were not met yet.
BODY
The size of this device is quite small, but you know how often good things come in small packages. The size of this phone is: 110.1 x 59 x 12.3 mm in size ( or around 4.33 x 2.32 x 0.48 in, if you prefer this measurement ) and it weighs around: 106.9 g ( or around 3.74 oz, if you prefer this measurement ). Thus, the size of the phone is quite ideal to harbor a 3.0 inch screen, not leaving wide pieces of plastic without purpose, as I have seen other cheap phones do. A small disadvantage regarding the body of this phone is the lack of touch-sensitive controls. However, this is only a disadvantage to some. For a budget phone, this is to be expected.
DISPLAY
The screen of this device is a fairly decent one. The Samsung Galaxy Music S6010 has a TFT capacitive touchscreen with around 256 thousand colors. While this screen may not be the best in the market, it gets the job done and in the end that is what matters the most. The screen is approximately 3.0 inches big and can house a resolution of approximately 240 x 320 pixels. The pixel density of this device is around 133 pixels per inch, which in the end is a relatively good pixel density, but I wouldn't recommend extended usage of this phone ( or any, come to think of it ), especially not in the dark, else you risk damaging your eyes a bit. Also, whether or not it is worth mentioning, I do not know, but this device also has Multitouch, as do almost all Android devices.
SOUND
The audio output of this phone is what makes it great. The Alert types of the device are the standard one you could expect to see anywhere ( such as Vibration and MP3 ), but that is not what makes this phone good. The speakers, as I am sure I have already mentioned, are two stereo ones which can be located in the upper and lower sides of the phone, particularly on the front. They are placed somewhat like the Header and Footer of a Word Document. Also, as if the hardware's provided sound wasn't enough, the audio of this phone is also enhanced from the software, as it holds an SRS sound enhancement.
MEMORY
The memory of this phone is good, if you take it overall. It doesn't have more than you know what to do with and it most certainly doesn't have less than 1 GB. Its internal storage space is around 4 GB, which in my opinion is more than enough as you won't be installing really powerful games / apps on this device. However, if you do require more, this device also has a Micro SD card slot which you can use to expand the memory with up to 32 GB. Also, the RAM memory of this device is quite decent as it has just enough to keep the Samsung Galaxy Music S6010 running smooth and slick. The exact amount of RAM that can be found on this device is 512 MB, which in my opinion is more than enough for a standard and decent phone such as the Samsung Galaxy Music S6010.
DATA CONNECTION
This phone has both GPRS and EDGE, although it isn't mentioned what type of GPRS and EDGE they are or the exact speed. The speed of this phone per say is: HSDPA at 7.2 MB/s and HSUPA at 5.76 MB/s. The wireless of this device is as follows: Wi-Fi 802.11 b/g/n which also has Wi-Fi Direct, DLNA and Wi-Fi hotspot. The Bluetooth of this device is a v3.0 one with A2DP on it. The Samsung Galaxy Music S6010 also has a MicroUSB v2.0 port on it, however it doesn't have MHL as well. Therefore, since the phone is also lacking a HDMI port, do not expect to use it in coordination with other screens ( although you shouldn't have such high expectations from this phone in the first place.
CAMERA
The camera of this particular phone is pretty decent, but it isn't enough as to use the phone as a camera. If you truly want a phone you could use as a camera instead of a phone, may I suggest the Nokia PureView or the Galaxy Camera? However, back to the subject. The camera of this phone is a 3.15 MP one that can photograph at resolutions of approximately 2048 x 1536 pixels. The features of this device aren't a whole lot, as it only has Geo-Tagging and Touch Focus. It can record video, but don't expect HD quality. Such a camera doesn't really provide a lot of a quality, but you never know when it might come in handy.
BATTERY LIFE
The battery life of his device is pretty good, although it isn't exceptional. Still, considering the size of the battery and its strength, it's a pretty good thing. The battery of the Samsung Galaxy Music S6010 is a Standard Li-Ion 1300 mAh one. The time this battery can survive is: 570 hours in stand-by in 2G and 370 hours in stand-by in 3G. However, you aren't buying a phone to let it stand-by, so the amount of time in talk-time is: up to 15 hours in 2G and up to 6 hours in 3G.
HARDWARE
The hardware of this device isn't very brilliant, as in the end this is a cheap Android phone. The only notable component of this phone is the 850 MHz Cortex-A9 processor. While the hardware may not be much to look at, it is certainly strong enough as to handle Android OS v4.x.
SOFTWARE
The installed Android OS version of this device is v4.0.4 Ice Cream Sandwich and there is a planned upgrade to v4.1 Jelly Bean somewhere in the future. Therefore, you can expect the phone to run pretty well as the software must be really well-optimized for it to run on such little hardware strength.
FEATURES
Cheap as the Samsung Galaxy Music S6010 may be, it is still packed with all sorts of features. The sensors of this device device are: Accelerometer, Proximity and Compass. The messaging on this phone is done via: SMS ( with Threaded View ), MMS, E-Mail, Push E-Mail and IM. The browser of this device works with HTML5 but it has no integrated support for Adobe Flash, fact which could prove problematic. The radio of this phone is a Stereo FM one with RDS and it has a built-in antenna. The GPS of this device has included support for A-GPS and GLONASS. Also, the Samsung Galaxy Music S6010 has Java through Java MIDP emulation and it comes in three colors: Blue, Orange and Gray.
Here is a brief list of what the Samsung Galaxy Music S6010 is capable of:
SNS integration
MP4/H.263 player
MP3/WAV/eAAC+ player
Organizer
Photo viewer/editor
Google Search, Maps, Gmail, YouTube, Calendar, Google Talk, Picasa
Voice memo/dial
Predictive text input
This concludes our little review of the Samsung Galaxy Music S6010.  Thank you for reading this review. I hope it has been as helpful as possible. If you feel that anything is lacking from this review feel free to leave your suggestions in the comment section below for things which should be added and I will be sure to take them into consideration when writing my future projects. In the meantime, I sincerely hope you had as much fun reading my little review as I had writing it.