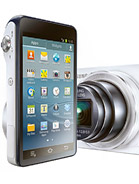 Today we'll be reviewing the Samsung Galaxy Camera. I chose to review this particular device for a number of reasons. First of all, how often do you get the chance of seeing a Camera with Android on it? I feel bad since Apple won't be able to sue this product as well for "infringing on their patents". Also, while I'm on this notion – the patenting this is utterly stupid. Sure, you should patent your Original things, but just going around patenting general ideas just because you can afford them is wrong. If you got the design idea for a square phone with a large screen and one button you don't have to go around and say that any phone that looks like so is automatically copying its design. There are ideas that have been lying around freely for ages for everyone to use, but apparently when someone with enough money and will for destruction comes along, they ruin it for everybody.
But back to the matter at hand – the Samsung Galaxy Camera. Sorry for deviating a bit out there, but you're bound to have heard about the famous legal battle between Apple and all other competitors. Apple keeps bragging about their bought victory over Samsung at the moment. I have my reasons for calling it "Bought Victory", one of them being that in Korea, United Kingdoms, Germany and Netherlands everybody claimed Samsung didn't copy anything. However, when the US joins the fight and Apple wins one trial in one state, apparently that's supposed to be the final ruling and everyone is to go home. I have reasons to be suspicious, but I won't say anymore as I may get sued by Apple as well.
This camera / device / phone is a device with no support whatsoever for GSM voice communication. It does, I think, have support for SIM cards with internet access. Still, you won't be able to use it as a phone. After all, it is a camera. Still even with all of its camera features, it still is more powerful than most Android phones out there.
SUMMARY
As I promised a long time ago but somehow in the future ( most probably a few months ago ), I would introduce a part called Summary to my little reviews / previews. To clear it up for everyone : I call my articles "reviews" no  matter their availability status since, even if it isn't available at the current time you're reading it, it will be available a month later or so. Either way, it seems to sound much better if you say reviewing / review rather than previewing / preview. However, everyone is entitles to their opinion, and while you may not necessarily agree with me, I will still do as I have always done.
This part won't offer too many details about the device as if you truly want to know more about it, you are to keep on reading. This is more intended as a General Guideline, or a "trailer", if you will. The Samsung Galaxy Camera is a pretty awesome device with a hardware configuration which is as good as it will get and a ton of features. This is one of those phones you can't help but be amazed by it. I'm not sure I can even refer to it as "phone", but let's not judge semantics here.
It may have a few disadvantages as well, but most are excusable and they can only be considered "Bad" if you choose to have a problem with them. Otherwise, you can always just leave it be as it isn't altogether that bad. There are some points that could use improvement, but I am of the opinion that if it works, leave it like that.
GENERAL
As I mentioned before, this is a device with no support for GSM voice communication. However, it does have support for GSM networks. That being said, it is somewhat limited as far as networks go. The Samsung Galaxy Camera has the following networks : none of the 2G part, 3G ones ( HSDPA 850, HSDPA 900, HSDPA 1900 and HSDPA 2100 ), and 4G LTE. The device was announced in August 2012 and is set to come out somewhere around Q4 of 2012.
BODY
The size of this camera is pretty good. Considering it has a 4.8 inch screen, it has to be big enough to accommodate it. The size is : 128.7 x 70.8 x 19.1 mm. This device also weighs somewhere around 305 grams. As you can clearly see for yourself, the size is quite standard for such a camera.
DISPLAY
The screen of the Samsung Galaxy Camera is a Super Clear LCD capacitive touchscreen with 16 million colors. This screen is a cut above the Super AMOLED screen you know and love. The colors on the Super Clear LCD screen seem to be much brighter than on the Super AMOLED one. In case you're wondering which one is better, the Super Clear LCD one or the AMOLED one, let me enlighten you :
Some manufactures had moved back to SLCD displays because of the expense and lack of production capacity of AMOLED displays. SLCD screens have remained popular as power consumption is comparably lower when displaying lighter colours such as the white background found on most internet pages. While AMOLED technology generally displays darker blacks and truer colours making videos and images appear clearer and more vibrant, SLCD technology avoids the need for pentile subpixel formations (which use a larger shared blue subpixel to avoid fading over time) and thus creates sharper detail making text appear clearer.

As you can see : the Super AMOLED one creates darker shades of Black and more vibrant colors, while the Super Clear LCD one creates brighter shades of white and allow for more detail and easier to read writing.
The screen, as I already mentioned, is a 4.8 inch one with a resolution of approximately 720 x 1280 pixels. It has a really good pixel density on it as well – approximately 306 ppi. This way, all of the people that claimed that anything under 300 is bad have nothing to complain about.
The Samsung Galaxy Camera also has the most effective means of screen protection at the moment – Corning Gorilla Glass 2. The device also has Multitouch on it, however, it isn't the advanced sorts of Multitouch that can support more than two simultaneous fingers on it ( never really did find a use for it ). The device also has TouchWiz UI on it, should you choose to use it as I believe they all come with their UIs on, but you can sometimes turn it off manually.
SOUND
Normally I wouldn't even discuss the sound, but how often do you get to see a camera with a loudspeaker and a 3.5 mm jack. It has no alert types and that is because of many reasons. One of them would be the fact that it's ridiculous to see a camera ringing. The other one is the fact that it has no voice communication, thus needs no alert types. Other than that, it has no sound enhancements on it – be them software-based or hardware-based. However, simply because it is a camera with these things, I say it's more than enough.
MEMORY
The Samsung Galaxy Camera has an internal storage space of 8 GB. As if that wasn't enough, it also has a Micro SD card slot which can use any card of up to 32 GB. The RAM of this device is also good, considering it is a camera phone ( not the kind you're used to but more of a camera turned into a phone ). The device has 1 GB of RAM. Sure, you may complain that it doesn't have 2 GB, but keep in mind that it is not a phone.
DATA CONNECTION
This device has no GPRS and no EDGE. However, 4G devices rarely do. The Speed of the Samsung Galaxy Camera can be measured as such : HSDPA at 21 MB/s, HSUPA at 5.76 MB/s and LTE ( the LTE one is optional – I imagine there will be quite a price difference between an LTE one and a non-LTE one ). The WLAN of this device is a Wi-Fi 802.11 a/b/g/n with both Dual-Band and Wi-Fi hotspot. The Bluetooth of this device is a v4.0 one with no particular features of its own. The USB port of this device is a Micro USB v2.0 one with no MHL, however, that's not really a problem as the device also has an HDMI port.
CAMERA
It's weird on so many levels to talk about the camera of a camera, but we have to do it anyway, as this is one of the many Fortes of this device. The primary camera ( and the only camera, at that – there's no secondary one ) has 16 MP and can record video in 1080p full HD at 30 frames per second and in 720 x 480 at 120 frames per second. The features of this camera are very, very numerous : 21x Optical Zoom, Pop-Up Xenon Flash, AF Light, Wide-Angle 23 mm Lens, Geo-Tagging, Touch Focus, Face and Smile Detection and Optical Image Stabilization.
BATTERY LIFE
I may have not that much to talk about here, partially because I lack all the necessary information about the battery. All I know for sure is that it is a Standard Li-Ion 1650 mAh battery. Other than that, at the current time, I can't say any more about the battery of the device.
HARDWARE
The Samsung Galaxy Camera has a really powerful hardware configuration. You'd think a device such as this one, which was mainly built to be a powerful ( medium – to be more precise ) camera wouldn't have such a strong hardware configuration. However, the Samsung Galaxy Camera has a hardware that can equal the Tegra 3 devices in strength. This device has an Exynos 4412 Quad chipset, a Quad-Core 1.4 GHz Cortex-A9 CPU and a Mali-400MP GPU. As you can obviously see for yourself, while it may not be Tegra 3, it's just as powerful and can run gust as many things.
SOFTWARE
The Android OS of this device is the latest one available. The software of the Samsung Galaxy Camera is Android OS v4.1 Jelly Bean. There isn't much point in discussing the upgrade-ability of the device since there is no newer version for the Android OS. There may be one an year for now, but then again, an year is a pretty darn long period of time for Android devices, or for any mobile devices come to think of it. These things get Old really fast since the market is so volatile and fast paced. It would take a very skilled hand and large pocket if you want to constantly be up to par with the technology of these days.
Speaking of that, of the fact that it is so hard to keep up with tech advancements these days. I have a little bit of advice for any and all who would like to purchase a device that will last them more than an year. Try and look for something with a hardware configuration as large and powerful as possible. Also, look for things with really awesome screens and the latest ( at the current moment ) OS. Don't skip out on the features either. It has to have as many as possible if you want it to still be at least decent in the coming years.
FEATURES :
The Samsung Galaxy Camera is packed with all sorts of interesting features. The sensors of this device are : Accelerometer, Gyroscope and Compass. The messaging on the Samsung Galaxy Camera is done via : SMS ( with Threaded View ), MMS, E-Mail, Push Mail, IM and RSS. The browser of this deice uses HTML5 and has no apparent built-in support for Adobe Flash ( fact which could prove problematic ). The Samsung Galaxy Camera has no radio, however, by simply downloading a radio app that problem is solved. The GPS of this device has support for both A-GPS and GLONASS. The Java of the Samsung Galaxy Camera is obtained via Java MIDP emulation. The colors in which this device is available in are : Black and White.
Here is a brief list of what the Samsung Galaxy Camera can do :
SNS integration
Dropbox (50 GB storage)
HDMI port
MP4/DivX/XviD/WMV/H.264/H.263 player
MP3/WAV/eAAC+/AC3/FLAC player
Organizer
Image/video editor
Document editor
Voice memo/dial
Predictive text input (Swype)
This concludes our little review / preview of the Samsung Galaxy Camera. Thank you for reading this review. I hope it has been as helpful as possible. If you feel that anything is lacking from this review feel free to leave your suggestions in the comment section below for things which should be added and I will be sure to take them into consideration when writing my future projects. In the meantime, I sincerely hope you had as much fun reading my little review as I had writing it.