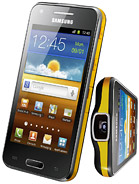 You may have heard about this phone ( or not ) but take it from me : it's something you certainly haven't seen before. Why ? you may ask. It's simple really, this phone is a special one in no small part due to its feature that no phone managed to have up until now. I'm referring to that little thing you see on top of the phone in the picture to the left. Contrary to what you may think, it's not a flashlight ( although I do miss the old reliable phone that used to have flashlights – say what you will, but those were awesome ). What that little dot there stands for is the built-in HD projector of this phone ( hence the name Galaxy Beam ). The opportunities for the projector are endless. Of course, all my sick and twisted mind can think of is using it for trolling in class or something to project dead people or that scene from The Ring on the blackboard. I mean, just picture it : how awesome would it be. The teacher is just standing there minding his own business, just doing his job, and the little girl  from the well gets out of the blackboard. Laugh or not, my twisted sense of humor finds that hilarious. Other than gag purposes, I can't really see too many scenarios in life in which you'd need a mobile HD projector. Still, even without counting the projector, the phone is quite powerful.
Processor : Dual-Core 1 GHz Cortex-A9
RAM : 768 MB
AndrodOS : 2.3 Gingerbread
Camera : 5 MP
Display : 480 x 800 pixels, 4.0 inches (~233 ppi pixel density)
Well, without further ado, let us start this little preview / review of the Samsung Galaxy Beam.
As the people running the company would say, not only is the Galaxy Beam the slimmest and smallest portable projector which is capable of some quality as well, it also is a smartphone with a lot of features and a freakish amount of power as well.
Well, let's take a gander at how big this phone is. It's not that big actually, especially for a projector phone ( considering the mini-projectors were quite massive ). The size of the phone is about 125 x 65 x 13 mm. It weighs about 145.3 grams and has touch-sensitive controls. I've already mentioned it has a built-in HD projector. What I also mentioned is that it only serves gag purposes. I was wrong to say that since apparently it can be used in multiple situations, be it for entertainment purposes or for work. For example, say you're at a party or with your friends somewhere and you want to share a video or a few pictures with the others. You don't really want to wait that long to send them to all of them and you aren't comfortable with just sending your phone for everybody to grab it and see. Well in a situation such as this one, a projector would come pretty handy. Or let's say you are a business man and need to show some graphs to your colleagues. Without transferring the files to a laptop and connecting the laptop to the projector, you couldn't do it. Not with this phone, again the Samsung Galaxy Beam brings a solution to your problems.
Let's take a look at the display, shall we ? This phone has a Super AMOLED capacitive touchscreen with approximately 16 million colors that reaches a resolution of approximately 480 x 800 pixels. The screen itself is 4.0 inches big and the pixel density reached by the screen reaches 233 ppi. It also has multitouch but nothing too notable to talk about. The display of the Samsun Galaxy Beam uses TouchWiz UI v4.0. That's about it for the display part, so let's move on.
On the sound part, this phone has Vibration, MP3 and WAV ringtones as Alert types. It also has loudspeaker and a 3.5 mm jack. No more information about the sound part such as any special features. So far, on the sound part, it's just like the rest.
On the memory side, this phone has 8 GB of internal storage space. It also has 768 MB of RAM. I know it's not 1 GB, but it's just as well. Actually, the 768 MB of RAM are just one step below the 1 GB milestone. Plus, the hardware makes up for the deficiency. Also, do keep in mind that if this phone is weak as far as the Android Phone goes, that is because its intended purpose was to be a great HD projector, which it is. The Smartphone part was only a secondary objective, and it did that pretty well too.
Moving on to the camera. The camera of the Samsung Galaxy Beam is a 5 MP camera which can take photographs at a resolution of approximately 2592 x 1944 pixels. The camera also has many features such as : autofocus, LED flash, geo-tagging, touch focus and last but not least, face and smile detection. The video recorder is also quite powerful being able of recording at a steady 30 fps in 720p HD. That's not easy feat, especially for a 5 MP camera. The Samsung Galaxy Beam also has a secondary frontal 1.3 MP camera, but there aren't too many to be said about that.
As far as the data connectivity of this phone goes, I'd say it's pretty strong. It has Class 12 EDGE and Class 12 (4+1/3+2/2+3/1+4 slots) GPRS that functions at speeds from 32 to 48 KB/s. The speeds that this phone can reach are quite big as well : the HSDPA speed reaches 14.4 MB/s and the HSUPA reaches speeds of  approximately 5.76 MB/s. The WLAN of this phone is a Wi-Fi 802.11 b/g/n with DLNA and Wi-Fi hotspot. The Bluetooth of this phone is a 3.0 with A2DP and HS. The Samsung Galaxy Beam also has a MicroUSB v2.0 USB connection. No more to be said about the connectivity, so let us move on.
Now let's take a small gander at the hardware that the Samsung Galaxy Beam comes equipped with. It has a Dual-Core 1 GHz Cortex-A9 processor but apparently no real or tangible or notable chipset or GPU. Still, I did say it before and I shall say it again : the smartphone thing was only a secondary objective for this phone. It was initially set to be a mobile projector with a kick, but the fact that it has "acceptable" phone features is a bonus.
Since there is nothing more to be said about the hardware, let's take a look at the software. The Android version this phone comes out with is Android OS v2.3 Gingerbread. Normally I've stated my opinion against the use of older software on new phones, but as I've said before ( repeatedly, I might add ), this phone has other functions than those normally demanded by the public. It's only useful to those who have use of it ( not to the people that just want power for apps and games and stuff like that ).
Now let's take a look at some of the more general features of the Samsung Galaxy Beam. The sensors this phone has are as follows : accelerometer, gyroscope, proximity and compass. Out of all of those, the gyro is something more uncommon, since the rest can be found on many other Android Phones as well. The messaging on this phone can be done via SMS (threaded view), MMS, E-Mail, Push Mail and IM. The browser of the Samsung Galaxy Beam is a HTML browser with Adobe Flash. On the downside, it has no radio, but it has GPS with A-GPS support and Java via Java MIDP emulators. The colors this phone will come out in are limited to black only ( with the yellow stripe on the sides ).
In conclusion, here is a short list of features which I did not feel the need to enhance upon :
SNS integration
MP4/DivX/WMV/H.264/H.263 player
MP3/WAV/eAAC+/AC3/FLAC player
Organizer
Image/video editor
Document editor
Google Search, Maps, Gmail,
YouTube, Calendar, Google Talk, Picasa integration
Voice memo/dial/commands
Predictive text input (Swype)
Thank you for reading this far. This has been my review / preview of the Samsung Galaxy Beam. I hope you enjoyed reading it as much as I enjoyed writing it and if you have any suggestions of what I should add to the reviews / previews if anything has been left out feel free to leave them in the comments below and I shall take them into consideration when writing my future projects.