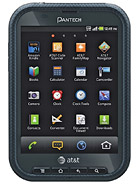 This is something known as "made on a boat" in my country. A sort of "ghost" producer that most people haven't heard about. Certain service providers take these said brands as producers to create certain products that bear the name of the said service provider instead of the producer itself. I tend to frown upon such tactics, but what can you do ? Here's the Pantech Pocket for you.
The said products that come from the previous mentioned producers under the name of another service provider tend to be a bit weak by some standards. Usually a certain essential component is lacking or is so weak that it is barely noticeable. Let us hope it is not the case with this phone.
Processor : N/A
RAM : N/A
Android OS : 2.3 Gingerbread
Camera : 5 MP
Display : 600 x 800 pixels, 4.0 inches (~250 ppi pixel density)
And apparently we all got our hopes up without seeing any solid results.
On the display side, this phone has a TFT capacitive touchscreen with about 16 million colors. The screen itself is 4.0 inches big and reaches a resolution of around 600 x 800 pixels. The display has a pixel density of around 250 ppi. Not too much to say about the display since it isn't a really god-like one. It has basic features mostly.
On the memory side, my sources say it has 600 MB of internal storage. No info about RAM though. As I said before, they lack a few vital components – one of which happens to be the RAM. That probably doesn't allow for too much multitasking. Either that, or it just doesn't have enough info leaked about it ( which I highly doubt ).
On the camera side, it has a 5 MP camera that can photograph at resolutions as high as 2560 х 1920 pixels. Some features of the camera include : autofocus, LED flash and that's about it. The video recorder is capable of recording at 720p. This device doesn't have a secondary camera though.
On the hardware side I don't know whether or not it has any or if not enough information was released about this phone. However, judging by how long ago this phone was announced, I'd have to assume it's because this phone has no notable hardware.
On the software side, it only has Android v2.3 Gingerbread. Disappointing to see a new phone with an old OS, but I did say that on way too many occasions.
A pretty weak phone, altogether. Still, if you're interested in it I won't judge you. Click HERE if you really like this thing.