Motorola has actually started to do some magnificent work lately. Now I'm not saying they had been slaking in the past, but their latest projects do seem to stand out of the crowd a bit more than any of their previous projects. I am saying that in the good way.
Now moving on, we have the Motorola Milestone XT883. Quite a nice smartphone with a simple yet sophisticated sharp look and a secret weapon to boot : the sliding QWERTY keyboard.
Processor : Dual-core 1GHz TI OMAP4 processor
RAM : Nope
Android OS : 2.3 Gingerbread
Camera : 8 mp
Display : 540 x 960 pixels, 4.0 inches (~275 ppi pixel density)
Down to the technicalities…
We know as much about the phone sizes and weight as we know about the release date. It was announced in June 2011 and expected in Q3 of 2011, but since it hasn't come out yet …
The display is a TFT capacitive 16 million color touchscreen. The screen resolution is 540 x 960 pixels. Come to think of it, that resolution isn't all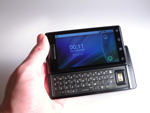 that bad considering the screen is 4.0 inches big and it allows for quite a high pixel density. I'm talking about approximately 275 ppi.
The internal memory is comprised of 16 GB of space. If that wasn't enough, it can also be equipped with a MicroSD memory card of up to 32 GB. That would be impressive but considering the phone has no RAM, one can only wonder how good can it run. I can tell from personal experience that a few extra MB of RAM really make the difference.
The camera is quite a powerful one. It is an 8 mp camera capable of capturing images at resolutions as high as 3264 x 2448. It has autofocus and LED flash with a bit of geo-tagging to fill the bowl. Now the pictures aren't all. It can also record in full HD and has a secondary frontal VGA camera.
The processor is extremely powerful. Not THE best, but around there. It is a Dual-core 1GHz TI OMAP4 processor. Now I mean, it better be powerful since the phone itself lacks a notable GPU and a chipset. Usually dual-cores are meant to take care of the lack of a GPU but I'm just saying there are many phone out there that have both. This is a deficit for this phone, just like the lack of a radio ( as do all of its counterparts ).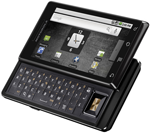 The Android OS version is 2.3. That might be quite a new one, but not acceptable for phones that are supposed to come out now. There are many others that come already equipped with 2.3.4 or 2.3.5. Some might even have 2.4. Just putting that out there.
All in all, only time will tell whether or not this phone will be a WIN or a FAIL. The only big problem with it will be the fact that the sliding part in almost every slide-able phone tends to break down much more than other phones.
You can get this phone from Amazon.