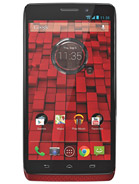 Today we'll be taking a brief, yet somewhat detailed, look at the Motorola DROID Ultra. The name Motorola DROID itself bears some weight to it – it is a name that has boosted Motorola quite a lot as it was attributed to some of the best phones that they have released out there. The branding of this name has done nothing but improve ever since Google purchased them. The phones they release nowadays are so much more powerful than the ones released in the past and much more care and attention has been put into the software and general good functioning of the device.
Now the Motorola DROID Ultra is the latest addition to their Motorola DROID family. Certainly, as with most DROIDs out there, there are tons of alternatives ( at least 2 ) to the phone itself. They tend to do that with their device – little difference can be found between them aside from the name, the network support and sometimes minor hardware differences. In this case, we'll be focusing on the Motorola DROID Ultra for the Verizon network provider. This particular device is quite a piece of work, let me tell you. You will see exactly what I mean in a couple of seconds.
SUMMARY
While the Motorola DROID Ultra may not be the STRONGEST of Android smartphones out there, it certainly is way above the average. The phone is also quite affordable if compared with the strongest of phones. While most will set you back 600, 700 or even more dollars, you can get this one for quite cheaper – somewhere around 500 dollars should be in the ball-park. It's worth mentioning that, this being a Verizon phone, you can probably get a couple of nice deals on it if you're willing to tie yourself with a contract. Also, this device is loaded with all sorts of protections and features that you will find out if you keep on reading. Hardware and software wise, it's not a bad phone and it can handle most of the stress that the newest phones can. It has very few drawbacks which we will get to in a couple of seconds. One of the main ones is the fact that it's rather limited memory-wise, but it can be easily countered with proper care taken to the management of files.
GENERAL
Off the bat, it's important to remember that this phone is given through Verizon, so it pretty much support all of their network types. Still, if you want some amount of precision, those networks are as following: 2G ( CDMA 800 and 1900 or GSM 850, GSM 900, GSM 1800 and GSM 1900 ), 3G ( CDMA 2000 1xEV-DO or HSDPA 850, HSDPA 900, HSDPA 1900 and HSDPA 2100 ) and 4G ( LTE  700 MHz Class 13 ). The SIM card used by this device is in Nano-SIM format. You can get the phone as soon as you please considering it was announced in July and released later in August.
BODY
The Motorola DROID Ultra is a pretty large phone. Its exact dimensions are as following: 137.4 x 71.2 x 7.2 mm ( or 5.41 x 2.80 x 0.28 in ) and it weighs around 137 g ( 4.83 oz for those you who prefer this measurement ). One of the interesting things to note about the body of this device is the material from which it is made. For instance, the back-cover and its unique design is created from Kevlar weave ( or the same material used in bullet proof vests ) and the building process of the phone has insured that it is Splash-Resistant.
DISPLAY
The Motorola DROID Ultra has a pretty large, yet entirely great display on it. This phone is equipped with a Super AMOLED capacitive touchscreen with circa 16 million colors. The screen size is exactly 5.0 inches and it houses a resolution of 720 x 1280 pixels. The pixel density is around 294 pixels per inch for this display, so close to the maximum that the human eye can perceive, and even between this and 300, only a trained eye can truly spot a difference. The screen of the Motorola DROID Ultra is also protected with a sheet of Corning Gorilla Glass which should ensure that the phone's delicate display does not crack the first time you drop ( unless it's down a flight of stairs, in which case may the Force be with you ). Also, it's pretty scratch-resistant and it can survive the occasional journey in the same pocket as keys.
SOUND
As far as the audio of this device goes, it's pretty stock. There's not much point in wasting any more space here as it doesn't have any notice-able sound enhancements like a Stereo Speaker or something similar.
MEMORY
One of the few drawbacks that this device has is with its memory. The Motorola DROID Ultra seems to be limited at only 16 GB of storage space, and more so, it doesn't have support for a memory card. That means that people need to be extra careful with the management of memory on this phone. However, as far as the RAM is concerned, you will find yourself owning more than you actually can use as this phone has 2 GB of RAM on it which should mean that you will almost never experience slow-downs or bad performances ( or if you do, the RAM aren't to blame ).
DATA CONNECTION
The Motorola DROID Ultra is a phone that is equipped with a lot of things, amongst which: NFC, EDGE and GPRS. The exact speed of this device is EV-DO Rev A of up to 3.1 MB/s, LTE and HSDPA 42.1 MB/s and HSupa 5.76 MB/s. The WLAN of this device is Wi-Fi 802.11 a/b/g/n/ac with Dual-Band, Wi-Fi hotspot and DLNA. The Bluetooth of this device is v4.0 with A2DP, LE and EDR. The Motorola DROID Ultra also has a MicroUSB v2.0 port, however, it doesn't have MHL support.
CAMERA
The Motorola DROID Ultra has two camera: one main one of 10 MP that can record video as well in 1080p full HD at 30 frames per second, and a secondary frontal one of 2 MP. The features of the main camera are as follows: autofocus, LED flash, Touch-Focus, Geo-Tagging and Face Detection. I'd say those are quite enough features for a camera that belongs to a phone.
BATTERY
The battery of this device is relatively strong one. The Motorola DROID Ultra is seemingly equipped with a Li-Ion 2130 mAh battery which can allegedly sustain the phone for up to 312 hours in stand-by and 28 hours of talk-time. Whether this is true or not, or if anyone has the patience to measure, is unknown to me.
HARDWARE
As I already told you, the Motorola DROID Ultra is equipped with some damn strong hardware. We're talking about a Dual-Core 1.7 GHz Krait processor, stuck into a Qualcomm Snapdragon S4Pro chipset equipped with an Adreno 320 GPU. That's enough hardware strength to ensure a lag-less usage of the phone and a decent framerate in any app or game out there.
SOFTWARE
The Motorola DROID Ultra is, sadly, not equipped with the latest version of the Android OS. Instead, it uses Android OS v4.2.2 Jelly Bean. If you desperately want to install the latest one, you might consider downloading an unofficial version, however, that can be damaging to the phone as well as it will void the warranty.
FEATURES
The many features of this phone include a lot of things. The Motorola DROID Ultra has quite a couple of sensors, amongst which: Accelerometer, Gyro, Proximity, Compass and Barometer. The messaging of this device is done via: SMS ( with threaded view ), MMS, E-Mail, Pusl E-Mail and IM. The browser on this phone uses HTML5 and the phone itself has no support for Radio. It's GPS has full support for A-GPS and GLONASS alike, and the Motorola DROID Ultra also has Java through Java MIDP emulation. This phone is available for purchase in three colors: Black, Red and White, however on a personal note, I think that the Black and Red ones look the best.
Here is a brief list of what this phone is capable of:
SNS integration
Droid command center
Active noise cancellation with dedicated mic
Google Search, Maps, Gmail
YouTube, Google Talk, Picasa
MP3/AAC+/WAV/WMA player
MP4/H.263/H.264/WMV player
Organizer
Document viewer/editor
Voice memo/dial/commands
Predictive text input
This concludes our tiny review of the Motorola DROID Ultra. I hope it has helped you see the phone in another light and hopefully answered some of the questions you might have had about it.