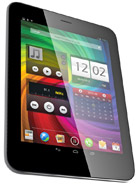 Today we'll be taking a look at the Micromax Canvas Tab P650, the newest tablet from the wonderful company known as Micromax. This tablet is a very interesting one, with a pretty uncommon size among tablets ( you will see what I mean in just a few seconds ). If you're expecting to be wowed with all sorts of wonders and cutting-edge tech, you're going to have a bad time. Instead, what you want to keep in mind about this tablet is the following: you CAN'T get better than this for the same price.
The Micromax Canvas Tab P650 is a tablet that can be purchased for between 250 and 300 dollars ( now that's a bargain if I've ever seen one ). Sure, it isn't cutting-edge or revolutionary in any ways, but it's still a great little device capable of doing quite a few tasks and can come in handy when you're in a pinch. Also, it has GSM support, so no matter how high your expectations were, that's gotta net a few points.
SUMMARY
First off, don't expect something uncommonly powerful. This tablet is good, but for its price range. You try and compare it with the strongest of devices out there, you'll find that it comes up lacking. The Micromax Canvas Tab P650 is a kind of tablet that you get for cheap and is good for a couple of purposes, but not for all. To be more precise, I'll try and answer a couple of questions you might have about this device: Is the device any good? It's a so-and-so device with good parts and bad, but the good outweighs the bad; Is the device worth the buck it's demanding? It certainly is – actually, I couldn't be more obvious in trying to convince you that this is one tablet that's worth it all the way. If you really want to see what those good parts and not-so-good parts are, do keep reading and you shall be illuminated.
GENERAL
The types of network used by this device are the standard 2G and 3G networks ( read some of the older articles on this site if you REALLY must know which the standard ones are ). Since it uses networks, it's also to be expected that this device uses a SIM card as well. Currently, it is available for purchase, having been announced AND released in September 2013.
BODY
The exact dimensions of this device aren't all that big. Actually, come to think of it, there's not a whole bunch of space wasted ( usually, certain tablet manufacturers tend to over-widen the plastic margins surrounding the screen ). The dimensions of this device, to be exact, weigh in at: 204 x 154 x 9.6 mm ( or 8.03 x 6.06 x 0.38 in, if you prefer this measuring more ). As far as the weight goes, nobody ever bothered to really check, but it can't be all that heavy ( tablets are usually quite light ).
DISPLAY
The display of this device is a pretty good one, but as I'm sure I've mentioned, comes at a somewhat unnatural size. We're talking about an IPS LCD capacitive 16 million color display which is 8.0 inches in size. It fits a resolution of approximately 768 x 1024 pixels and can handle a pixel density of around 160 pixels per inch. The Micromax Canvas Tab P650's display is also known to have multitouch, but none too advanced ( like 10 simultaneous fingers or something like that ).
SOUND
As far as the audio output of this device goes, there's really not much to talk about. The Micromax Canvas Tab P650 doesn't have any audio enhancements present on itself, be them hardware-based or software-based. Sure, it's sound is okay, but a difference would have been notice-able had it been equipped with those enhancements.
MEMORY
As far as memory for this tablet goes, some will be pleased where as others not so much. The internal storage of this device is measured at 16 GB of space, which can be expanded upon with the MicroSD card slot that can use any card of up to and including 32 GB. As far as the RAM goes, some people will DEFINITELY be disappointed by this device. I'm not saying that 1 GB of RAM is bad, it just may get a little slow ( especially if you add ALL SORTS of apps to the device – some of them eat up more space and hardware strength than they should ).
DATA CONNECTION
The Micromax Canvas Tab P650, being equipped with a SIM card that uses standard networks, naturally is also equipped with GPRS and EDGE. The speeds it reaches are pretty much standard issue for it's type of connectivity ( HSDPA 42 MB/s and HSUPA 21 MB/s ). The WLAN of this device is: Wi-Fi 802.11 b/g/n with Wi-Fi hotspot. The Bluetooth of this device is v3.0 with A2DP on it. The USB port of this device is a MicroUSB v2.0 one.
CAMERA
The camera of this device is a 5 MP one which can snap photos at resolutions of 2592 x 1944 pixels. The Micromax Canvas Tab P650 also has a secondary frontal camera of 2 MP power. The few features that this camera has are: autofocus, geo-tagging and touch focus.
BATTERY LIFE
Something that bothers me, personally, is the type of battery that the Micromax Canvas Tab P650 has in it. It's not that a 4800 mAh battery is bad ( because it isn't – it can sustain life for this tablet for close to 400 hours of stand-by or 10 hours of continous heavy usage ). No, in reality what bothers ME about this tablet is the fact that it's none-removable. Frankly I can't STAND that system and believe that it should definitely be forgotten – if you think about it, used to be that when the battery eventually gave out, you could buy a new one; nowadays, you have to buy a new DEVICE ( I get it's profitable for the people running the show, but not for the customer ).
HARDWARE
As far as I know, the only note-able hardware component of any strength is the processor. Come to think of it, with the amount of power that the processor should be dishing it, it should almost make up for the fact that the RAM of the device is so limited. Granted it's not all that much, but for such a relatively low-budget tablet as this one, it's an impressive sight nonetheless. We're looking at a Quad-Core 1.2 GHz processor here, so you could say it's pretty darn strong.
SOFTWARE
As far as the software of this device is concerned, the Micromax Canvas Tab P650 has got it covered. This tablet is equipped with almost the latest version of Android on it: v4.2.1 Jelly Bean. This is a REALLY good version which offers a lot of stability and optimization to the device, making it run smooth and look smooth while doing it.
FEATURES
Feature-wise, this tablet isn't all that well equipped. It has a large number of features, but it's not entirely impressive. The only sensor on it is Accelerometer. The messaging on this tablet can be done via: E-Mail, Push E-Mail and IM. The browser of this tablet uses HTML mainly, with no apparent built-in support for Adobe Flash ( while YouTube may not be a problem, there are many websites with OTHER players that may not work, that's why I keep repeating this sentence about Flash ). The GPS of this tab has built-in support for A-GPS; and while talking about support for stuff, the Micromax Canvas Tab P650 also uses Java through MIDP emulation. This device is available in two colors: Black and White ( I personally prefer the Black one, but I'm the kind of person that likes darker colors ).
Here's a brief list of what the Micromax Canvas Tab P650 can do:
SNS integration
MP3/WAV/WMA/AAC player
MP4/WMV/H.264 player
Organizer
Image editor
Document viewer/editor
Voice memo
Predictive text input
This concludes our little review of the Micromax Canvas Tab P650. Hope it has helped answer a few of the questions you might have had about this device and that it helped shed a bit of light over some of the features found on this tablet.